Fans Are Obsessing Over Kim Kardashian's New Look
Through the years, the Kardashians have become style icons. Nobody in the family ever has the same look for long. Khloe is now a blonde, Kylie changes up her hair almost every week, and Kim has been known to rock different looks often as well. But Kim Kardashian recently posted a photo showing off a brand new hairstyle, and fans couldn't get enough.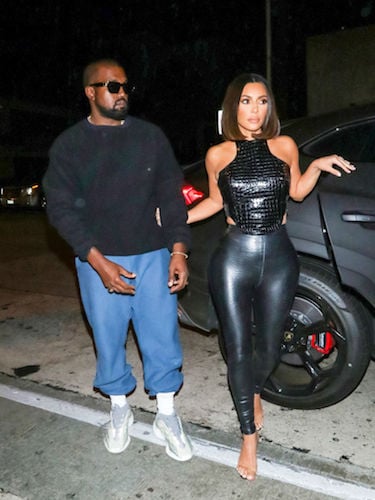 Kardashian tends to change up her look frequently
The Kardashians are always working on new styles. With all the photoshoots Kim Kardashian still has, it's no surprise she wants to rock a new hairstyle every now and then. Her younger sister, Kylie Jenner, is the queen of changing up hairstyles; she's even had green and purple hair. Kardashian has gone through several different looks as well; her hair has been everything from long and dark to short and blonde.
Fans have questioned her fashion choice in the past
Though fans do love Kardashian's look sometimes, they have questioned the things she's worn in the past. Ever since Kardashian married Kanye West, her style has changed a bit to reflect his, and fans have noticed that some looks are more interesting than others. However, others suggest West rescued Kardashian from her own fashion sense, since there were outfits in the 2000s that everyone could have done without. Kardashian was a fan of massive belts that almost looked like corsets and outfits that matched far too well. Now, her looks are much sleeker — and she has great hair to go along with them.
She posted a photo with a new hair color, and fans love it
For a while, Kardashian has rocked long, dark hair. She also went blonde at one point, but she's ultimately always gone back to her dark-hair roots. However, she posted a photo to Instagram this week showing a completely new look that fans adored. Kardashian was sporting a long bob with light, caramel streaks in it. Though the post was meant to showcase her makeup line, her hair was the first thing that caught fans' attention. "Ooooo the lighter in the hair," fashion mogul Olivia Pierson wrote, showing her appreciation for the look. "Your hair like this," one user commented, complete with heart-eye emojis. "Now I need my hair to grow to get this loook [sic]," another user wrote. It was obvious people were excited to see Kardashian change up her classic look a bit.
Kardashian does tend to wear wigs, so it's unclear if the look is real
While fans obsessed over Kardashian's KKW beauty photoshoot look, it's unclear if she'll keep the hairstyle. Kardashian, along with her sisters, often uses wigs to switch up her style, and we're uncertain if this look is truly a new thing for her or if it was just a wig for the photoshoot that day. (Honestly, it was probably a wig.) However, now that she has seen her fans' reactions to the hair, she might decide to keep it this way for a while, even if it is a wig.