Fans of 'The Pioneer Woman' Ree Drummond Think This Photo Proves Her Everlasting Love for Her Husband
There are dozens of amazing chefs featured on The Food Network, but many fans have a special place in their heart for Ree Drummond, better known as The Pioneer Woman. While we know Ree best for her delicious-looking meals and stories of life on the ranch, she also has quite an interesting back story. She never wanted to live out in the country — but after she met her cowboy husband, Ladd, everything changed. Now, she's out in Oklahoma on a ranch with her four kids, husband, and animals.
Ree's dedicated followers adore her, but it seems not everyone's a fan. And many have even doubted her relationship with Ladd. Ree's recent Instagram post of her and her husband seems to prove their love for each other, though. Here's how fans are reacting.
Ree changed her entire future plans just so she could be with Ladd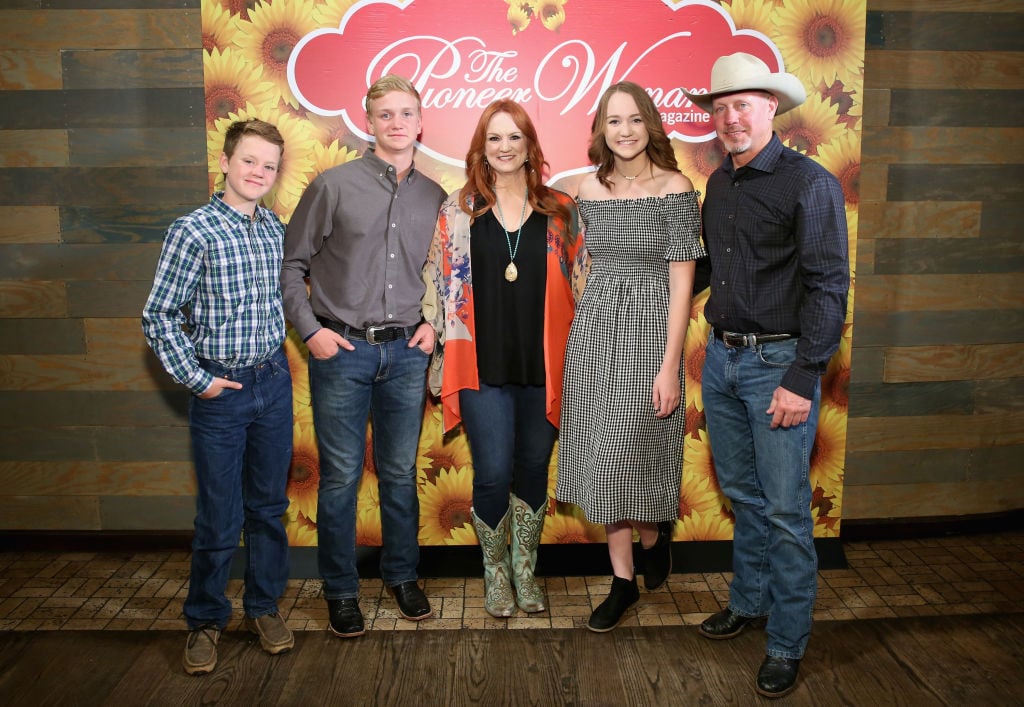 It's hard to believe it now, but Ree once had plans to move to Chicago and live the life of a city girl. She grew up in the town of Bartlesville, Oklahoma, and when she was in college, she was itching to get away. But a fateful night out at a hometown bar changed everything, as that's when she met Ladd, Country Living reports. While it took Ladd four months from the time he first met Ree at the bar to the time he finally called her to ask her out on a date, Ree was still very interested. And after their first date, Ree knew her plans for Chicago didn't matter anymore.
"I don't know how long we stood there in the first embrace of our lives together. But I do know that when that kiss was over, my life as I'd always imagined it was over, too," Ree wrote. Today, we know Ree and Ladd are still married and taking care of their land and their kids on their huge Oklahoma ranch.
Ree's noted times when she and Ladd had troubles in the past
Ree and Ladd seemingly have the ideal marriage, but some have wondered if everything between them is as perfect as it seems. The couple has multiple businesses together, and one of their newer ventures was a boutique hotel. The hotel seems to be up and running now, but there were many struggles along the way. People reports Ree noted, "I'm not going to paint a rosy picture of husband and wife working perfectly together. There were definite disagreements, and that is part of why we ended up splitting the building into two halves."
There were also issues at the beginning of their marriage. When Ladd's cattle business took a major hit in the '90s during the Mad Cow disease scare, he and Ree ran into some money problems. "The first 10 years of our marriage weren't the easiest things in the world. We had financial struggles; we had everything that every couple goes through in the early years," he told People.
Fans think this photo of Ree and Ladd perfectly shows their love
Despite their potential troubles of the past, there's no doubt Ree and Ladd love and support each other through thick and thin. And Ree posted this photo to Instagram of her and Ladd, which also happens to be the magazine cover for her Pioneer Woman magazine. And fans adore the way Ladd is looking at Ree lovingly in this photo.
"I love this !!!!! I'm envious of that look from your man to you," said one follower. Another fan wrote, "I love how he loves you and how you love him. It's my fave thing." Yet another added, "I wish everyone of us had a love like you and Ladd."
As for what the Drummonds are up to next, Ree just released her tour dates for her new cookbook. We're sure she'll get plenty of questions regarding how Ladd is doing while she's touring, too.
Check out Showbiz Cheat Sheet on Facebook!