Fans React After Megan Fox Announces That She 'Cut a Hole' in Her Blue Jumpsuit to 'Have Sex' With Machine Gun Kelly
Megan Fox and Machine Gun Kelly are known for their PDA and sharing intimate details of their sex life, and Fox outdid herself when she publicly announced that they "cut a hole" in her jumpsuit so they could "have sex." Here's what Fox said and how fans reacted to the news.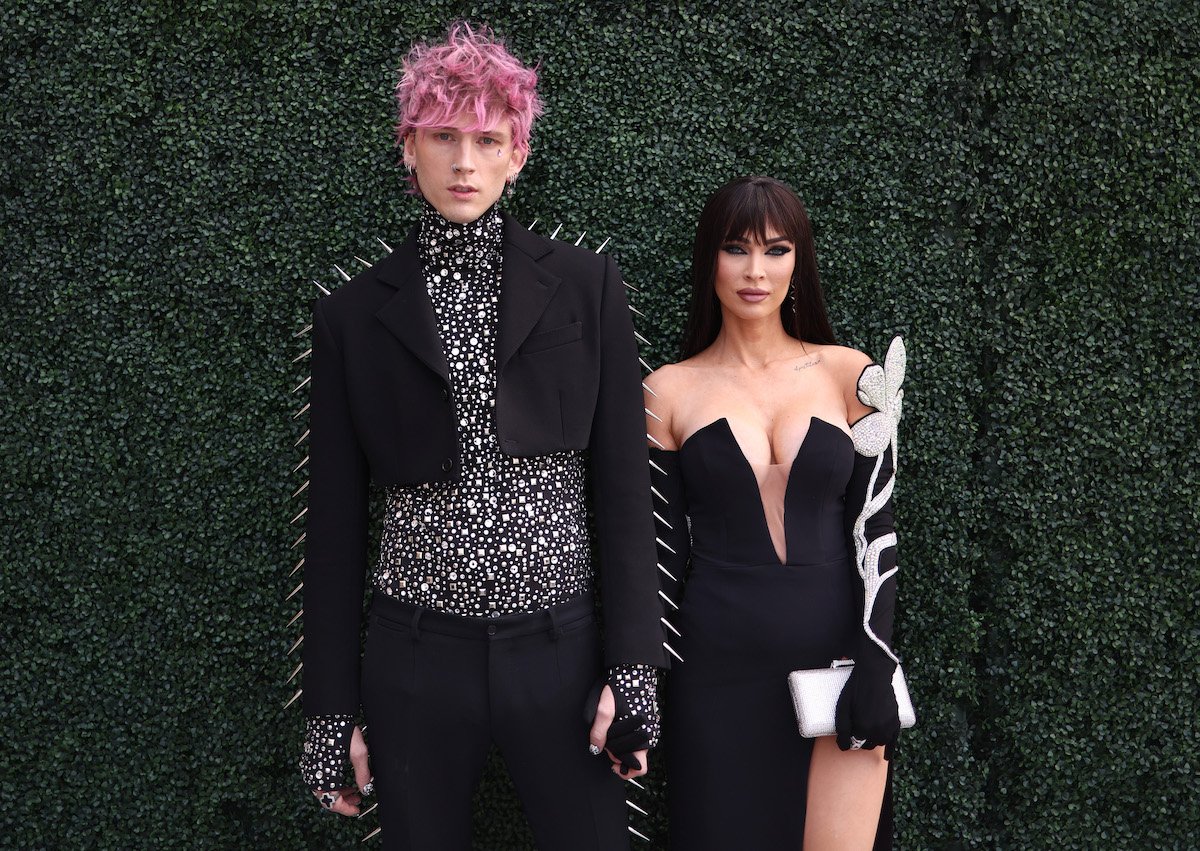 Megan Fox revealed on Instagram that she 'cut a hole' in her sparkly blue jumpsuit to 'have sex' with Machine Gun Kelly
On May 15, Megan Fox posted a series of photos to her Instagram from her long weekend in Las Vegas with Machine Gun Kelly.
"An introvert in Vegas for three days during eclipse season…just SO much crying in the shower," Fox captioned the pictures and video clips, most of which showed her and her fiance in various outfits.
But one photo in particular grabbed fans' attention. Fox shared a screenshot of a text message exchange with someone who appeared to be her stylist and/or friend.
The bottom of a video featuring Fox in a sparkly blue jumpsuit showed in a text message Fox sent. Beneath it, Fox texted, "Was this blue outfit expensive because we just cut a hole in the crotch so we could have sex 🤷🏻‍♀️."
The recipient of Fox's text responded, "I hate you 😂😂😂," followed by another message that said, "I'll fix it."
Megan Fox has shared details about her and Machine Gun Kelly's sex life before
The actor hasn't been shy about sharing details of her sex life. On Oct. 11, Megan Fox posted a couple of black and white photos from her photoshoot with Machine Gun Kelly for GQ.
In the Instagram caption, she wrote, "The tale of two outcasts and star crossed lovers caught in the throes of a torrid, solar flare of a romance featuring:" before listing several bizarre and seemingly unrelated entities, including "guns," "shamans," "tantric night terrors," and "organic smoothies," before concluding with, "and the kind of sex that would make Lucifer clutch his rosary 📿"
And on Sept. 6, Fox shared two Instagram photos of herself posing in front of a large black table. "When I tell you that the table at this air bnb saw some things 🥵," she wrote in the caption, seemingly implying that she and Machine Gun Kelly had spent some intimate time there.
Fans reacted after the actor said she 'cut a hole' in her jumpsuit to hook up with the musician
Megan Fox's fans had some strong reactions to her post about cutting a hole in her blue jumpsuit to have sex with Machine Gun Kelly. They took to the comments section to share their thoughts.
One fan wrote, "WHAT IS THAT TEXT💀💀," to which another fan replied, "I feel like I wasn't supposed to read that one 😂"
"Girl we did not need to know what u and mgk did in that dress 😭," said one fan, while another replied, "S*** I wanna see what they do in that dress."
And one fan wrote, "Everything I know about this relationship has been completely against my will."
RELATED: Machine Gun Kelly and Megan Fox Arrive Chained to Each Other's Fingernails at His Nail Polish Launch Party