Fans Really Want Wonho and Doja Cat to Collaborate
A Wonho and Doja Cat collaboration? Well, that would just be a dream come true. On May 13, Billboard posted an online quiz asking fans who Doja Cat should collaborate with next. The quiz asks fans to pick between several artists or to suggest an artist not listed. As of May 15, Wonho is leading the online quiz by a great margin, and the K-pop singer trended on Twitter as fans talked about a possible collaboration with Doja Cat.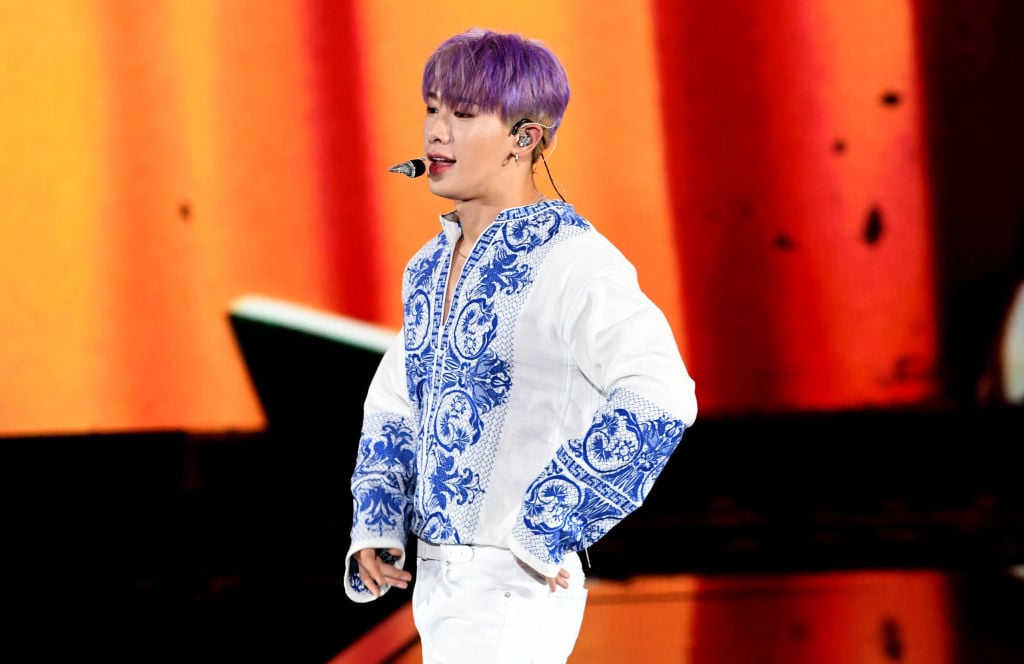 Wonho is leading the online quiz about a Doja Cat collaboration
Doja Cat recently collaborated with Nicki Minaj to make a remix of "Say So." After its release, the song reached No. 1 on the Billboard Hot 100 chart. Ariana Grande also has a planned collaboration with Doja Cat that fans are eagerly anticipating.
Because of Doja Cat's rising success, fans will obviously have an opinion on the rapper's next song. To find out fans' opinions, Billboard posted a quiz asking fans to pick who Doja Cat should collaborate with next.
The quiz asks fans to pick between TWICE, Megan Thee Stallion, BTS, Melanie Martinez, BLACKPINK, Katy Perry, Wonho, Hozier, Kehlani, Justin Bieber, Lil Nas X, Tyga, and the Pussycat Dolls. Fans are also given the option to select "Other" if they do not agree with any of the suggested names.
RELATED: Ariana Grande Says She Has a Song With Doja Cat: 'I Love It, It's My Favorite So Far'
As of May 15, Wonho leads the quiz with 47.9% of the votes. TWICE is in second place with 30.25%, Blackpink is in third place with 11%, and BTS is in fourth place with 5.92%. The "Other" option has 1.43% and Martinez received 1.13% of the votes to date. All of the remaining artists have not scored above 1%.
Fans really want a collaboration with Wonho and Doja Cat to happen
On May 14, Wonho's name trended on Twitter as fans talked about the possible collaboration, reflecting the huge interest shown in the Billboard quiz.
"If wonho x doja cat gonna happen, the song probably be a hit on tiktok i can feel it," a fan tweeted.
"CAN YOU IMAGINE IF DOJA CAT COLLABORATES WITH WONHO ???? OMG THAT POWER," wrote a Twitter user.
RELATED: Wonho Credits Monsta X Fans for Showing Him What It's Like to Be Loved
"Wonho & doja cat collab > it goes viral on tiktok > the gp streams the song > wonho becomes a global sensation > wonho releases an album that becomes a smash hit and gets critical acclaim > gets nominated for a grammy," one fan prophesied on Twitter.
The K-pop singer-songwriter recently signed with Highline Entertainment
Wonho rose to fame as a member of the K-pop group Monsta X. He departed from the group in October 2019, and after months of uncertainty the singer-songwriter kick-started the next stage of his career.
In April, Wonho signed with Highline Entertainment, a subsidiary of Monsta X's label Starship Entertainment. Wonho signed on as both a solo artist and producer, and fans are anxiously waiting to see what the rest of his career holds. Based on the online quiz, it seems a majority of Wonho's fans are on board with a collaboration with Doja Cat if that ever were to happen.