Why Fans Think 'The Blacklist' Season 8 Finale Will Reveal Red's True Identity
Fans think 'The Blacklist' Season 8 finale
Things are getting intense on season 8 of The Blacklist. Between the Townsend directive and Elizabeth Keen's (Megan Boone) revenge against Raymond "Red" Reddington (James Spader), we're sure the season finale will end with a bang. Here's why some Blacklist fans think the truth about Red's identity will be revealed sooner rather than later.
[Spoiler alert: This article contains spoilers from The Blacklist Episode 19, "Balthazar 'Bino' Baker"]
'The Blacklist' Season 8 episode 19 recap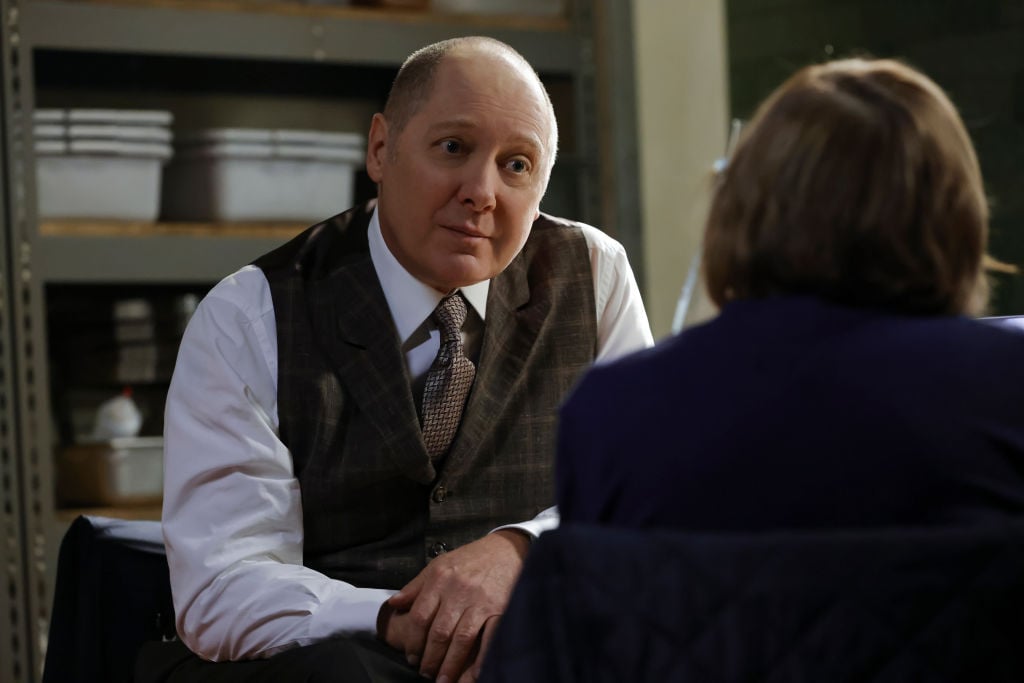 Just after the FBI task force team arrested one of their own — Liz — the convoy transporting her and Donald Ressler (Diego Klattenhoff) gets attacked by Townsend's mercenaries. Ressler is shot but he and Liz escape (somehow minus her handcuffs, as fans pointed out on Reddit) and hide out in an abandoned building.
While Ressler is bleeding out, he calls Reddington, letting Liz believe it's FBI task force head, Harold Cooper (Harry Lennix). Despite Liz's reluctance, Reddington devises a plan with "Bino" to help Liz and Ressler escape to a Chinese restaurant/makeshift hospital room before Townsend finds them.
Things appear to move along until Bino discovers it's Townsend they're running from. He quickly retracts any and all help, offering Liz and Ressler up to Townsend. Luckily, Reddington comes to the rescue just in time — per the usual — killing Bino and his men before Townsend can get to Liz and Ressler.
Naturally, it takes a little convincing from Red. He acknowledges that he and his secrets are the reason everything has happened.
"I'm sorry, I've tried so hard for so long to protect you from all of this, and I've failed," he said.
This ending sets up the next episode which is sure to be a nail-biter, based on the promo.
Will Red's identity be revealed in the finale?
The teaser for episode 20 of The Blacklist looks to be revealing. Liz rides with Red as he seems to want to finally tell her the truth.
"What Elizabeth wants is answers — about who she is and why I came into her life," Red says in the clip.
"I'm going to tell her everything," he says. "It's time." The scene then shows the two going to the box that Red sat in during the pilot episode. All of that lends itself to an identity reveal. Some fans don't think it'll happen since the news of a forthcoming season 9 could draw things out.
Others, however, believe writers can't possibly drag it out any longer.
"I definitely think they're wrapping up Liz's story now. He said everything he came into her life to prevent is happening. So there's no reason to hide the truth from her anymore," a fan wrote on Reddit.
"Yeah the teaser for next episode is him saying he plans to tell her everything. I'll believe it when I see it, but it does indicate it wrapping up (hopefully)" another said.
"So it looks like Red is going to finally give Liz the truth about the past. And where it all started–in the box? That would be cool," another added.
To credit those that think 8 years is long enough to hold onto secrets, there are two episodes left in season 8. Whether writers decide to give some of the truth about Red's identity (or all of it) remains to be seen. With a season 9 on the way, we can't be so sure.
Is Megan Boone leaving 'The Blacklist'?
Viewers likely wondered why Boone disappeared in season 3 and again in season 8 only to continue the game of guessing Red's identity. This hasn't sat well with some fans, especially since she recently appeared in Amazon's Railroad Underground as Lucy.
"Meet Miss Lucy who is out in the world today @theugrailroadtv," Boone wrote on Instagram. "She is from a few paragraphs in the #colsonwhitehead novel. She was central to a new level of understanding I gained when reading the novel. I wrote the folks adapting it and ended up getting to do these scenes in ep 2 of the series. It's the kind of creative challenge I've always wanted, and I'm so proud to be a breath in the body of this epic masterpiece."
The appearance left some wondering if Boone is leaving The Blacklist. As of now, nothing's been confirmed either way. The show garnered 3.1 million viewers for last week's episode, per TV Series Finale, which is down nearly 15 percent in the 18-49 demographic. Those numbers are largely based on the cat-and-mouse game between Red and Liz.
She's already filmed the next episode and will appear in the season 8 finale. Beyond that, we're willing to bet she'll return and The Blacklist Season 9 will be bigger and bolder than ever.