Fans Think Drake Is Beefing with Doja Cat Over Her Relationship with Nicki Minaj
Doja Cat seems to be having the best time ever. In addition to seeing global success with her latest album, Hot Pink (2019), she recently got to work with her icon, Nicki Minaj. Earlier in May, the two released the remix to Doja Cat's hit song "Say So" and have since made history as the first two female rappers to receive a No. 1 song on the Billboard Hot 100 chart.
Watching her achieve such a feat has been huge for fans who have witnessed Doja Cat's grind over the years. But not everyone is here for it. Some people are convinced that Drake is among the haters, alleging he made a move against Doja Cat on social media.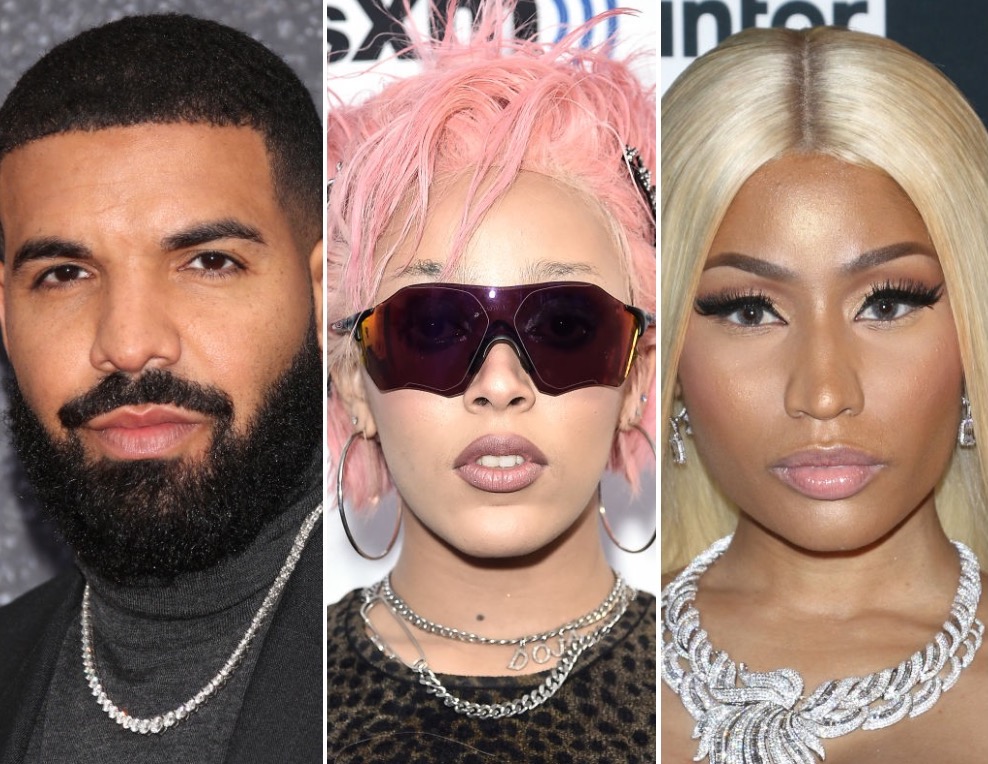 The release of the 'Say So' remix
Doja Cat teased the collaboration on April 29, releasing a snippet of the song to her Twitter account. It came out two days later and immediately took over the Internet, surging to the top of Twitter's trending topics list and rising up music charts.
"It was a conversation for a long time," Doja Cat said of the collaboration in a later interview (via Kiss 95.1 FM). "And I was like, 'This is who I want, this is who I want. Please God, please, please, please.' And it just happened."
Weeks later, the song continues to perform well. As of writing, it remains atop the Billboard Hot 100 chart and has even generated some awards buzz.
RELATED: Fans Think Nicki Minaj Shaded Beyoncé On the 'Say So' Remix
Fans allege Drake unfollowed Doja Cat after the release of the 'Say So' remix
Some time after its release, Internet sleuths claimed that Drake had allegedly unfollowed Doja Cat on Instagram over her song with his former collaborator. Showbiz Cheat Sheet checked and did not see Doja Cat's name in his "following" list but cannot confirm that he ever followed the "So High" crooner.
"Omg seriously it's not that deep," one fan said in response to the news.
"he's so petty he tried to take the spotlight from them and he's mad no ones paying attention to his mixtape," another fan said of Drake's mixtape Dark Lane Demo Tapes, which came out hours before the "Say So" remix. (Despite their claim, the mixtape was actually pretty successful, debuting at No. 2 on the Billboard 200 with 223,000 units sold, per Complex. However, it was his first project in 10 years to not top the charts.)
Amid the drama, Doja Cat reportedly tweeted and deleted a message seemingly addressing the unfollow. "Its a 6 ting innit?" she wrote alongside a woozy face emoji, according to the entertainment website Gossip of the City. If you aren't familiar, 6 is a nickname Drake gave to his hometown of Toronto, Canada.
Drake's relationship with Nicki Minaj sourced years ago
Fans know that Drake and Nicki Minaj used to share a tight-knit bond. As artists under the Young Money Entertainment umbrella, they often worked together and even teased a romance at one point.
But in a December 2019 interview with Rap Radar, Drake said his relationship with Nicki Minaj changed "a lot" due to the drama involving him, Nicki Minaj, and her ex-boyfriend Meek Mill.
"Probably forever," he added.
Nicki Minaj had been dating Meek Mill when, in 2015, he started feuding with Drake. She publicly vowed not to pick sides but got pulled into it anyways on Drake's Grammy-nominated diss track "Back to Back."
After a bitter breakup with the rapper, Meek Mill went on to collaborate and become friends with Drake, which seemed to catch Nicki Minaj off guard. She appeared to reference the drama in the 2019 song "Barbie Goin' Bad," where she criticizes two unnamed men for working against her.
Drake has yet to address this latest drama involving Doja Cat. But if there is something going on, we'd hope he'd… say so.
Read more: Inside the Rumored Feud Between Cardi B and Doja Cat