Fans Think Kim Kardashian and Her Sisters Are Rude to Kris Jenner Because She Doesn't Act Like a Mom
Kris Jenner is a legend. It seems like she does it all. She's a mom to six children. She manages all of their careers in the entertainment business, in addition to working with them at their other entrepreneurial projects. 
Although sometimes her momager skills are criticized, the fact that her youngest daughter, Kylie Jenner, is worth more than a billion dollars speaks for itself. If Kris were really bad at managing their careers, how would she have helped her client/child earn that much cash? Plus, Kylie's success comes at a young age. Her business, Kylie Cosmetics, earned her all that money before the age of 25. Still, fans don't think that Kris' daughters are grateful.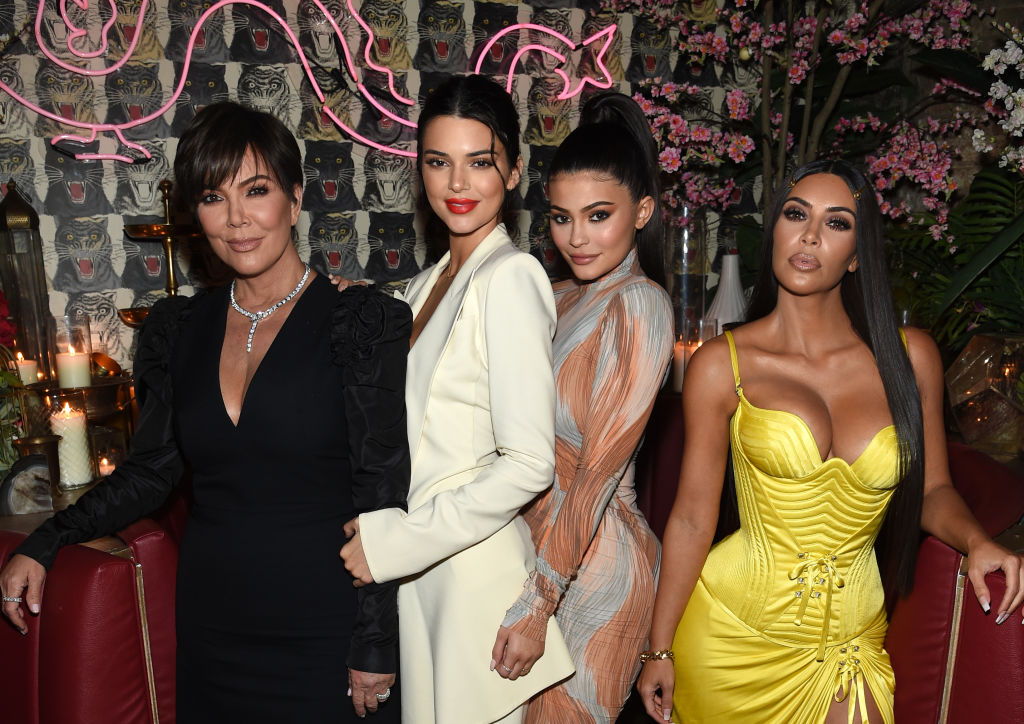 Some fans think the KarJen sisters treat Kris Jenner poorly
RELATED: Is it Kris Jenner's Fault the Kardashians Have So Many Relationship Issues?
The Kardashian Jenner sisters say some disrespectful things to their mom. They've been caught on camera telling her to "Suck my f***ng dick" on more than one occasion. They're often rude, make fun of her, or are short with her when she asks them about things.
Some fans are shocked by this behavior. Many fans on Reddit said they would never treat their own mothers this way. Her daughters are constantly attacking her. Khloé and Kendall seem to be especially hateful toward their mom. While it can be sad to watch, other fans think that Kris' children have good reasons for being resentful toward her. 
Kris Jenner may be abusive, according to some fans
Apparently Kris was a neglectful parent, especially to her first four children. Kourtney, Kim, Khloé, and Rob Jr. were all born from her first marriage. When she divorced Robert Kardashian Sr., court documents revealed some sad truths about Kris' parenting skills. He called her 'neglectful.' One thing to remember is that Kris was a young mother. She was 23 when her first daughter, Kourtney, was born. 
Kris and Robert Sr. had an 11 year age difference. He started dating her when she was just 17. She may not have been mature enough to be a mom, but that's not all that's going on. Robert Sr. had Kris evaluated, and the documents suggest she was diagnosed with narcissism, as reported by HuffPost. Kris Jenner's representations have stated these reports are untrue. That could be why the Kardashian children have so many issues with Kris. 
Kris is also known to pick favorites. Although it seems to be a 'joke' on the show, there's a lot of truth in it. Kris has said her favorite child is the one who makes her the most money. Even if it were a joke, it's not something many kids would like hearing from their mom, even as adults.
Kris Jenner has no boundaries
Kris may have been neglectful when her children were younger, but she's very invested now. Although Kris may have been mean in the past, it seems like she's more than made up for it. She does everything for her daughters, but fans still think they treat her with disrespect. That may be because Kris tries to act like a sister and not like a mom. 
Kris has almost no boundaries. She is not shy about talking to her daughters about her sex life with boyfriend Corey Gamble. That would be horrifying enough for any child, but Kris makes those comments in front of cameras that are filming for Keeping Up with the Kardashians. That means not only do her daughters have to hear about her sex life, but they have to hear about it in front of an audience. 
Fans have noticed this lack of boundaries, and they think it's possible that Kris is simply incapable of being a mom to them. So, after being neglectful for most of their childhood, she decided to try and be their friend. It may be the only role she feels comfortable with.