Fans Think Rihanna Dropped Clues That She's Having Twins With A$AP Rocky After Pregnancy Reveal
Rihanna and A$AP Rocky recently revealed that they are expecting their first child, and some fans are convinced that the singer is dropping hints that she's having more than one baby. Here's why fans think Rihanna is having twins and what they are saying about it.
Rihanna and A$AP Rocky revealed they are expecting their first child
On Jan. 31, TMZ published pictures of singer Rihanna with her boyfriend, rapper A$AP Rocky, taking a stroll through Harlem, New York. Although they were bundled up in coats and there was snow on the ground, the "Diamonds" singer proudly showed off her bare baby bump adorned with a large gold gross on an ornate chain. The couple was smiling and affectionate in the photos.
The rapper previously spoke about his love for the singer in a May 2021 interview with GQ. "I think when you know, you know. She's the One," A$AP Rocky said. "She amounts to probably, like, a million of the other ones."
He also shared his thoughts on becoming a father. "If that's in my destiny, absolutely," A$AP Rocky replied when asked if he was ready to be a parent. "I think I'd be an incredible, remarkably, overall amazing dad. I would have a very fly child. Very."
Fans think that Rihanna and A$AP Rocky are about to become first-time parents of not just one baby but twins!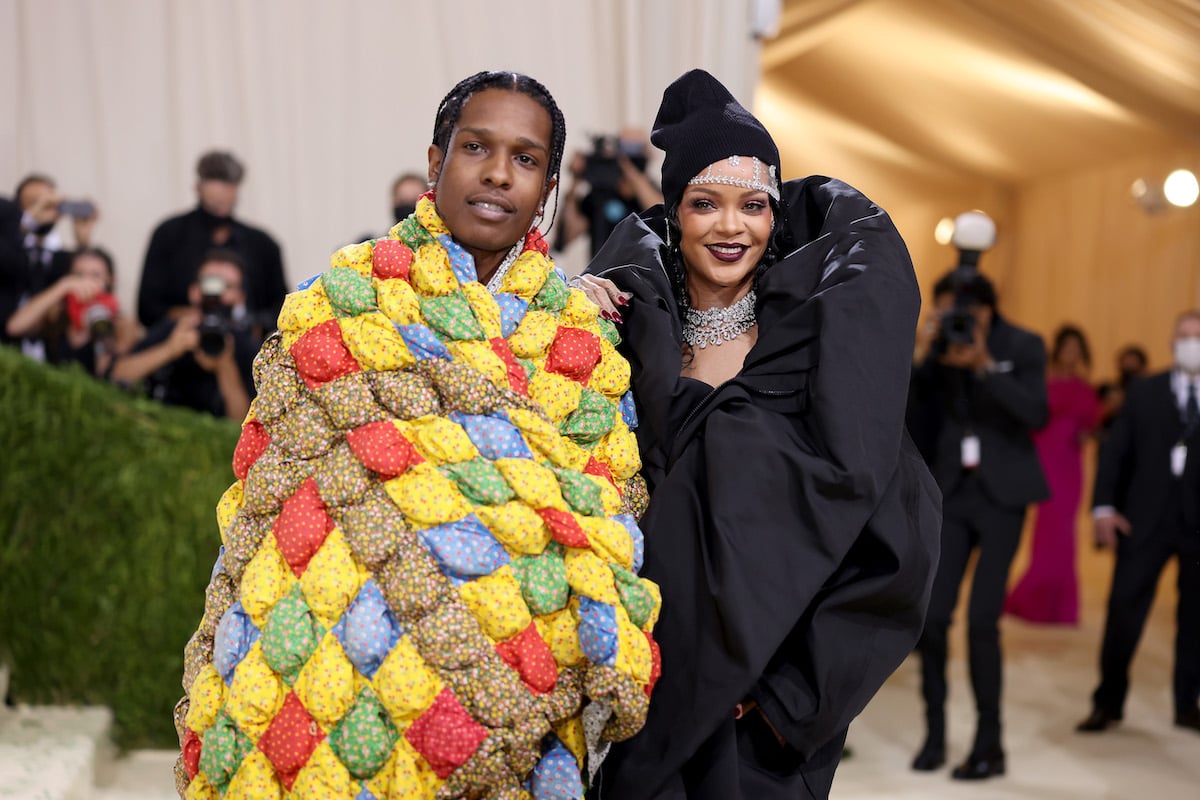 Fans think Rihanna's Instagram post hinted she and A$AP Rocky might be expecting twins
On Feb. 2, Rihanna shared a series of pregnancy photos on Instagram for the first time.
The first image shows the Barbadian singer standing in a bathroom, pulling up the bottom of an orange and blue jersey to reveal her baby bump. The following three photos are some of the images published in the media on Jan. 31.
"How the gang pulled up to black history month," Rihanna captioned the photos.
Some fans think Rihanna is hinting that she's expecting twins with A$AP Rocky.
One fan commented, "Okay…first they were dressed in pink and blue so I was already thinking it, now she's talking about gang…can this be twins? 😍," while another wrote, "Twins?"
Fellow singer Tamar Braxton asked, "Do we have two😮" to which a fan responded, "@tamarbraxton I knew I wasn't the only one who understood it that way. Prolly a girl and a boy too. Daddy got a blue denim coat on and mommy is rocking that pink!!!🤷🏽‍♀️🤷🏽‍♀️🤷🏽‍♀️"
Another fan replied to Braxton's comment by saying, "@tamarbraxton I was thinking she meant more than one too! 😍," while another wrote, "@tamarbraxton she did wear both colors."
All the clues the singer might be hinting that she's having twins
As noted in their comments, fans have a couple of reasons for speculating that Rihanna and A$AP Rocky might be expecting more twins.
The first potential hint is the color scheme of their pregnancy reveal photoshoot. The "We Found Love" singer wore a bright pink coat in the photos, and pink is traditionally associated with a female gender reveal. But she is also wearing blue jeans in the image, and A$AP Rocky is wearing a blue denim jacket.
So, perhaps the couple was going for a gender-neutral photo reveal. Or maybe they were hinting at having not just one but two babies; one male and one female.
The second possible clue is that Rihanna alludes to a "gang" in the caption of her first pregnancy Instagram photos. She might just be referring to herself, her boyfriend, and their child … or she could be implying that their family is adding even more new members.
Fans will just have to wait and see if the singer drops any more clues.
RELATED: Exes Rihanna and Shia LaBeouf Expecting Their First Children at the Same Time