'The Umbrella Academy:' The 3 Most Loved Characters
Netflix's The Umbrella Academy takes the superhero genre and flips it on its head. Presenting viewers with a set of dysfunctional siblings – all harboring suppressed childhood traumas – the show provides a needed dose of absurdist comedy, and interweaves good ole action sequences to the tune of "Don't Stop Me Now."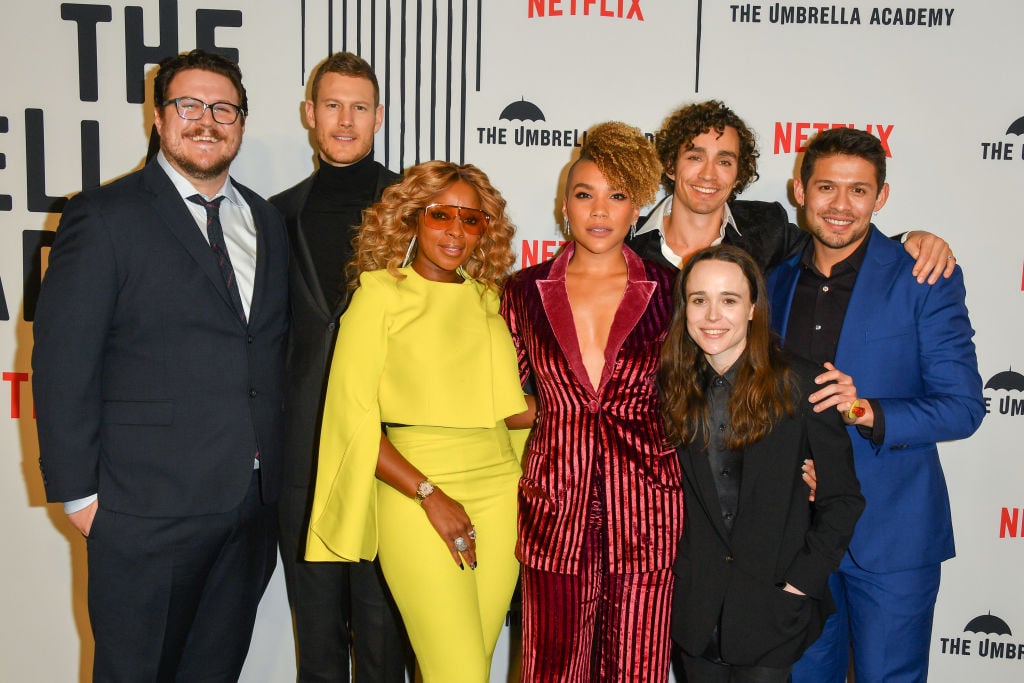 Starring Ellen Page, Tom Hopper, Robert Sheehan, Mary J. Blige, Aidan Gallagher, and more, there are many characters worth noting when it comes to entertainment value. However, this list will attempt to highlight the three characters fans love the most.

Relying on the characters' various dispositions, looming presence over social media, website content, and digital publication coverage, this list will pick the top three characters that fans love the most, and explain why they're perfect.
3) Diego Hargreeves (David Casteñeda)

Deigo Hargreeves is a knife throwing renegade who refuses to put up with Luther's inferiority complex and daddy issues. Instead, he maintains a calm demeanor, while revealing vulnerability through his love for Detective Patch. How can you not adore Diego?

Ben Hargreeves (Justin H. Min) nearly took this spot given the actor behind the character's social media presence (he's hysterical) and devoted Twitter following. However, it seemed unfair to choose a cast member with less screen time, who – for the majority of the first season – was written in such a way as to augment the viewer's understanding of Klaus Hargreeves.

From articles covering who he's dating to others discussing where he is from and what you may not know about him, David Casteñeda – while not receiving as much media attention as certain fellow castmates – does get his fair share. He also receives more than his needed dose of "thirst" posts (as he happens to be a handsome guy with a bad-boy character profile, which many people are drawn to).

2 Number Five (Aidan Gallagher)

Number Five, portrayed by Aiden Gallagher on the show, has been the subject of considerable attention since first appearing as the 50-year-old trapped in an adolescent's body. The actor – virtually an unknown before the series – skyrocketed to fame as people were typing into google "Who plays Number Five in The Umbrella Academy?"

Aidan Gallagher has also already been named a UN Environmental Goodwill Ambassador, and he is very active on social media (both when it comes to promoting the show and advocating for environmental regulations). He has a devout fan following, and is one of the "most trending" stars from the show on a consecutive weekly basis, according to Google.

Aidan Gallagher gets to play the sharp-tongued guy with no patience who falls in love with a mannequin during his time alone in a post-apocalyptic world. How could fans not love this character? He's witty, bizarre, and self-assured. All the qualities expected of a superhero, right?

1 Klaus Hargreeves (Robert Sheehan)

If the fan art and thirsty twitter posts aren't enough to convince you that Robert Sheehan is a fan-favorite, take to the internet and you will find various articles covering this actor in every way, shape, and form. From his role on Netflix's The Umbrella Academy to the worst actor he's ever met and his opinions on 9/11, if there's something you want to know about Sheehan, you will be able to find it.

Furthermore, many fans love that Robert Sheehan's character on The Umbrella Academy is similar to his role on Misfits, as it makes audiences feel like they're getting to know the actor, and the kinds of roles he tends to accept. Furthermore, if you watch Robert Sheehan interview, he's virtually a combination of Klaus Hargreeves and Nathan Young (Misfits character) in real life, or so it seems.