Farrah Abraham Alluded That Her Daughter, Sophia, Is Getting a TV Deal With MTV
Farrah Abraham was once featured on 16 and Pregnant, and she attained further fame with Teen Mom. And now that her daughter, Sophia, is 11 years old, we've had plenty of years to understand who Farrah is and what she's all about. On Teen Mom, she attained a diva reputation. And now that she's no longer associated with the show, she continues to share her lavish lifestyle with her daughter on social media.
Now, it seems Farrah has big dreams for her daughter. Sophia has her own Instagram page that Farrah manages, and she's already pushing her giveaways, budding modeling career, and musical singles. There's even a post on Sophia's account that indicates Farrah might be hoping she gets a television deal with MTV. Here's what was posted.
Farrah Abraham is no longer featured on Teen Mom OG
It's no secret that Farrah is no longer associated with the Teen Mom shows. She was known for her dramatic behavior on the set of the show, and there's plenty of footage showing her having trouble with the people working behind the cameras. But it may have been her work in the adult film industry that was truly her undoing.
According to People, Farrah believes she was unfairly fired and sued MTV's parent company, Viacom, $5 million. Because Farrah has released adult videos and been very vocal regarding her past in the industry, she believes this led to MTV firing her from the show. According to MTV, however, this wasn't the case.
"We respect Farrah's decision to pursue other endeavors and we wish her the best. Regarding her suit, the claims are without merit," a Viacom spokesperson told People.
Farrah later backtracked her statement and said MTV didn't terminate her contract, too. Either way, she's no longer part of Teen Mom.
She's hoping her daughter, Sophia, can become a star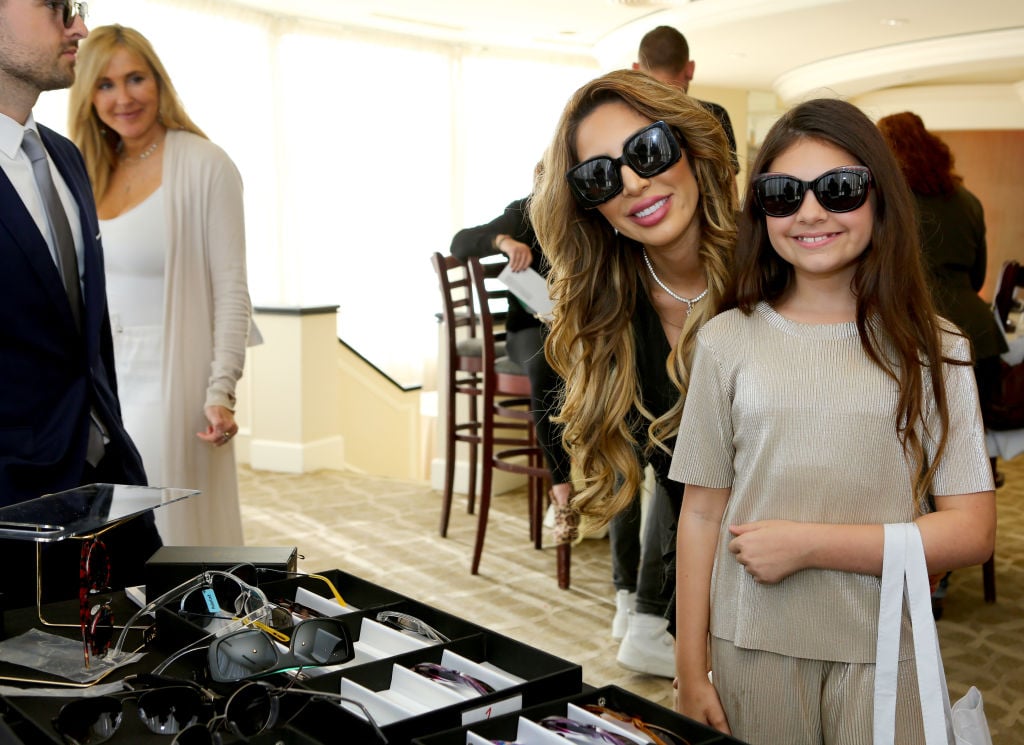 Farrah's still trying to remain relevant despite her absence on the show that gave her major fame. She promotes tons of products on her Instagram, and she also posts photos from her modeling gigs and lavish vacations. But Farrah's Instagram account isn't the only one she controls. She also makes sure plenty of posts are added to Sophia's Instagram.
On Feb. 27, Farrah added a post showing Sophia promoting hew new single "Bestie Best Friend." Thanks to all the promotion, it seems the song is already getting tens of thousands of listens. Farrah also frequently posts promoting Sophia's Tik Tok, another social media platform that could jumpstart the child's fame.
We can't forget that Farrah homeschools Sophia as well. As for why, the ex-Teen Mom star said it's so that Sophia can have additional opportunities other kids her age might not have. "It's focusing more on her studies, traveling the world if she wants to do that while she is going to school," Farrah said.
An Instagram post of Sophia talks about the child's 'TV career'
Could Sophia break out into the TV world? It seems it might be in the plan. "Surreal day seeing my mom on the #MTV Wall on way to my own meeting – now getting to work hard on my next chapter in my tv career I'm working hard thank you mom, my agents and the creative development team at #viacomcbs," Sophia's Instagram caption reads.
The first photo in the post shows Sophia in front of the MTV wall. And she's also with Farrah in several of the other photos.
"Proud of you – coming from a Iowa teen mom , not bad. Love you," Farrah commented on the post.
It seems Farrah may have repaired her relationship with MTV and Viacom, as she appeared on Ex on the Beach after her Teen Mom exit. So, will Sophia enter the world of MTV now, too? We're not yet sure — but we'll certainly find out.
Check out Showbiz Cheat Sheet on Facebook!