Farrah Abraham's Daughter, Sophia, Is Whitening Her Teeth, and Her Followers Are Concerned for Her Safety
There are plenty of famous Teen Mom stars who've made it big, but few are as controversial as Farrah Abraham. While Farrah got her start on MTV's 16 and Pregnant, she showed off her diva-like attitude on Teen Mom OG. She's no longer associated with the show, but she posts everything she and her 10-year-old daughter, Sophia, are up to on Instagram. And, of course, her followers are constantly criticizing Farrah for her obscure parenting choices.
Now, Farrah and Sophia's followers are getting critical once again. A video was posted to Sophia's account showing the little girl going through a teeth-whitening procedure, and fans are warning Farrah against it. Here's what's going on.
Farrah Abraham discussed plastic surgery with Sophia Abraham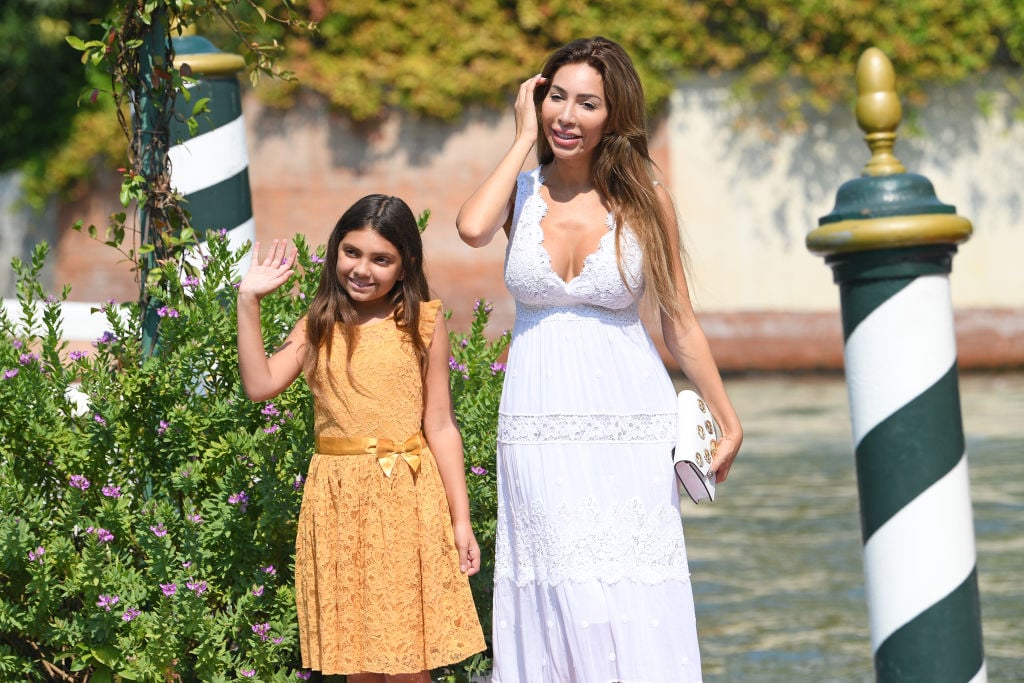 Farrah is no stranger to going under the knife, and she frequently posts her many procedures to Instagram for all of her followers to witness. While the ex-Teen Mom star is 28 years old and can make her own decisions, fans fear she may allow her daughter to do something rash at a young age.
OK! Magazine talked to Farrah about what she would think if Sophia wanted to go under the knife. And Farrah initially answered, "That would never happen, first of all!" But she then went on to explain that she does discuss plastic surgery with Sophia, as she believes it's important that her daughter knows how it all works.
"I think curiosity, just like with makeup and all the other things that kids are experimenting with, you know, I think it's great to have conversations just like you would about the birds and bees about plastic surgery," Farrah said. "And making sure, you know, like there's top … you know, top popular surgeries in females. And that's like nose, boobs, butts. … I think that's just common to be curious, ask about those things."
Farrah's followers are worried about the way Sophia is presented on Instagram
Farrah may swear that her young daughter would never get work done, but fans are already anxious regarding how Sophia presents herself. The little girl's Instagram is full of makeup tutorials and modeling photos. And she even has one video dedicated to her "haters," though preteens shouldn't be worrying about online bullying.
Sophia's followers have also grown concerned over the way she dresses. Sophia is frequently in clothing that some may think is revealing, and fans think Farrah should cover her daughter up for the internet even if that's how she's allowed to dress at home.
"She's awfully young to be wearing that shirt. Most parents try to protect their children from pervert attention," one follower commented on Sophia's post showing her in a cropped top and leggings.
Followers are freaking out after seeing Sophia's teeth-whitening video
While Sophia isn't going under the knife, she's still partaking in procedures to alter her body. And her followers are freaking out after she posted a video of her trying out her new teeth-whitening kit.
The kit includes a light that allegedly makes teeth noticeably whiter in just 15 minutes. The person administering the product doesn't seem concerned about Sophia's age at all, either. And Farrah's encouraging the product as well, as she's the one who took the video of Sophia giving it a try.
"Whitening your teeth makes your teeth super sensitive and more prone to cavities it removes enamel which never comes back!!!" one follower warned.
"Is this actually safe for kids to be taking ?!" another questioned.
"At your age you shouldn't be having a whitening issue," yet another noted.
Farrah's noted in the past that she doesn't let any online hate get to her or Sophia, so we're sure we'll continue to see her controversial parenting tactics in the future. We're hoping there's no long-term damage to Sophia's teeth, too!
Check out Showbiz Cheat Sheet on Facebook!