Farrah Abraham's Followers Think She's Exploiting Sophia's Late Father, Derek Underwood, for Money
We've been watching Farrah Abraham since the early days of 16 and Pregnant, and her journey with fame has taken a serious turn. While she was known as one of the most dramatic and diva-like personalities on Teen Mom, she no longer makes appearances on the show. Instead, she and her 11-year-old daughter, Sophia, have their own social media presence where they attract supporters and critics alike.
Farrah gets a ton of hate for her posts. And in March 2020, she added a Tik Tok clip to her Instagram that shows her reminiscing on her relationship with Sophia's late father, Derek Underwood. Unfortunately, her followers think she's capitalizing on Underwood's death for money. Here's why.
Farrah Abraham and Derek Underwood broke up before his death
Those who watched Farrah on 16 and Pregnant may remember her history with Underwood. The two dated in high school, but their relationship didn't last. While Farrah was committed to having Sophia, she noted that Underwood was "jealous" and "immature," causing them to split. And it was after their split when Underwood was involved in an accident that took his life.
According to E! News, Underwood died in a car accident on Dec. 28, 2008. Underwood was just 18 at the time, and he lost control of the vehicle, causing it to flip and hit a utility pole. There were two other passengers in the car at the time, with only one of them also killed.
Underwood's sister, Alissa, spoke about her brother after the crash. "Definitely lived on the edge, but he was responsible, he went to work, came home," she noted.
It seemed like Farrah had a tough relationship with Underwood before the breakup, too. "The last time I saw Derek was when I was five months pregnant," she noted on Teen Mom OG. "My dad and Derek pulled knives on each other and called the cops on each other and it was really sad."
Farrah posts about Underwood when she and Sophia visit his grave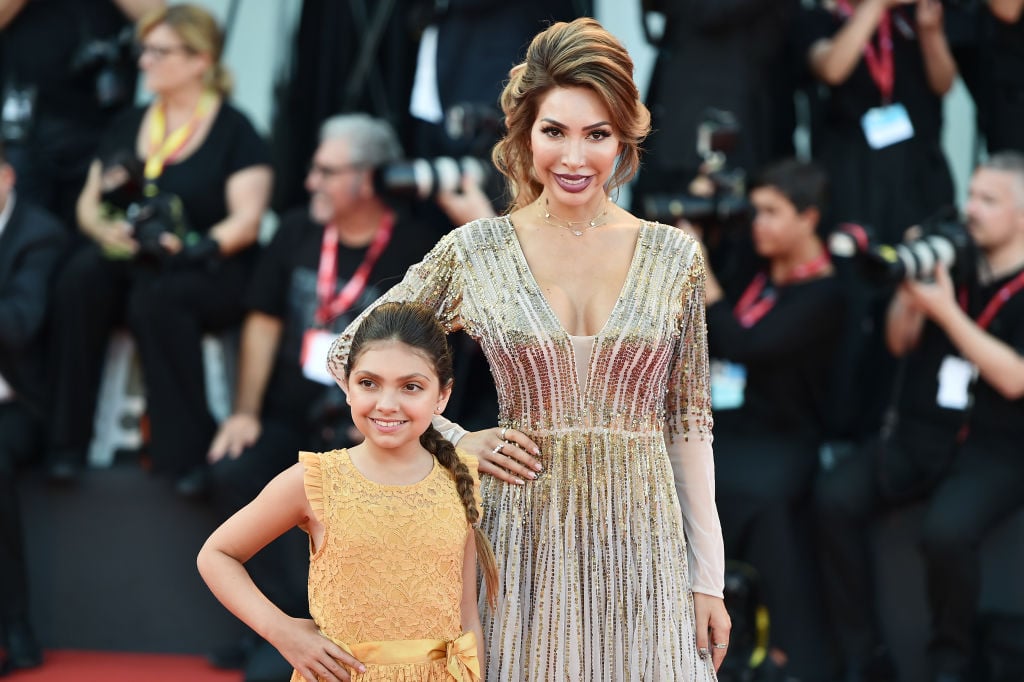 Farrah still expresses how much she misses Underwood and wants Sophia to have a connection to her late father. Not only has she posted tributes of him to her Instagram, but she also posts videos of her trips to the cemetery to visit his grave.
"For 11 years I've been through a broken heart, depression, Bereavement , and keeping strong for Sophia who so deserves the world," she captioned her Instagram video from Dec. 28, 2019. Farrah then noted the video was created "in loving memory of Daddy Derek you have touched so many and are truly special , loved and never forgotten . Rain, Snow or Shine we love you."
The video from December 2019 shows Farrah and Sophia at the grave on a rainy day. And Underwood's side of the family was also present.
Her followers think her video post shows she's exploiting him
Many think Farrah is practicing some good parenting by sharing Underwood's legacy with Sophia. But others think she's taking it way too far with her Instagram posts.
On March 4, Farrah added a video to Instagram showing her reading through her memoir, My Teenage Dream Ended, and reminiscing on her relationship. "I saw this TikTok trend and who better to show as my soulmate … brokenhearts have a hard time healing," she captioned the post.
Many fans think she's exploiting Underwood's death with such a post, though.
"To bad you are doing this all for attention," one follower commented. "And before anyone tries to stick up for her ….. look at who she tagged ! No one from Derek's family."
"Oh give me a break," another wrote. "You two weren't married which means you're NOT A WIDOW, and you weren't even together! You milk this widow thing for all it's worth and it's not true!!!"
"How could he have been your soulmate when you were broken up w/him; even before he passed away you didnt want anything to do w/ him, you're such a piece of work Farrah," yet another wrote.
Farrah hasn't made any comments about the accusations yet. We're willing to bet she'll ignore the haters and continue mentioning Underwood no matter what.
Check out Showbiz Cheat Sheet on Facebook!