Which 'Fast and Furious' Star Has the Higher Net Worth, Michelle Rodriguez or Jordana Brewster?
The Fast and Furious franchise started as a simple street-racing riff on Point Break. But the saga has continued for 20 years, evolving into essentially a series of superhero movies. Of course, Vin Diesel has almost always been front and center. F9 reunites him with the other stars of the original The Fast and the Furious. But which of that series' longtime female leads, Michelle Rodriguez or Jordana Brewster, has the higher net worth?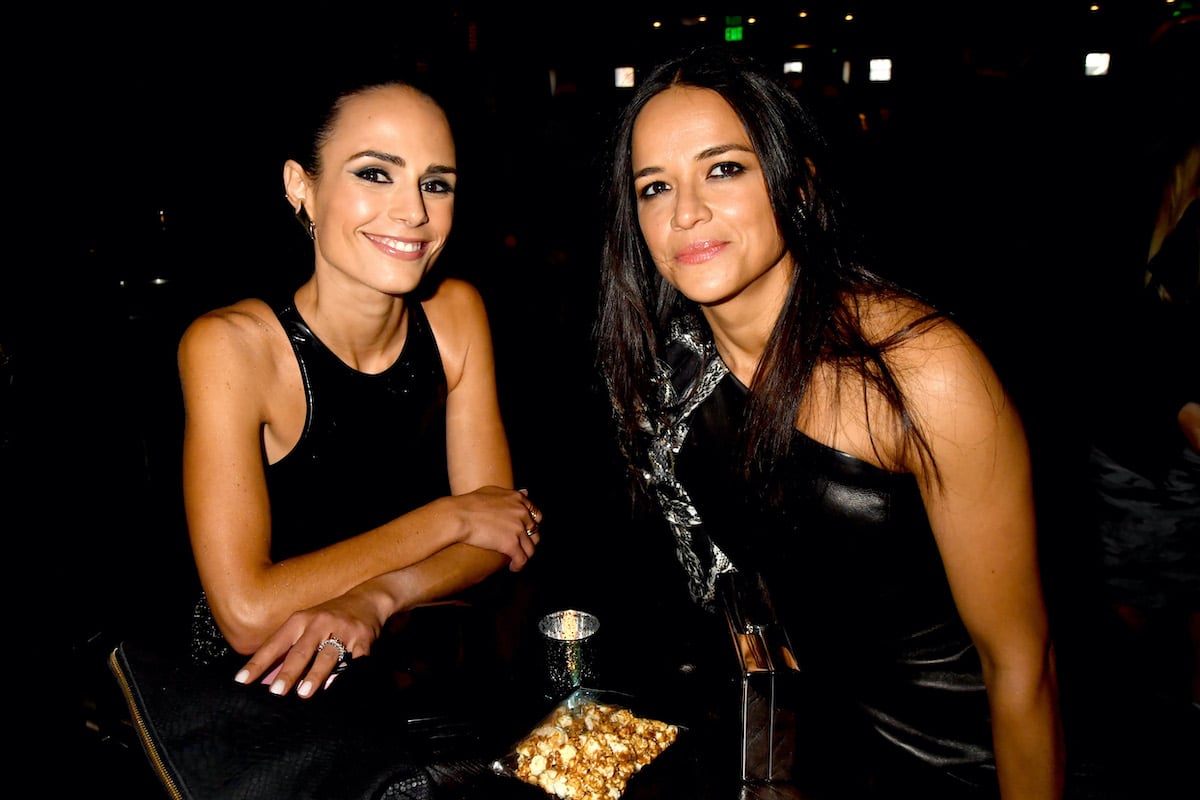 Michelle Rodriguez and Jordana Brewster finally share a scene in 'Fast and the Furious 9'
The first film introduces Rodriguez as Letty Ortiz, the tough-as-nails love interest to Diesel's Dominic Toretto. The pair have remained an item throughout most of the movies, but there was a period there when Letty was presumed dead and suffering from amnesia. Dom's sister, Mia (Brewster), on the other hand, has been loyal to him since day one.
Brewster took a break from the series after Furious 7, since Mia is married to Brian (the late Paul Walker). Now she is back on screen with Diesel and Rodriguez, as the three original cast members holding the Fast and Furious series down. And in F9, Rodriguez and Brewster share a scene for the first time in the saga's history. Normally, this would be shocking, but considering the series' convoluted timeline, it somehow makes sense.
RELATED: How the 'Fast and Furious' Movies Snuck in Its Own Prequel Trilogy
Which original cast member of the saga has the higher net worth?
Rodriguez and Brewster have roughly similar standing within the Fast and Furious saga. So it stands to reason their respective net worths might reflect their most popular roles. According to Celebrity Net Worth, the two stars actually match up exactly. Both Rodriguez and Brewster carry a reported net worth of $25 million, largely due to their signature franchise.
Of course, neither comes close to the monstrous net worths of some of their castmates. Diesel, Dwayne Johnson, Jason Statham, and Charlize Theron are all major movie stars in their own right. Diesel in particular has long been at the forefront of the Fast and Furious saga as both star and producer. And he has two other franchises, Riddick and xXx, to his name.
RELATED: 'F9': Dwayne Johnson Stars in All the Most Successful 'Fast and Furious' Movies
Michelle Rodriguez and Jordana Brewster could co-lead the all-female 'Fast and Furious' spinoff
As the two women who have been at Dom's side the longest, Rodriguez and Brewster might only now be getting screen time together. But they could be poised for even larger roles in the series sometime soon. After all, Diesel has confirmed the Fast and Furious saga will end after two more movies. But it won't mean the end.
In fact, Diesel — who also produces the series — has an all-female Fast and Furious spinoff in the works. Letty and Mia are the obvious first additions to such a project. Presumably, it could even make room for past 2 Fast 2 Furious star Eva Mendes as well as current stars Charlize Theron, Nathalie Emmanuel, and Helen Mirren.