'FBoy Island' Sarah Emig Says She Has 'No Regrets' About Show's Finale
Sarah Emig of 'FBoy Island' opens up about her time on HBO Max's show. She also explains her feelings towards Garrett Morosky.
HBO Max's FBoy Island has been exactly what the summer of 2021 needed. The reality TV dating show dropped its first batch of episodes, a la Too Hot to Handle style, back in late July of this year—and it instantly became a hit for those who are reality TV obsessed. Raise your hand if you've watched and can't stop saying "fboy, fbye" "nice guy, nice try." Yep, us too. Following three single ladies, Sarah Emig, Nakia Renee, and CJ Franco, as they try to date a group of 24 men (some of which are there for love, some there just to be your standard old fboy), FBoy Island is literally reality TV gold. Not to mention it's set on a tropical island and hosted by the oh-so-funny Nikki Glaser. However, what truly made the show stand out from the rest, had to be the shocking finale. Therefore, we had to get to the bottom of how one contestant felt after the finale elimination night.
If you haven't yet watched this highly addicting show, stop what you're doing right now, go turn on your TV and start streaming! Trust us, FBoy Island is a reality TV gem that needs to be discovered.
[Spoiler alert: This article contains spoilers from FBoy Island.]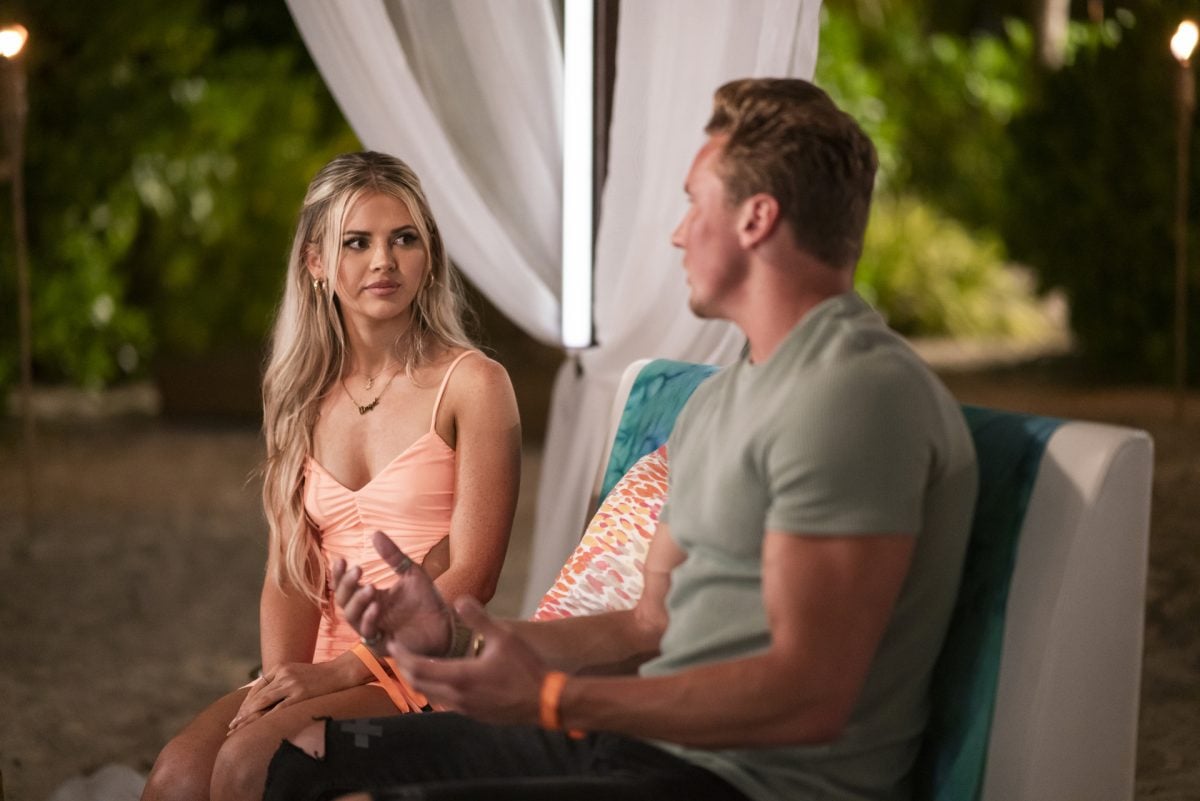 Following the finale, Sarah Emig opened up about her time on 'FBoy Island'
Unfortunately, Sarah did not get to leave FBoy Island with either a nice guy or reformed fboy. Instead, she was played by the bitcoin investor and self-proclaimed fboy Garret Morosky. After choosing him and opting to give him control of the $100,000 cash prize, Garrett (like any fboy would) dumped Sarah and took the money for himself. It was a total WTF moment.
So, how does Sarah feel about the breakup now after watching it all back? She opened up to Insider about her decision to choose Garret and more.
Sarah Emig was blindsided by fboy Garrett Morosky
In a 2021 interview with Insider, Sarah talked openly about her time on FBoy Island and putting so much effort into Garrett. She told the outlet, "Any person with logic would not have chosen him," Emig said. "I just laughed like, this is funny, this is what I deserve. But also a lot of women can relate to that too, where they give a guy a lot of chances and try to see the good in someone, and it just ends up not working out." She continued, "Watching it back, I can see why people are being like, 'Wow, why is Sarah picking him over and over again?'" Adding, "All of America is probably yelling at the screen. But we did really have a lot of good moments, he actually cried at multiple eliminations." 
Did the 'King of the FBoys' get what he deserved on 'FBoy Island'?
So, how does Sarah feel about the shocking finale twist where Garrett would actually not be receiving the $100,000, but instead, the money would go to a donation of Sarah's choice? She told Insider, "I was like, not only do I get what I deserve, but he gets what he deserves too, and he made a complete fool of himself," she added. "He chose to make a bad decision. He just doesn't deserve the time of day."