'Fear Street': Did You Catch the 'Jurassic Park' Reference?
The Fear Street trilogy on Netflix was a pleasant surprise for horror movie fans this summer. Directed by Leigh Janiak, the three movies were released a week apart in July. Starring Kiana Madeira, Olivia Scott Welch, Sadie Sink, and Gillian Jacobs, the films were a refreshing callback to some of the best horror movies of all time.
The movies cover three generations with an overarching storyline connecting the characters. Based on the novels by R.L. Stine, Fear Street was filled with hat tips to plenty of movies from the '90s. There's one movie surprising even the most diehard cinema fans.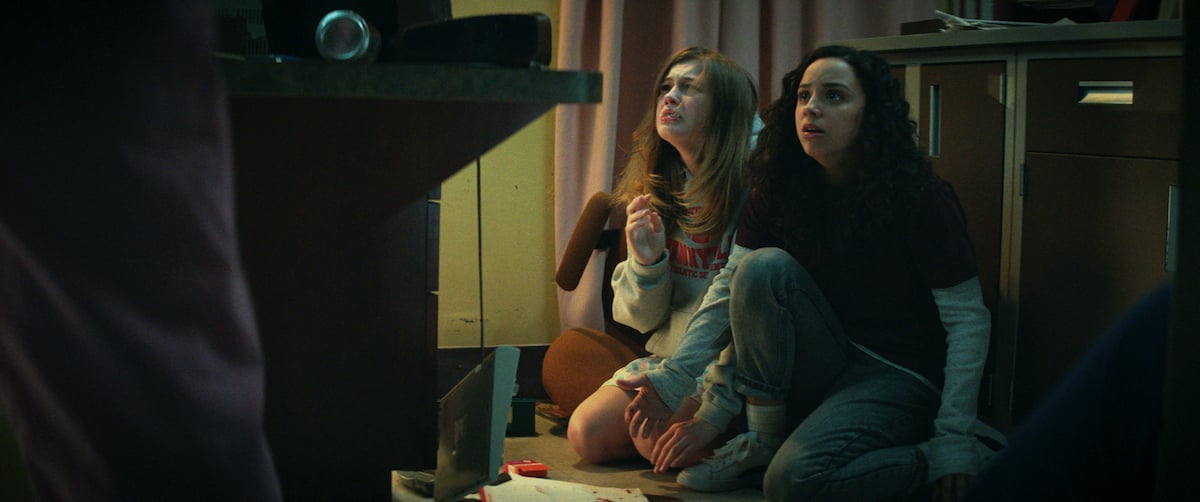 Was there a 'Jurassic Park' reference in 'Fear Street: 1994'?
Fear Street: 1994 is essentially one giant homage to the '90s. From the moment the movie opens to Heather (Maya Hawke) working at B. Dalton Books in the mall, viewers are soaking in a warm bath of '90s nostalgia. 
The most obvious references allude to Wes Craven's 1996 horror movie, Scream. However, Olivia Scott Welch, who plays Sam, confirmed a movie no one would imagine fitting into a retro teen slasher movie, and that's Jurassic Park.
When Sam has to spend a night in the hospital after a pretty gnarly car accident, she's served a not-so-appetizing hospital dinner. As with any hospital in movies, the standard dessert is Jell-O. This Jell-O is red, and Sam isn't shaking in fear as she's about to take a bite. However, Welch believes this is Janiak's way of giving a little wink to lovers of Jurassic Park.
Welch recently sat down with Collider and spoke about the Jurassic Park reference. "I think that it was! I think that it was because Leigh is a movie lover. She loves movies, and I think there are times where she makes references almost, not subconsciously, but it's a thing where it's like, 'Well, of course,' you know what I mean? 'Of course if we're putting Jell-O in the scene, it's only gonna be an homage to Jurassic Park,' you know?"
What happened in the original 'Jurassic Park' scene?
If anyone had to list the top three most memorable movies from the '90s, they would be hard-pressed to find someone who didn't mention 1993's, Jurassic Park. The movie roared into theaters with some of the most impressive special effects anyone had ever seen.
While there's plenty of iconic scenes from the film, one of the most famous involves Lex, played by Ariana Richards, and a spoonful of Jell-O. Lex and her little brother Tim (Joseph Mazzello) have just survived the most harrowing 24 hours of their life. They've been attacked by the Tyrannosaurus Rex, dodged a flock of Gallimimus, and seen a man eaten alive. 
When they reach the visitor center, seemingly free of any prehistoric dangers, the two kids set in to fill their stomachs with everything this lush Buffett has to offer. Lex chooses Jell-O, and just as she's about to scoop a spoonful into her mouth, her eyes go wide and fear. Her hands start to shake, and the Jell-O starts to jiggle. The park's velociraptors have sniffed them out, and just as the kids thought their lousy day was over, it got considerably worse. Thankfully, the kids and a handful of other adults make it out alive.
Where you can stream the 'Fear Street' trilogy
Janiak has mentioned that she'd like to build her own Fear Street universe. Nothing has been set in stone yet. All three moves from the trilogy are currently streaming on Netflix.