The First Album Bella Poarch Bought Was 'Fearless' by Taylor Swift
Bella Poarch has been a longtime fan of Taylor Swift, singing 'Teardrops on My Guitar' and even naming 'Fearless' as the first CD she ever purchased.
Taylor Swift has several celebrity fans and friends — including TikTok's Bella Poarch. The "Build a B****" singer revealed that one of the first CDs she purchased was Swift's Fearless.
TikTok's Bella Poarch is the singer behind 'Build a B****'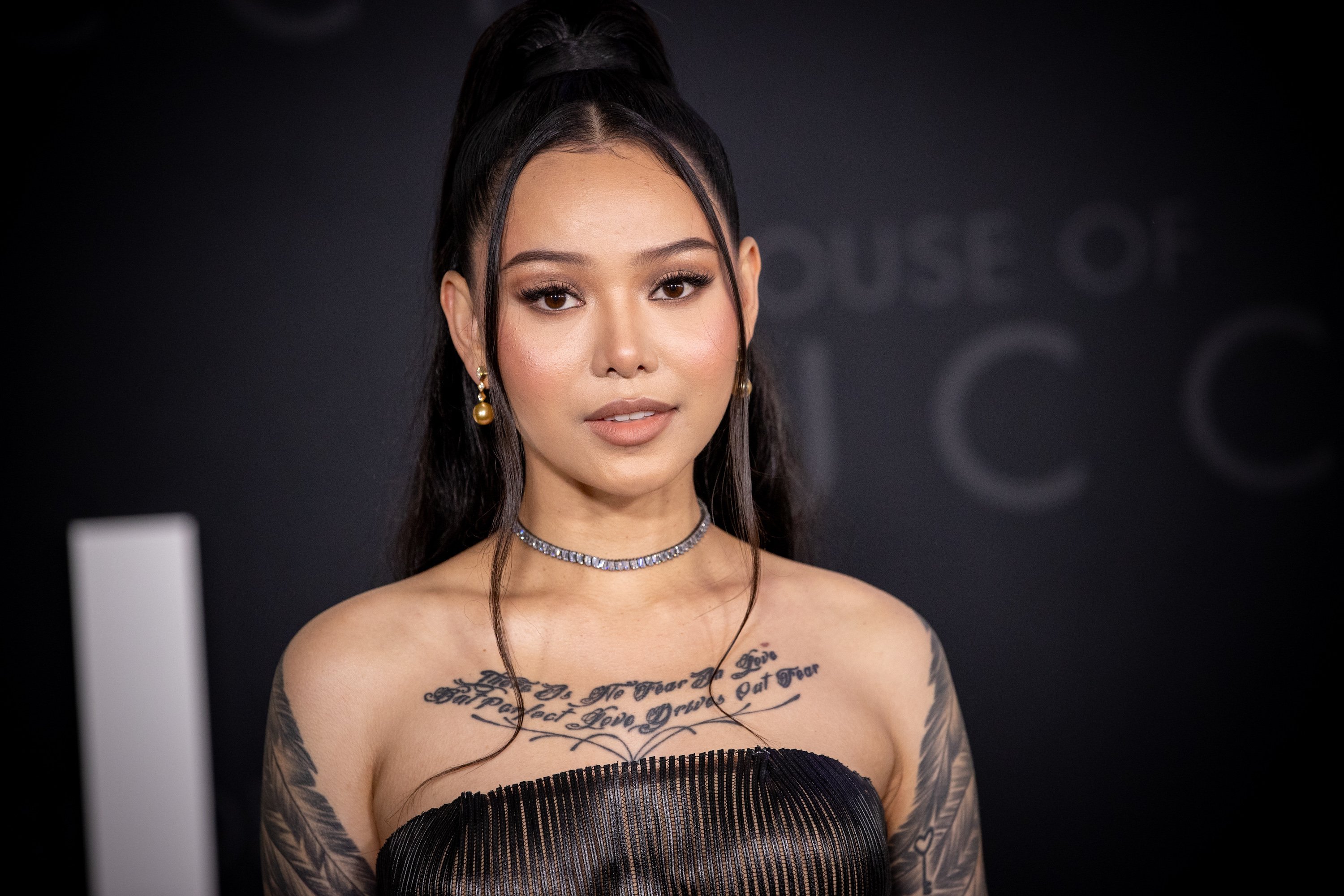 Some know this artist for her presence on social media platforms like Instagram and TikTok. Additionally, Poarch is a chart-topping musician. In 2021, she released the single "Build a B****," earning over 300 million Spotify plays since its debut. The same year she debuted the single "Inferno."
Outside of her own music, Poarch often supports other artists. That includes the K-pop group BTS, with Poarch naming RM as her official celebrity crush. Ever since she was little, the singer was a fan of Swift and her music. 
"I was picking up like poop in the backyard because that was one of my daily chores…," Poarch said during a video with Ask Anything Chat. "And I remember that one time, my neighbor, who was like a little far away… was playing and blasting a Taylor Swift song and I was just jamming the whole time."
The artists then went into an impromptu cover of "Teardrops On My Guitar." That was a song included on Swift's 2006 self-titled album.
Bella Poarch is a fan of Taylor Swift's 'Fearless'
In 2022, Poarch took the Cosmo Quiz, answering questions about her latest screenshots and music. When asked about the first CD she ever bought, Poarch wrote, "Fearless by Taylor Swift."
This album was initially released in 2008. Since then, the production has earned millions of Spotify streams, with other celebrities sharing their appreciation for Swift's music. The songwriter even snagged an Album of the Year Grammy Award for the release.
It's unclear, however, if Poarch ever met the "Fearless" singer. Swift has not yet responded to the nod from Poarch. Poarch is close friends with her cousin Bretman Rock, also known for his social media accounts.
Bella Poarch did a Taylor Swift 'Hey Stephen'-inspired TikTok trend
This Cosmopolitan shoutout wouldn't be the only clue about Poarch's Swiftie status. Some social media users noticed that the "Build a B****" singer follows Swift on Instagram. Poarch appeared in a TikTok trend inspired by Swift's "Hey Stephen." 
In her video, the artist called out Stephen in Tagalog, one of the languages spoken in the Philippines. She asked fans to translate in the comments if they understood the language, with thousands liking and commenting on the clip. 
In 2021, Swift released the "Taylor's Version" of her iconic album. This collection featured reimagined versions of "Forever & Always," "Love Story," "Fifteen," and, of course, "Hey Stephen." That year also marked the release of Red (Taylor's Version). 
Some listeners even created mashups of well-known songs by both performers, sharing them on Youtube and earning hundreds of views. Music by Swift is available on most major streaming platforms.