'First Kill': Gracie Dzienny Answers if She Ships Elinor With Apollo
​​First Kill showed a couple trying to overcome their differences. But will Elinor Fairmont (Gracie Dzienny) and Apollo Burns (Dominic Goodman) become another? This is what Dzienny had to say about her character's love life on the Netflix show.
[SPOILER ALERT: Major spoilers ahead for First Kill.]  
Elinor Fairmont and Apollo Burns flirt on 'First Kill'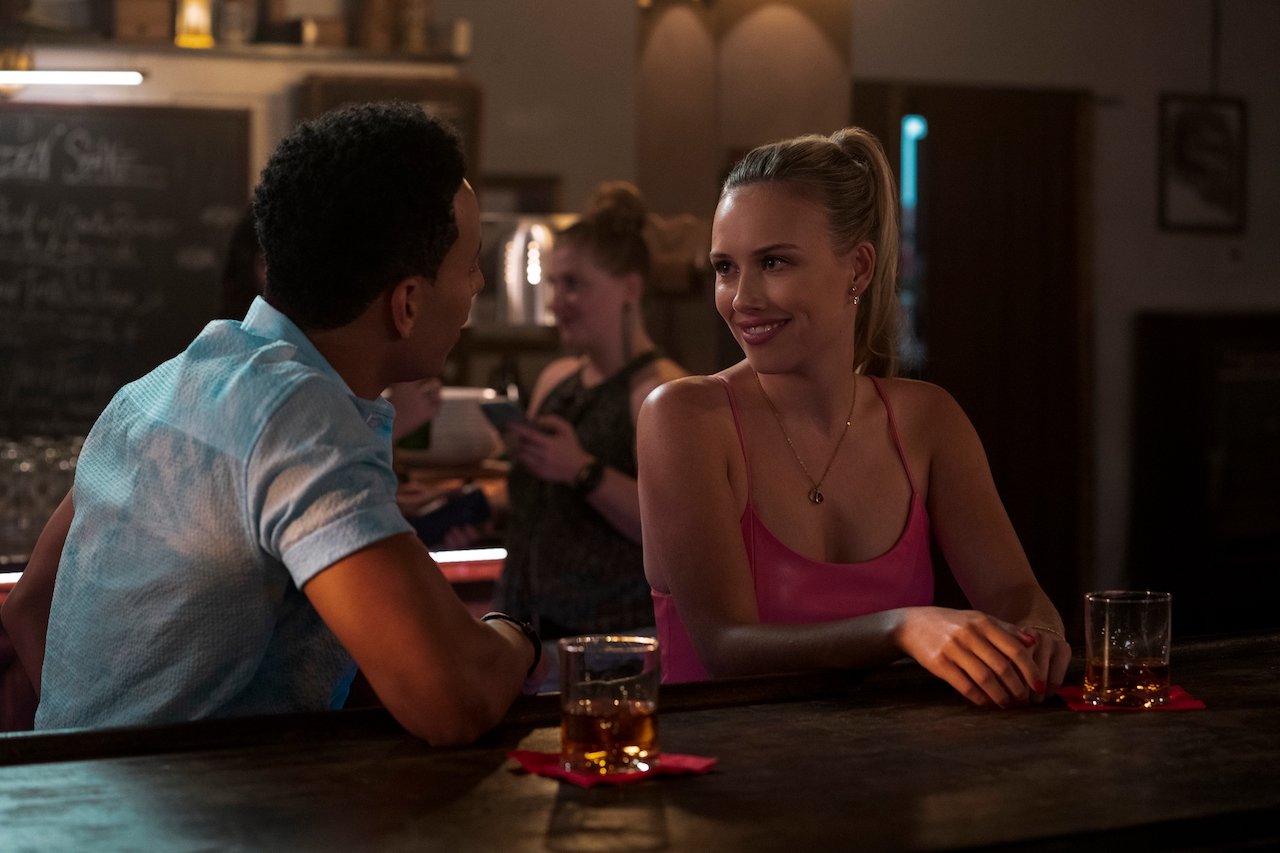 RELATED: Netflix 'First Kill' Review: Iffy CGI Distracts From Emma Roberts' Teen Vampire Drama
The Fairmonts is a family of legacy vampires. They have special powers that allow them to see their reflection, go out in the sunlight, and more. The Burns family is full of monster hunters working as part of a guild. The season focuses on Juliette Fairmont (Sarah Catherine Hook) and Calliope Burns' (Imani Lewis) romance. But they're not the only family members from the warring families who flirt.
"First Blood" shows Apollo and Elinor meeting at the same bar. They react to Ashley Stanton's death on the news. Elinor calls it "tragic" while he claims there is a cover-up related to her death. She stops him before he leaves and asks "Have you ever hooked up in a women's bathroom stall?" He answers, "No. Can't say I have." She then says, "You will."
The audience has already watched her feed on men in the bathroom. The season ends with Apollo and Theo (Phillip Mullings Jr.) trying to kill her in the bathroom. She successfully wins the fight, and Apollo accidentally stakes Theo. Juliette turns Theo into a vampire to keep him alive. 
Gracie Dzienny thinks Elinor isn't interested in Apollo
RELATED: ​​'First Kill': Imani Lewis Answers Where Is Cal Going in the Season 1 Finale
Dzienny revealed what she thinks is going on between Elinor and Apollo. She told TV Insider that it's just a game for her character.
"I think she just likes to play with her food, to be honest," the actor said. "I don't know if she really has a lot of time or energy for a relationship in her. But I do think that Elinor/Apollo storyline is really strong."
The season ended with Juliette calling the cops on Elinor for her murders. Dzienny gave her theory on what's next for the murderous vampire.
"She can no longer be the keeper-in-waiting, so I think there's a nice relief there," she said. "I'm excited for her to just have more fun. I know she's really driven and power-hungry, but I'm excited to see what other ways she'll go about attaining that power now she doesn't have the family strings to rely on."
Some 'First Kill' fans are still shipping Elinor and Apollo
Although the actor doesn't see a romance in her character's future, fans feel differently. "To me there two sides of the same they both kill people for fun because they were raised too [sic] and in [E]linoir defense Apollo and Theo came for her in the bathroom I really would love to see more of there [sic] relationship," one fan wrote on Reddit.
Someone replied, "​​ya they are the dream honestly – hot, crazy, and kinda hate each other. [T]he enemies to lovers dream!"
"They had chemistry tbh! I don't think he will ever get over the fact she had something to do with his brother. Now I was going to be a shipper but Elinor needs some therapy," another person added.
However, there are other viewers who don't see this pair working. "What no," one fan commented. "Elinor kills people for fun because she's a psychopath and Apollo kills because he's been institutionalized and being a dutiful hunter might as well be his whole identity. Do I want them to bang at least once sure -but Elinor is a monster down to her very core and Apollo is a pawn for the Guild and he's kinda dumb-hot but dumb."
It's unclear if the TV show will get a second season. But if so, that's when fans will get to see more of where Apollo and Elinor will stand with each other.
RELATED: 'First Kill': Imani Lewis Hints Cal Might Turn Into a Villain