Florence Pugh Says 'Black Widow' Is About Women That Have Been 'Abused and Trained' to Be 'Killing Machines'
Florence Pugh will make her debut in the Marvel Cinematic Universe when Black Widow finally hits theaters in 2021. Many fans believe that the upcoming prequel will be the first of many appearances for Pugh's Yelena Belova in the MCU. However, Pugh says that depends on how audiences respond to Black Widow. During a recent interview, Pugh explained that the film is "essentially" about women who have been "abused and trained" to be "killing machines."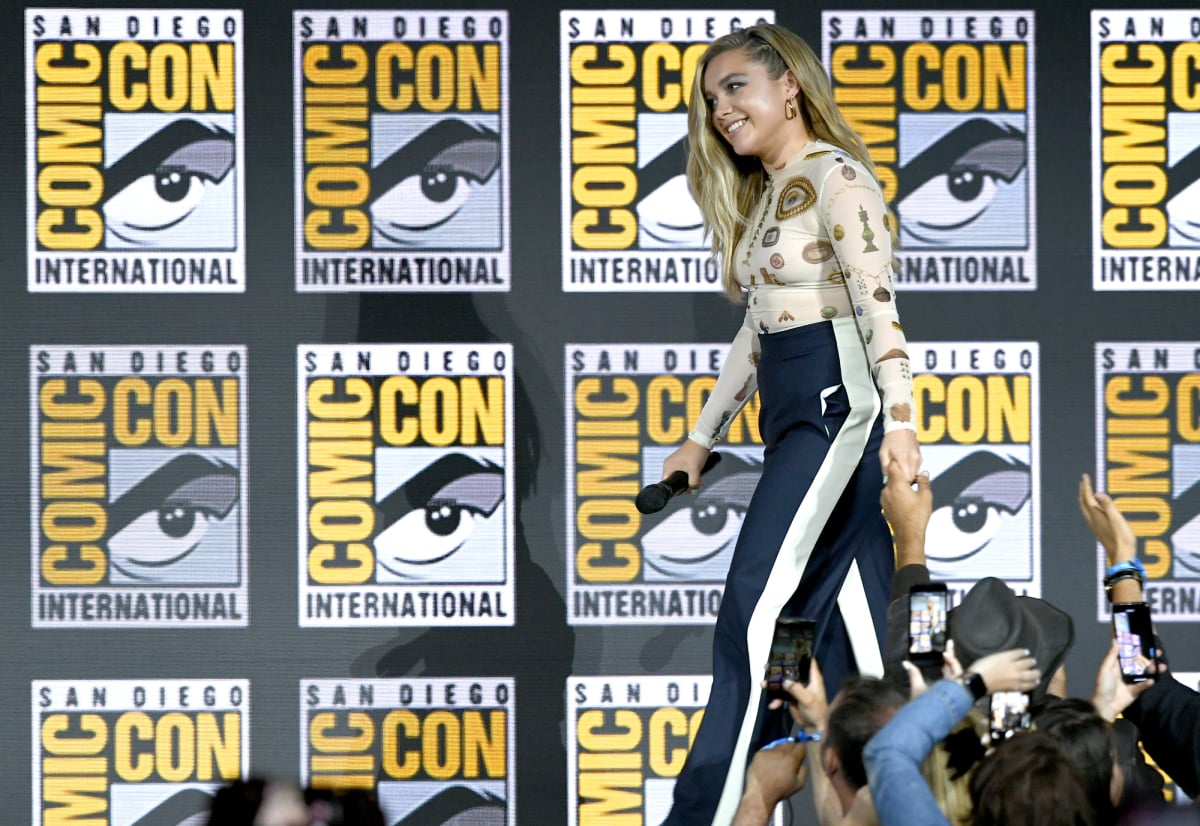 Florence Pugh isn't sure about her future in the Marvel Cinematic Universe
Pugh recently talked with Games Radar about her new role. She explained that when Marvel asks you to be in one of their movies, the only proper answer is "yes."
"And it was so thrilling and fun and exciting to be in, then of course, your head goes: 'Oh my God. If this is what it's like, then what else is next?'" Pugh said.
RELATED: Florence Pugh and Zach Braff: A Complete Timeline of the Relationship the 'Black Widow' Star Is Constantly Forced to Defend
The 24-year-old explained that if she is lucky enough that people appreciate her character, then that's an "exciting road to go on." She admits she would be "silly not to be excited by it." Pugh called being part of the Marvel club "a great honor." However, she wants to wait and see if people like Yelena first.
Scarlett Johansson was more confident about Pugh's future in the MCU. She says she "definitely felt" that Marvel's intention from the very beginning was to bring in Yelena Belova to replace Natasha Romanoff. Johansson noted that Pugh's character "stands completely on her own."
Scarlett Johansson is a big fan of Florence Pugh's Yelena Belova
Yelena Belova is Natasha's "annoying little sister" who is also her equal. Johansson says Pugh's character is perfect to take over the Black Widow mantle. Johansson described the character of Yelena Belova as "strong" and "so different from Natasha." The 35-year-old also pointed out that fans will see the generational difference between the two characters.
Johansson said the character differences are most notable in how they react to things, what they're careful about, and what they're careless about.
RELATED: 'Black Widow' Star Florence Pugh Calls Her Debut in the MCU Both 'Painful' and 'Important'
"It's so fresh, what she does. It's very representative, also, of who she is as a person," Johansson said. "She's unapologetic, and confident in herself, and curious, and brave, and emotionally brave – far more than I ever was. And that stuff all comes through. It's wonderful to feel like you're witnessing something great happening."
However, Pugh admits that the plot of the upcoming Black Widow film is "horrifying." She wants fans to understand that they will be watching a movie about women who are victims of abuse.
'Black Widow' is a story about 'abused' women trained to be 'killing machines'
During Natasha's time in the MCU, she hasn't shared many details about her past. But in Johansson's final outing as the character, Natasha will be on the run and forced to confront her past.
The film jumps back to the days in between Captain America: Civil War and Avengers: Infinity War. According to Yahoo!, the Marvel Studios' Black Widow: The Official Movie Special Book features Pugh explaining the story they are telling in the film.
"It's about women that have been, essentially, abused and trained up to be killing machines," Pugh said. "As Scarlett said over and over, this is the right time for her to be telling [Black Widow's] story. And we're not shying away from the fact that this story is essentially about women getting their life back."
RELATED: 'Black Widow' Star Florence Pugh Wanted to Make Sure She 'Was Calling the Shots' When It Came to Her Body — Not Marvel
Pugh added that this is rare for a Marvel Studios film, and she's very excited to be a part of it. She says that the bond between Natasha and Yelena is the core of the film. She says their lovely and unique friendship helps them repair one another and each other's holes in their lives.
Black Widow is now scheduled to hit theaters in May 2021. Marvel Studios' Black Widow: The Official Movie Special Book is in bookstores now.