What Foo Fighters' Dave Grohl Really Thinks of Ringo Starr's Drumming
Find out what Foo Fighters' frontman Dave Grohl had to say about Ringo Starr as a drummer.
Two of rock music's greatest drummers, inarguably, are Nirvana's Dave Grohl and The Beatles' Ringo Starr.
Both musicians have influenced so many others that came after them.
Grohl hasn't held back his frank opinion on Starr's drumming style and technique, from one percussionist to another.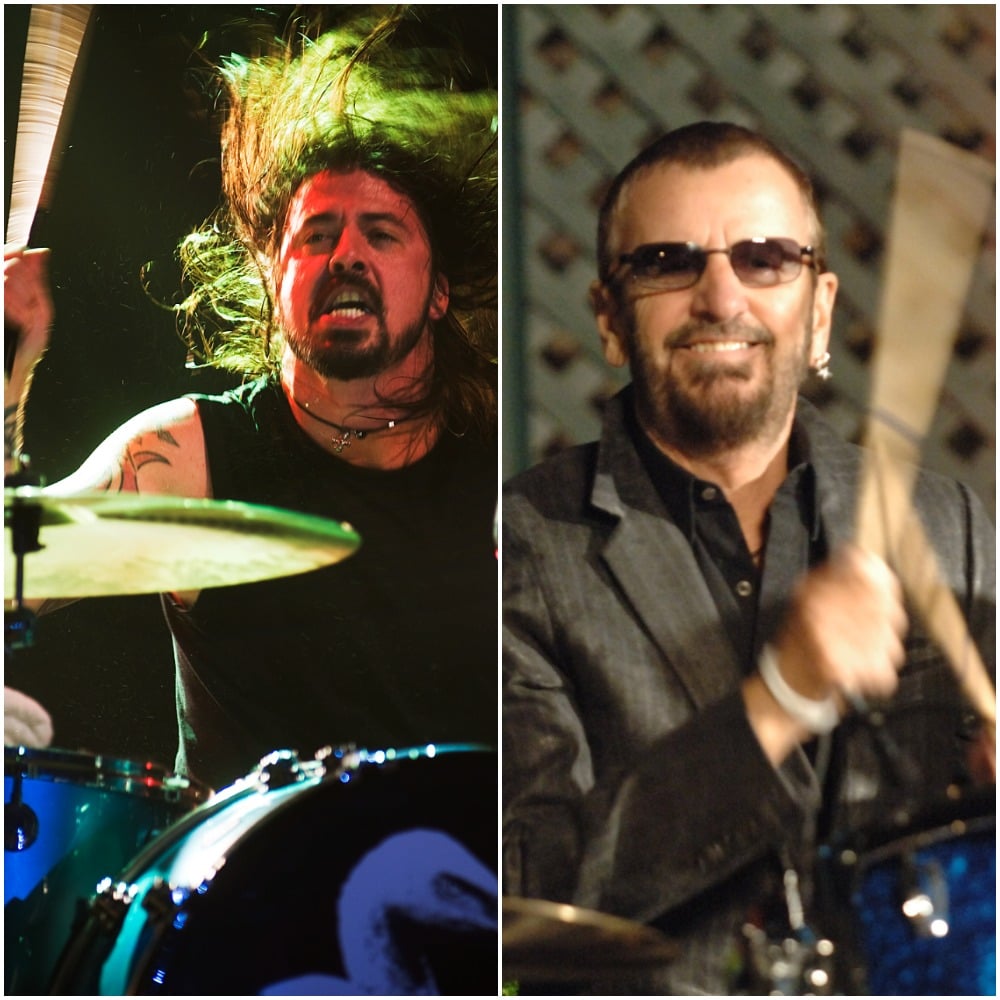 Dave Grohl's new documentary is now streaming
Grohl put the pandemic downtime to good use with his new documentary What Drives Us, streaming now on Coda Collection and on Amazon Prime Video. The film, Grohl said in a statement, "is my love letter to every musician that has ever jumped in an old van with their friends and left it all behind for the simple reward of playing music."
He told The Bill Simmons Podcast in 2020 about it: "Back in the day, that's how younger, independent bands…The van was the tour bus for the punk rockers in the '80s," he said. "Everyone had a van. I've interviewed everybody and you'd be surprised. The Beatles toured in a van. Guns N' Roses, Metallica, U2. Everybody."
Grohl's feelings on Starr as a drummer
As for how Grohl feels about Starr's drumming prowess, he has nothing but praise for the All-Starr Band leader.
"Define the best drummer in the world," Grohl said. "Is it someone who's technically proficient, or is it someone that sits in the song with their own feel? Ringo was the king of feel."
Grohl credits the Yellow Submarine singer with helping him realize his direction as a drummer within Nirvana.
"I looked at what I needed to do in that band, was I needed to do what Ringo did in so many songs, which was just lay it down," he said. "You know, let the song happen, lay it down and do your thing."
He told Rolling Stone in an interview with Starr, "I think that the sign of a great drummer is knowing who that drummer is within eight bars of the song. To this day, when we're in the studio — I'm sure every band in the world, if they want that fill — they say, 'Hey, do a Ringo thing right there.'"
The 2 drummers' shared experience with tragedy
In addition to both having backed two of the greatest rock bands in history, Grohl and Starr also sadly share having lost their bands' frontmen tragically.
Nirvana's Kurt Cobain died by suicide in 1994, and Starr lost his bandmate John Lennon in 1980 at the hands of a deranged fan.
"When John went, I was in the Bahamas. I was getting a phone call from my stepkids in L.A. saying, 'Something's happened to John,'" Starr said. "And then they called and said, 'John's dead.' And I didn't know what to do. And I still well up that some bastard shot him."
Grohl realized that "there's no right or wrong way to grieve. It takes funny turns. You'll be numb. You'll remember the good things, then you'll turn and remember some dark times. I stayed away from music for a while. I wouldn't even turn on the radio. And then I eventually realized that music was the one thing that actually made me feel better."