Food Network Star Guy Fieri Might Have the Greatest Instagram of All Time
Guy Fieri is best known as the host of Food Network's Diners, Drive-Ins, and Dives. And he made headlines earlier this year when the network re-signed him to a three-year, $80 million contract. But Fieri has fun outside of filming, too, as seen on his Instagram account. And fans who love him might want to throw him a follow.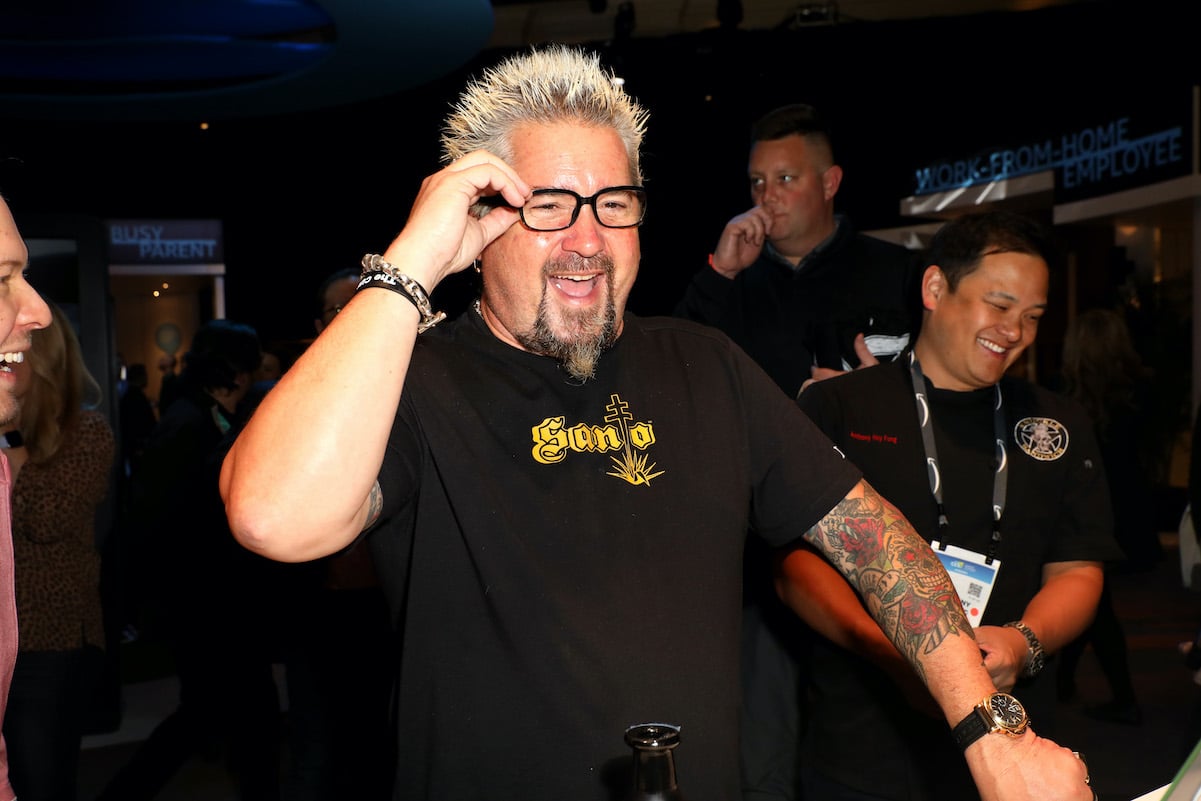 Food Network star Guy Fieri always jumps on the latest meme trend
It seems that every week, a new viral meme circulates the Internet. And while people often take their own spins on the meme, which are then posted to meme accounts, Fieri always wants to get in on the action, too. Whenever something is trending, he finds a way to spin it into a Triple D version.
Recently, a "Fast and Furious" meme about family, featuring Vin Diesel, made its way around the Internet. Fieri hopped on the bandwagon, Photoshopping an image of Vin Diesel in the passenger seat of Fieri's red Camaro. He also Photoshopped the license plate to read "family." The meme received a hilarious reaction from fans.
On the Fourth of July, Fieri posted a meme of the Founding Fathers signing the Declaration of Independence — and Photoshopped himself into the image.
The 'Diners, Drive Ins, and Dives' star love to create hilarious artwork about the show
Fieri always gets creative when it comes to keeping Triple D relevant on his page. On National Video Game Day, he remade the cover of the classic game Grand Theft Auto and replaced it with images of himself. He even wrote "Diners Drive-Ins & Dives" in the iconic GTA font; his caption joked that it was a "sneak peek" of Grand Theft Auto 6. Fans loved the image.
"Hell yeah I'm here for it," one fan wrote.
"We need a shirt with that logo on it!" another person commented.
Fieri loves inserting the intro to Triple D into iconic TV and movie moments, too. He created a hilarious mashup involving Breaking Bad and even created a meme for The Bachelorette, calling it "Bachelorette … In Flavortown."
"Can't believe it took me so long to follow," one fan commented.
Guy Fieri often shows off his family on Instagram, too
While Fieri loves to make jokes, he knows who the most important people are in his life: His family. Fieri often posts photos of his son, Hunter, who has become his right-hand man during filming. Hunter makes frequent appearances on his shows Triple D and Guy's Grocery Games.
Fieri also posts photos of his younger son Ryder, who is lesser known than Hunter likely because he's not quite old enough to be in show business yet. Still, Fieri seems to have a close relationship with both of his boys, whom he shares with his wife Lori.
Fieri doesn't forget about his parents, either. He posted an image after purchasing them a brand new car, and he also posts happy birthday messages to his mom and dad on their special day. "You are one of a kind!" he wrote in a recent sweet birthday message to his mom.