Food Network's Valerie Bertinelli and Giada De Laurentiis Are Up for Daytime Emmys
The 47th annual Daytime Emmys are less than a month away, and some of Food Network's most beloved personalities and chefs, including Valerie Bertinelli and Giada De Laurentiis, among others, have been nominated for their popular cooking shows.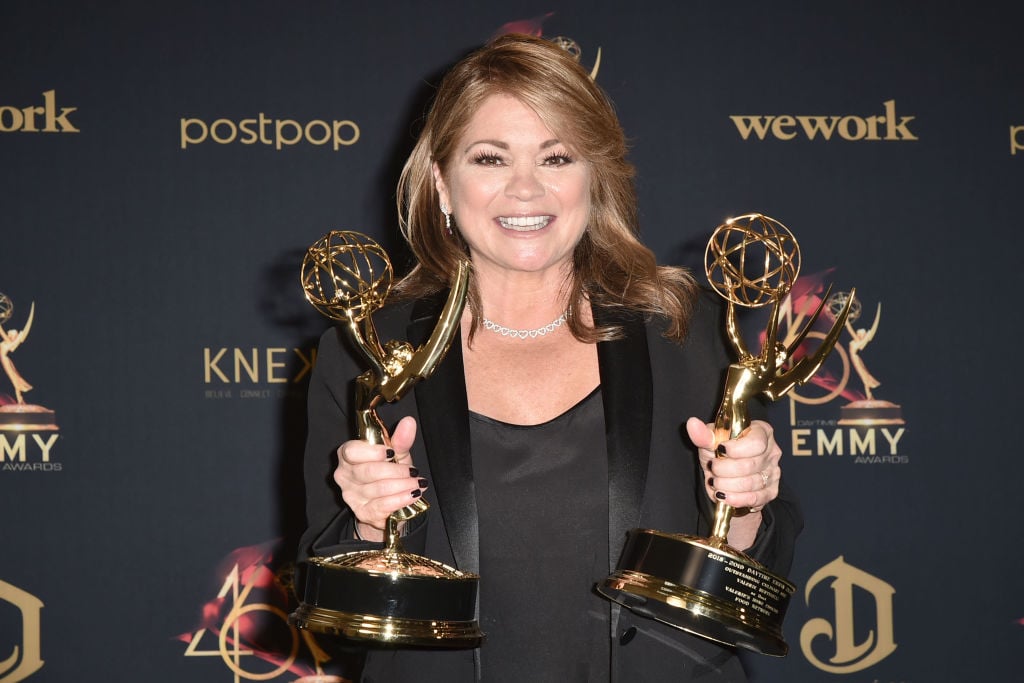 RELATED: Katie Lee from the Food Network Dishes About Her New Cooking Obsession
The Daytime Emmys this year are scheduled to air June 26 on CBS at 8:00PM EST during a virtual ceremony.
It's been a long while since the Daytime Emmys have been televised
It's been five years since the Daytime Emmys were broadcast on television and fans of the soaps, morning talk shows, and, of course, Food Network are delighted. Adam Sharp, President of the National Academy of Television Arts and Sciences explained the change in thinking for 2020 and why it was decided that a virtual ceremony was the way to go.
RELATED: How Did Giada De Laurentiis Meet Her Boyfriend Shane Farley?
"The most important factors for us are twofold: To properly recognize the talents and achievements of those in our community and to do it in a safe way. . . And so, it became, take the auditorium gatherings off the table and focus all our energies on priority number one, recognizing excellence."
Valerie Bertinelli and Food Network scored big at the 2019 Daytime Emmys
The 46th Daytime Emmy awards last year saw former actress and celebrated home cook Valerie Bertinelli make Food Network proud with two wins for Outstanding Culinary Host and Outstanding Culinary Program. Beating out strong competition including fellow Food Networkers Giada de Laurentiis and Molly Yeh for the win, Bertinelli recalled in 2019 to Gold Derby her emotional reaction just at being nominated.
RELATED: Are Valerie Bertinelli and Eddie Van Halen Still Friends?
"This is all brand new and exciting," she said in 2019. "I didn't know that Emmy nominations were coming out that day. I was doing my normal ritual in the morning, doing my crosswords, kind of checking Twitter. And all of a sudden my name came up. And I started sobbing."
"They were definitely tears of joy, however. It just felt like such a validation. Because I have impostor syndrome like nobody's business. I know that I love cooking. I loved it longer than I loved acting. So for me, it was a beautiful validation of what I am doing. I'm in the right lane."
The 2020 Daytime Emmy Food Network nominations
This year, Valerie's Home Cooking has once again been nominated for Outstanding Culinary Series. The show is competing against other Food Network programs Barefoot Contessa: Cook Like A Pro; Giada Entertains; and Rachael Ray's 30-Minute Meals. The only non-Food Network nominee is PBS' Milk Street, hosted by chef Christopher Kimball.
Bertinelli has also received the repeat honor of an Outstanding Culinary Host nomination, alongside Ina Garten, Giada De Laurentiis, Rachael Ray, and cooking personality Frankie Celenza.
The 47th Annual Daytime Emmy Awards will roll out its virtual red carpet on CBS, Friday June 26th at 8:00PM EST.
RELATED: This 'Barefoot Contessa' Ina Garten Recipe Is Food Network's Top-Rated Recipe of All Time