'Forecasting Love & Weather': Everything We Know About Song Kang and Park Min-young's Office Romance K-Drama
'Forecasting Love & Weather' is about two employees at the Korea Meteorological Administration. One is strict while the other has a bubbly personality that leads to a forbidden workplace romance.
Song Kang returns in another Netflix original Korean drama for 2022. The acclaimed "Son of Netflix" will star alongside fan-favorite actor Park Min-young in a complex office romance titled Forecasting Love & Weather. Netflix and JTBC have released multiple teasers for the K-drama about two co-workers at the Korea Meteorological Administration.
The lead characters face a deep yet troublesome love story between an age gap and a forbidden work romance. Here is everything K-drama fans need to know about Forecasting Love & Weather.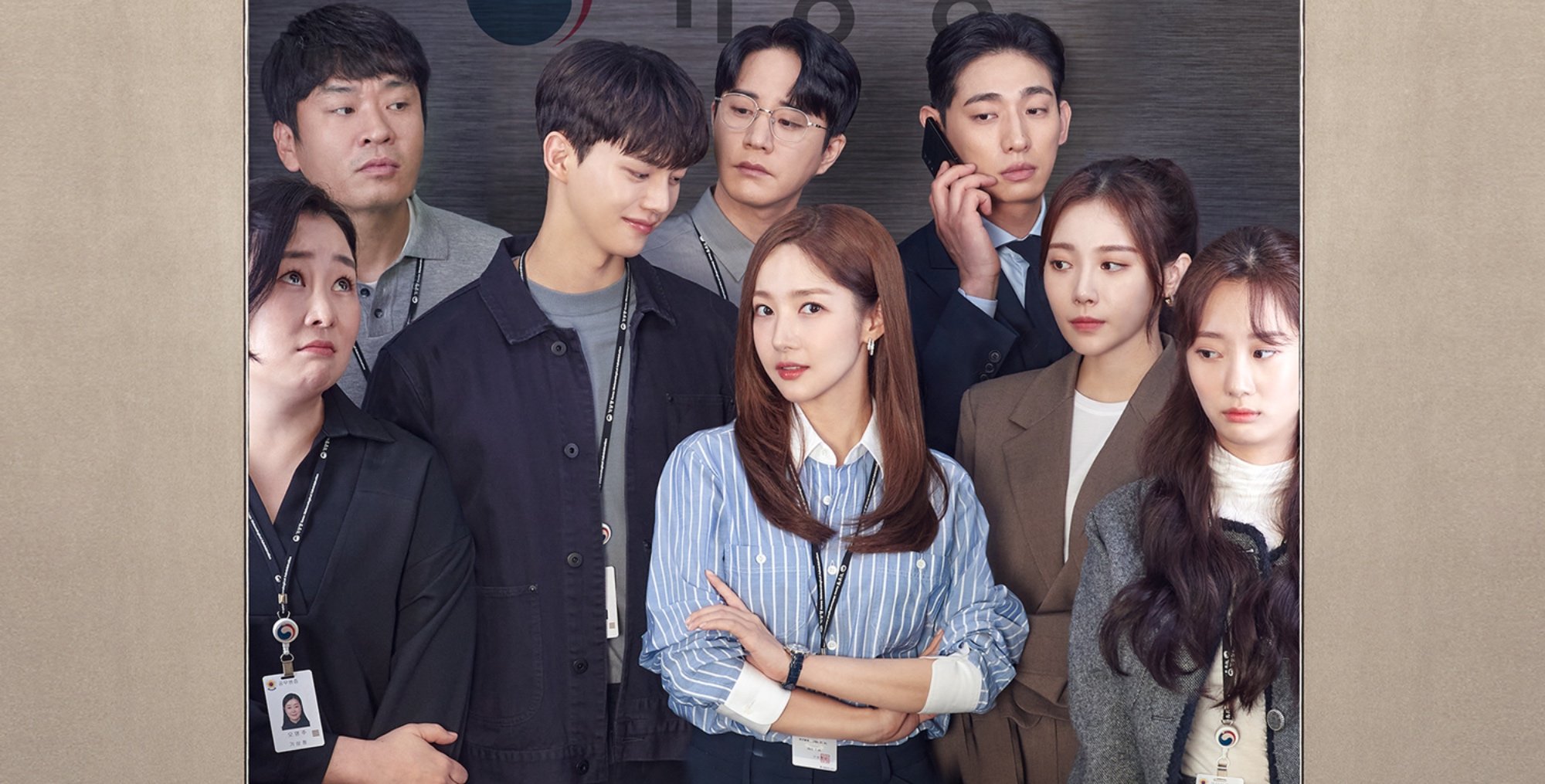 Fans will love the dedication Song Kang and Park Min-young will portray in 'Forecasting Love & Weather'
The two leading actors were confirmed to star in the new workplace K-drama in March 2021. It was originally titled Cruel Story of Office Romance before landing on its official title for Netflix and JTBC Forecasting Love & Weather. Park and Song will star alongside Girl's Day's Yura and Yoon-bak.
The production staff praised Park's ability to embody her character. "Park Min Young completely immersed herself in the character of Jin Ha Kyung with her precise diction and her perfect acting. She pulled off even the difficult expert jargon and made it sound natural and comfortable," said the K-drama staff, according to Soompi.
Park became well known for her fan-favorite roles in romance K-drama like What's Wrong With Secretary Kim? and Her Private Life.
Forecasting Love & Weather is Song's first leading role in an office romance K-drama. Fans can look foward to Song in a new light as an actor. The production staff explains, "Song Kang is Lee Si Woo himself. We could actually feel that he was putting in a lot of effort to perfectly immerse himself into his character." K-drama fans will get hooked on Netflix's upcoming romance intertwining workplace rules and an age gap.
'Forecasting Love & Weather' is about two polar opposite co-workers finding love
Park plays the role of Jin Ha-kyung, a highly intelligent and organized weather forecaster who would rather keep her personal life and work-life separate. In still images reported by Soompi, Ha-kyung has a steel gaze as she looks for differences in weather as the general forecaster of the 2nd Division of Korea Meteorological Administration. She is the polar opposite of Lee Si-woo.
The bubbling, kind-hearted, and sweet-faced Si-woo boasts about his impressive 150 IQ. Si-woo is free-spirited, a bit clumsy, and dedicated to his career. He is in charge of Special Reporting Division 2 of KMA. Even Si-woo's name means "rain that falls just right on time." He soon starts growing feelings for Ha-kyung.
Forecasting Love & Weather's official tag line is, "1 percent weather probability can change, and so can people's feelings." The official teaser shows Si-woo giving into his feeling for Ha-kyung despite her persistence to keep him at bay.
Despite Si-woo's growing love for her, their workplace romance is frowned upon. Their age difference does not help either. The trailer shows their efforts to keep their romance a secret, but just like the weather, the smallest change can be disastrous.
When will the K-drama debut on Netflix to K-drama fans?
In the lineup of upcoming K-dramas by Netflix for 2022, Forecasting Love & Weather will soon be available to fans. The K-drama will premiere to worldwide audiences on Feb.12. It will comprise 16 episodes with a running time of 70 minutes per episode.
For South Korean audiences, the drama will also air on JTBC on Feb.12. New episodes will air every Saturday and Sunday at 10:30 KST.