Former 'Bachelorette' Michelle Young Details Her and Fiancé Nayte Olukoya's New Plans to Move in Together
Former 'Bachelorette' star Michelle Young and Nayte Olukoya are still managing their relationship long-distance, but that could all change soon.
It's been a while since we last caught up with The Bachelorette Season 18 star Michelle Young. Audiences watched as Nayte Olukoya proposed in the final episode of her season, and we know they're one of a few couples still together after appearing on the series. However, they've continued their relationship across hundreds of miles. Now, it looks like they're finally making a move to live in the same city.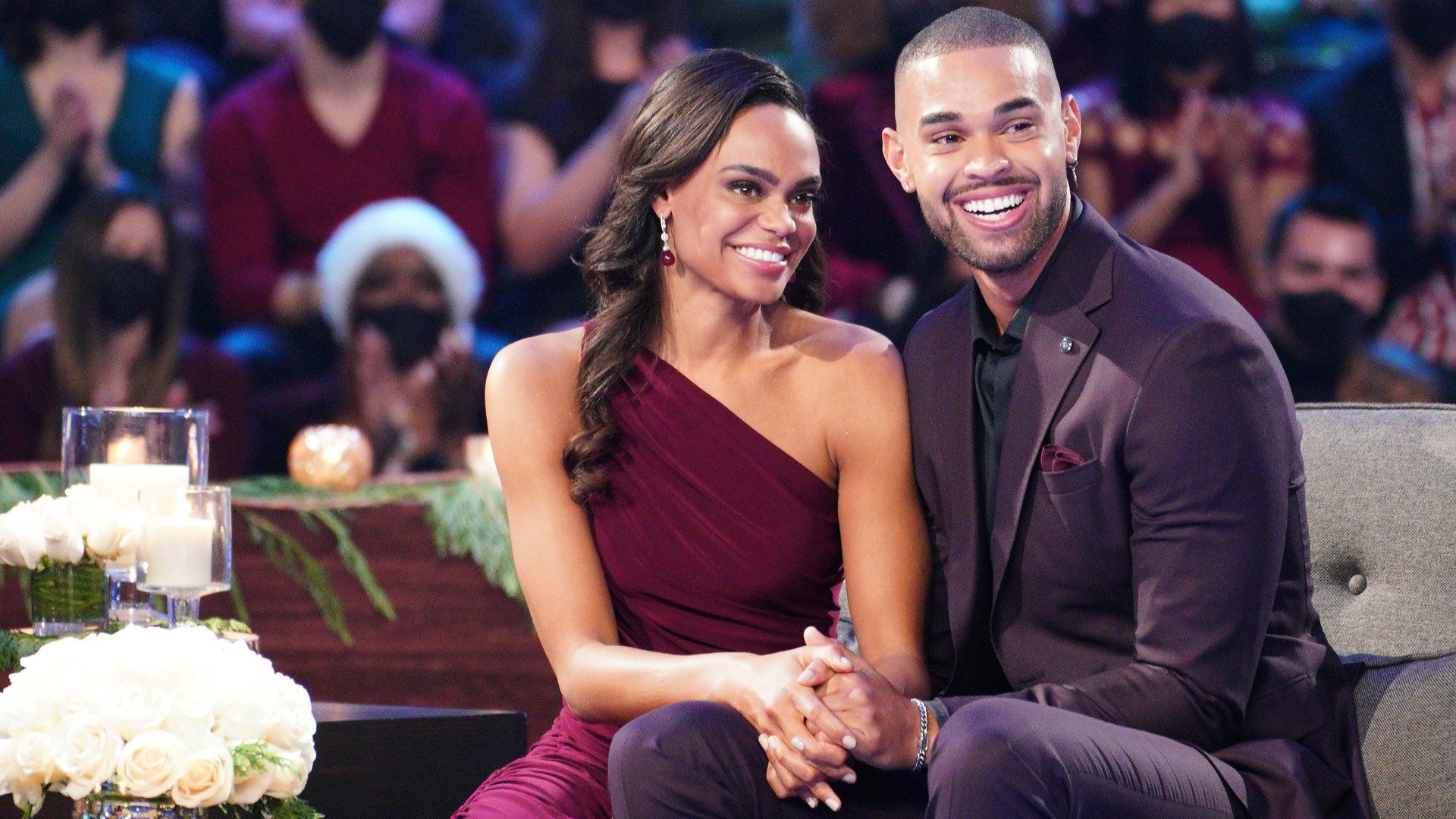 Nayte Olukoya lives in Austin, Texas, while Michelle Young teaches in Minnesota
Many fans worried over the fate of Naye and Michelle's relationship after The Bachelorette Season 18 ended. Audiences felt that Nayte's age might play a role in their relationship at only 27 years old and feared he wasn't ready for a long-term relationship. On top of that, he also confessed he'd never fallen in love before, which caused some viewers to call him a "walking red flag."
During the season's After The Final Rose episode, producers gifted Michelle and Nayte a $200,000 down payment for a house despite living in two different states. Nayte stated he planned to move to Michelle's hometown in Minnesota very soon.
When asked about the couple's future plans to move in together, Nayte replied, "Very soon. We're not waiting. There's no reason to wait with Michelle. Let's do this!"
However, that didn't happen right away. Instead, the pair decided to take their time and research the Minnesota housing market before making a rash decision on a house. In an interview with Us Weekly in February of 2022, Nayte said, "We're trying to be as smart as possible. We're looking at different options. We're definitely feeling it all out."
'The Bachelorette' Season 18 star Michelle Young detailed her and Nayte's plans in a recent episode of Bachelor Happy Hour
In March of 2022, Warner Brothers announced Michelle Young as the new co-host of Bachelor Happy Hour with Becca Kufrin. In the May 10 episode, Becca and Michelle spent the show with their significant others and answered questions about their relationships. Before the ladies brought the men on to the show, Becca asked Michelle if she and Nayte had any new details regarding their plans to move in together. 
"I feel like that's the burning question anytime I do a Q&A online, everyone's like 'Why aren't you moved in yet? Are you moving in together?' Really it's just that we're trying to figure out where we want to be and in what location we want to be at," Michelle explained. 
'The Bachelorette' Season 18 couple want to 'cater' to where they live around their careers
Michelle teaches elementary school in Minnesota, and the end of the school year provides a time to slow down and catch her breath. She said the break would allow her and Nayte to make some decisions involving the future.
The Bachelorette Season 19 star also revealed some of the reasoning behind their plans. "It's just a constant ongoing conversation, and it kind of depends on what is next year going to look like for me. Am I going to be in the classroom? Am I going to try to do something outside the classroom? [Nayte] right now, he's working remotely, but they might be going back into the office. So, we're kind of just taking both of our positions into consideration. Then once the school year is done, I'm going to have a better idea of where I'm going to be, and then we're going to kind of cater to that."
Regardless, it looks like the couple remains strong, and fans are likely to see a wedding at some point in the future. However, don't expect Michelle and Naye to rush anything as they take everything at their own pace.