Frank Sinatra and Marlon Brando's Feud May Have Ended in Abduction
Frank Sinatra and Marlon Brando were both successful actors with many celebrated roles. Sinatra didn't like that Brando got several of these parts.
In 1955, actors Marlon Brando and Frank Sinatra were in the film Guys and Dolls together. Though the film was a success, the atmosphere behind the scenes was stormy. Sinatra reportedly believed that he should have received Brando's part. He made his dissatisfaction clear, and the two men allegedly grew to despise each other.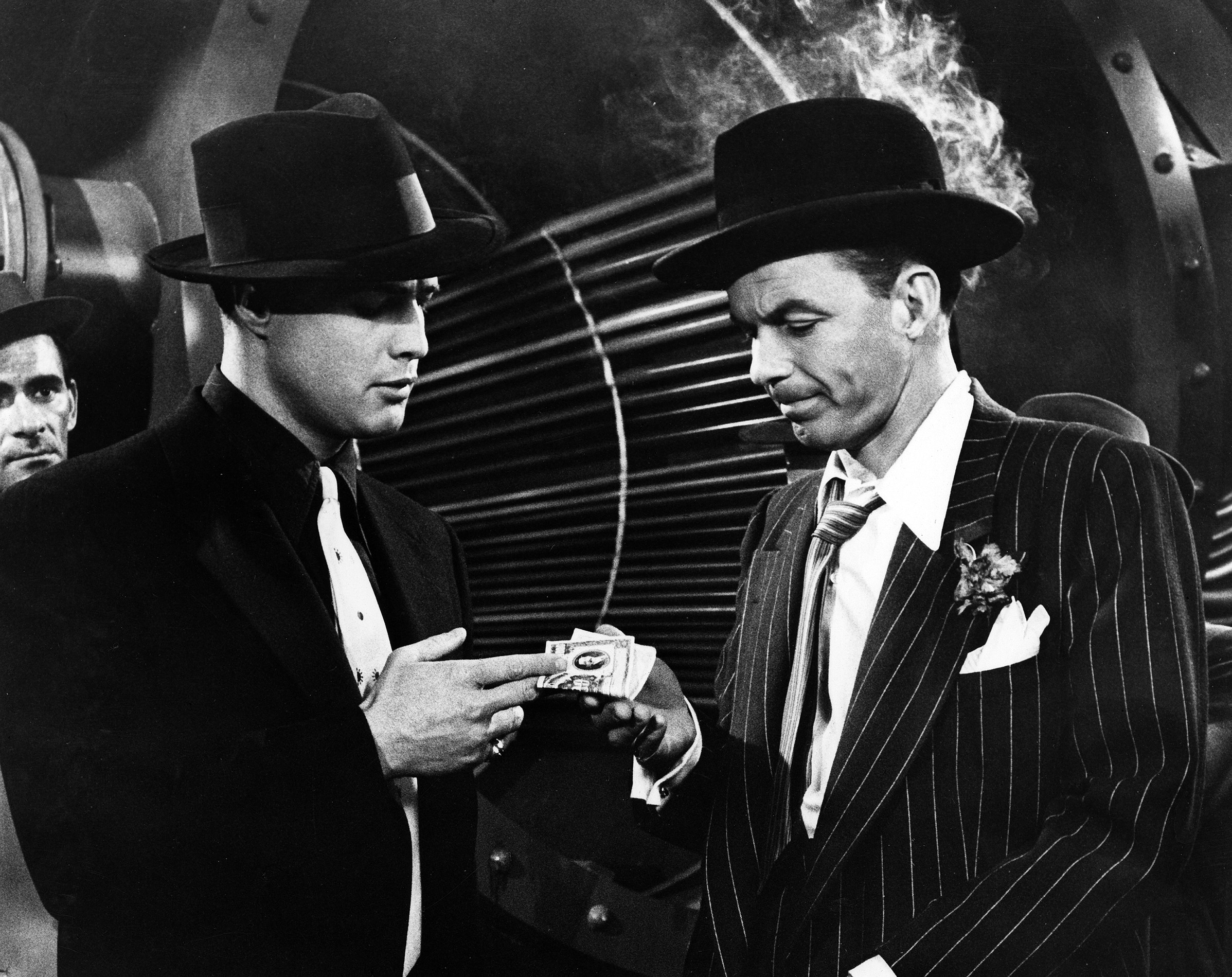 Frank Sinatra and Marlon Brando acted in 'Guys and Dolls'
Sinatra and Brando's feud while filming Guys and Dolls began before the film even began shooting. It started with a separate movie, On the Waterfront. Per Indiewire, Sinatra was initially cast in the leading role. Eventually, though, producer Sam Spiegel got Brando to take the part.
"Sinatra felt that role was his," James Kaplan, author of Sinatra: The Chairman, told Closer Weekly. "It was really one-sided, with Frank detesting the ground that Brando walked on."
Both men were cast in Guys and Dolls, but Sinatra was upset that Brando got a part. Sinatra wanted the leading role for himself. He was also frustrated that Brando had a singing role when, as Brando himself put it, his voice sounded like "the mating call of a yak." Per IMDb, editors had to stitch together the best parts of countless retakes to get a good sound. 
Their feud ignited behind the scenes
While Sinatra entered the set of Guys and Dolls with a distaste for his co-star, Brando didn't initially feel the same way. After filming began, however, he grew to dislike Sinatra.
"Sinatra came out of the glamour of Hollywood in the '40s, while Brando was the new breed, who had open disdain for Hollywood," said Ben Mankiewicz, host of Turner Classic Movies. "I don't think Brando came in hating Sinatra, but he grew to."
Their feud was relatively mild at first, with Sinatra calling Brando "Mumbles" and Brando purposefully forgetting his lines to force Sinatra to eat cheesecake take after take. Some worried they would take it further, however. 
"I feared Sinatra was going to order his goons to beat up Marlon," said Brando's friend, Carlo Fiore.
While riding his motorcycle, Brando came across three men who forced him into their car at gunpoint. They threatened to kill him, but they eventually released him unharmed. According to Fiore, Brando was "sure Sinatra was behind" the abduction. There was no evidence to prove this, though. 
"Frank's the kind of guy who, when he gets to Heaven, is going to give God a hard time for making him bald," Brando said many years later according to the Chicago Tribune.
Marlon Brando got another role that Frank Sinatra wanted 
Though they did not act alongside each other again, Brando picked up a role that Sinatra reportedly desired. After Francis Ford Coppola was hired as the director of The Godfather, Sinatra offered himself up for the role of Vito Corleone. 
"Francis, I'd gladly play the Godfather for you," author Mario Puzo said Sinatra told Coppola in the book The Godfather Papers and Other Confessions. "I wouldn't do it for those guys at Paramount. But I'd do it for you." 
Sinatra reportedly wanted to buy the rights to The Godfather so that he could produce it himself. That way, he could score the coveted role. Ultimately, though, Brando scored the part and later picked up a Best Actor Academy Award.