'Friday': Does Smokey Actually Go to Rehab After the Movie Ends?
Co-writers Ice Cube and DJ Pooh always intended 1995's hit comedy Friday to be a counter-argument to the grim, gritty hood movies — such as Boyz n the Hood, in which Ice Cube stars — of the same era. But there's also the indication even in Friday that perhaps Chris Tucker's Smokey shouldn't indulge quite so much in the pastime that earned him his nickname. The movie even teases the possibility he will go to rehab, but does he actually go?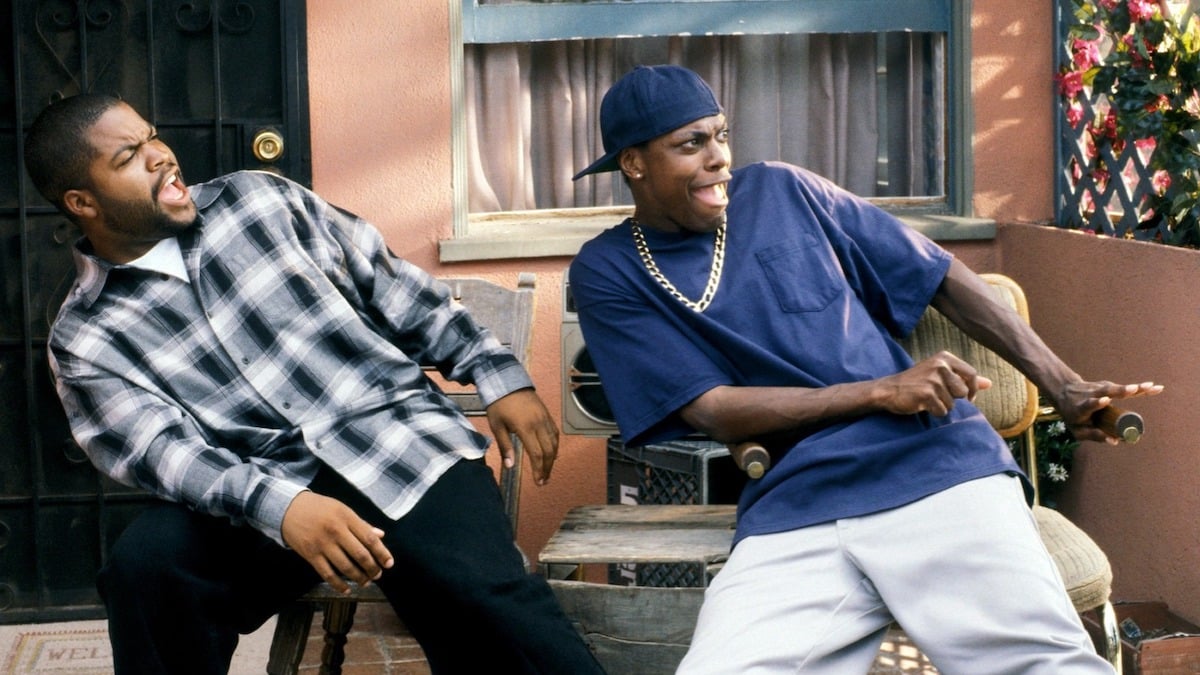 Chris Tucker's Smokey steals 1995's 'Friday'
The dynamic in Friday follows in the tradition of such comic duos as Cheech and Chong. Ice Cube's Craig is more grounded and hesitant to stir up trouble, with a dry sense of humor. Meanwhile, Smokey is hyperactive yet relaxed and far more up for causing a ruckus if it will lead to a good time. It's in the chemistry between these two where Friday thrives, and that wouldn't happen without Tucker, who improvised much of his performance.
Prior to Tucker's casting, DJ Pooh was in line to play Smokey. But after the studio balked at that idea, bigger stars like Chris Rock and Tommy Davidson were considered too. But none of them brought the distinctive energy Tucker has. And while the dynamic between Ice Cube and Mike Epps in the Friday sequels has its fans, Smokey is largely the X factor that helped the 1995 original stand out. So what happened to him after the first film ends?
RELATED: 'Friday': Chris Tucker's Co-Stars Banded Together to Help Him Become Smokey
The movie ends with a tease involving rehab
At the end of Friday, Smokey talks with Big Worm (Faizon Love) on the phone. Thanks to the shootout and Craig's confrontation with Deebo (Tommy Lister Jr.), Smokey says he doesn't want to sell drugs anymore. In fact, he tells Big Worm he's going to rehab. But after hanging up, he smokes again and addresses the audience directly, revealing he was lying to Big Worm about his intention to go to rehab. Smokey remains unchanged by this experience.
Or so it seems. By the time audiences catch up with Craig in Next Friday — set a few years later — he reveals that Smokey has actually gone to rehab in between films. Instead, Mike Epps' Day-Day serves as Craig's comedic foil in the sequels. This decision to send Smokey to rehab after all is likely inspired by Tucker's own reluctance to return as the character. However, it also could work as the perfect transition to bringing him back in for one more Friday.
Chris Tucker could still return as Smokey
From a commercial standpoint, the Friday series doesn't need Tucker. After all, Next Friday brought in more than twice the money as the previous film, according to Box Office Mojo. But neither sequel had the cultural impact or achieved the same critical acclaim as the first film. And with Ice Cube still open to bringing Smokey back, can it happen?
Sure, if Tucker would be willing to step back into a role he played decades earlier. He reportedly turned down an offer ranging from $10 million to $12 million for Next Friday due to religious reasons. It's unlikely he's wiling to sacrifice his principles now. But the sequels taking Smokey down a sober path at least lays the groundwork for the character to take a very different shape if he were to ever return.
RELATED: 'Friday': Chris Tucker Nearly Lost Smokey to These 2 Huge Comedy Stars