'Friday' Fans Can Now Stream Chris Tucker's First Lead Role for Free
Comedy is one of the most subjective forms of entertainment out there. It's why some comedic stars tend to get such divisive reactions out of people. Chris Tucker is the perfect example. Some viewers find the actor's manic energy and signature high-pitched voice off-putting, while others can't get enough of him. To that end, fans of Tucker's star-making performance in 1995's Friday should track down his first leading movie role.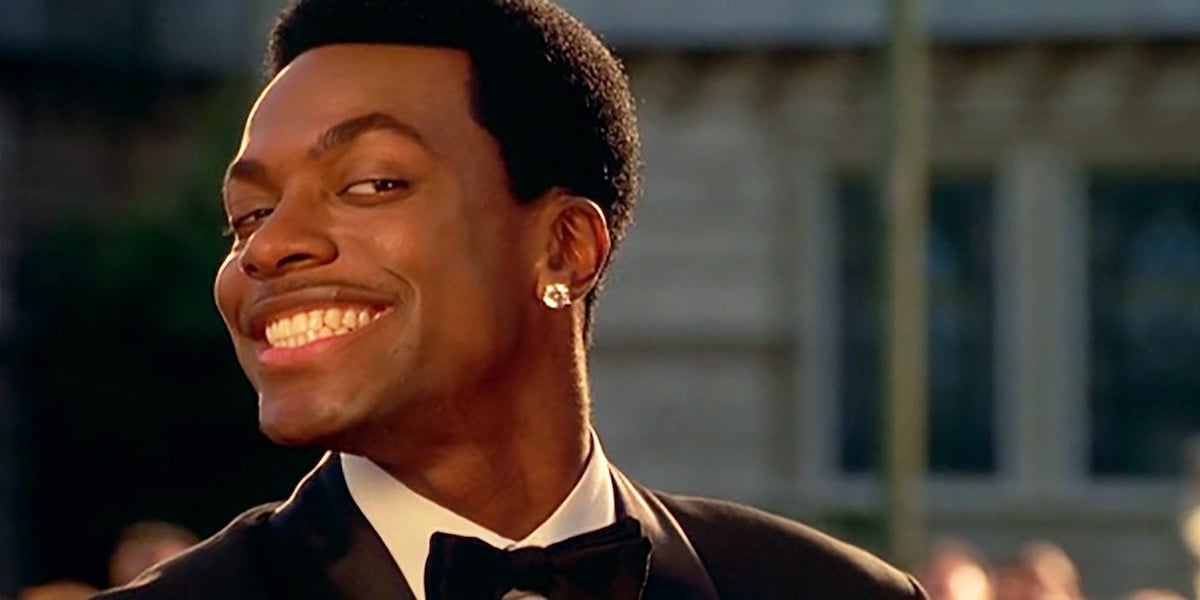 Chris Tucker played Smokey in 1995's 'Friday'
Prior to Friday, Tucker had almost no experience on the big screen. He was mostly known as a comedian, and in fact, he really caught the attention of co-writers Ice Cube and DJ Pooh in his appearance on Def Comedy Jam. But aside from a brief appearance in House Party 3, Tucker was an unknown to movie audiences. And in taking a chance on him, Ice Cube, DJ Pooh, and director F. Gary Gray found the perfect person to play Smokey in Friday.
Tucker's character functions largely as a foil to Ice Cube's Craig. While the latter has a dry, stoic sense of humor, the former is all energy. Whereas Craig is hesitant to get involved in trouble, Smokey is ready and willing to keep the shenanigans going. He's both frenetic and relaxed at the same time, bringing a high-intensity vibe to his desire to just enjoy his Friday. But what happens when Tucker is thrust into the spotlight as the lead star of a film?
RELATED: 'Friday': Chris Tucker's Co-Stars Banded Together to Help Him Become Smokey
'Money Talks' was the actor's first leading role
Fans got their answer — mostly — a couple of years after Friday. In 1997's Money Talks, Tucker plays a hustler and ticket scalper who mostly operates out of his local car wash. Soon after crossing paths with an investigative reporter (Charlie Sheen), the pair end up on the lam from the authorities and are desperate to clear their names. Technically, the film features Tucker and Sheen as co-leads. But it is Tucker's Franklin Hatchett who ultimately takes control of the story.
Money Talks was a modest hit in theaters, earning $40 million according to Box Office Mojo. But it serves a pivotal role in Tucker's career. The movie is essentially a cinematic bridge between the Tucker of Friday and the Tucker of Rush Hour. And for that reason, fans of those films might be curious to catch up with this one. And according to JustWatch.com, Money Talks is available to stream exclusively on Tubi for free with ads.
Chris Tucker starred in Brett Ratner's 'Rush Hour'
After Friday, Tucker's role in Money Talks might not have been a career highlight. But it played a critical role in making him an A-list movie star. In fact, it was the directorial debut of Brett Ratner, who became a frequent collaborator of Tucker's. The pair reunited on Ratner's next film, Rush Hour, released just a year after Money Talks.
Following his team-ups with Ice Cube and Sheen, Tucker shared the screen with Jackie Chan this time around. And Rush Hour became the surprise smash of the fall of 1998. By the time the duo reunited for the 2001 sequel, Tucker became one of the highest-paid actors in Hollywood. Rush Hour 3 eventually followed, to less success, in 2007.
RELATED: 'Friday': Chris Tucker Nearly Lost Smokey to These 2 Huge Comedy Stars