'Friday': Is Ice Cube's 'It Was a Good Day' Featured in the Movie?
Making the leap from music to movies isn't an easy transition. Oftentimes, artists are dealing with two entirely different fan bases. So it makes sense why even Friday star Chris Tucker initially doubted anyone's interest in "an Ice Cube movie." Nevertheless, the rapper kicked off his movie career in style in the early 1990s. But was his most famous song "It Was a Good Day" featured in his breakthrough movie, Friday?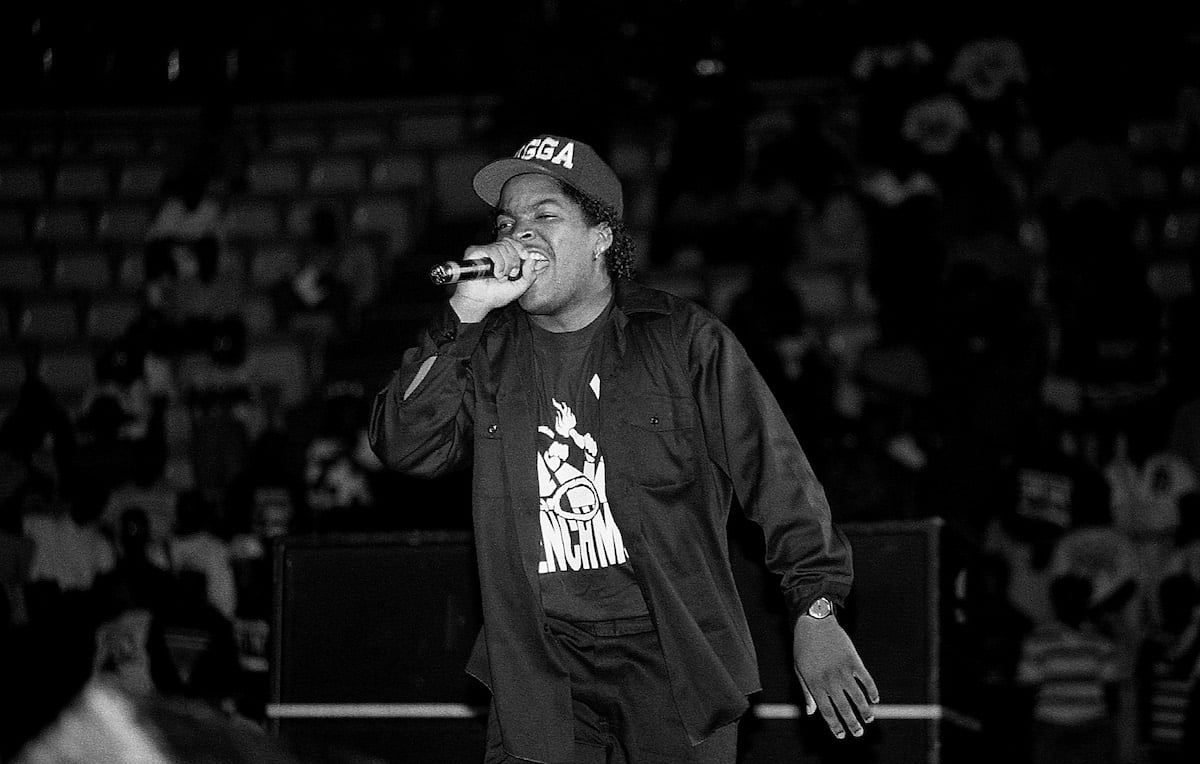 Ice Cube saw success in music and movies in the early 1990s
Early on, Ice Cube achieved success thanks to the iconic hip hop group N.W.A. But in 1989, the rapper went solo. And his debut album, AmeriKKKa's Most Wanted — led by the single of the same name — helped established his own music career outside of the "Straight Outta Compton" hitmakers.
But soon thereafter, Ice Cube also explored the possibility of working in film. In 1991, he joined the ensemble cast of director John Singleton's Oscar-nominated drama Boyz N the Hood. That film also stars Cuba Gooding Jr., Morris Chestnut, Laurence Fishburne, Nia Long, Regina King, and Angela Bassett. It remains a classic but ultimately inspired Ice Cube to make a very different kind of movie in Friday.
RELATED: 'Friday': Ice Cube's 1995 Comedy Was Filmed in Only 20 Days
Was his song 'It Was a Good Day' featured in 1995's 'Friday'?
Although it wasn't his first film, Friday often stands apart in fans' minds as the first "Ice Cube movie," as Tucker might have said. It was the first time the rapper was clearly the lead of a movie and not one of many main stars. He and Tucker are the faces of the film after all. So naturally, some fans might assume its success ties in some way to such an iconic track as "It Was a Good Day." However, the song wasn't featured in the film or on the soundtrack.
"It Was a Good Day" is the second single from Ice Cube's third solo album, titled The Predator. Released in 1993, the song's release predates Friday by two years. There is a connection between them though. F. Gary Gray — who directed the "It Was a Good Day" music video — later reunited with Ice Cube on Friday. The film was his feature directorial debut and continued a long history of collaborations between the two stars.
Ice Cube continues to release albums and star in hit movies
Of course, the Friday soundtrack did rely on Ice Cube's music career a bit. Ice Cube's song "Friday" is on the soundtrack, and its lead single was "Keep Their Heads Ringin" featuring Ice Cube's former N.W.A. member Dr. Dre. Over the years, Ice Cube has continued to release new music, with his latest album released in 2018.
During that time, he also continued to star in a string of movies. These include such hits as Three Kings, Barbershop, Ride Along, and 21 Jump Street. Of all his movies, Friday continues to have perhaps the greatest legacy. The movie inspired two sequels and an animated series and remains a fan favorite among his filmography.
RELATED: Why 'Friday' Probably Wouldn't Exist Without 'House Party'