'Friends': This Star Is So Funny They Got To Sit in the Screen Writings for the Sitcom to Contribute Jokes
We love all 6 stars of Friends, but everybody has a favorite. Some fell in love with Phoebe and her free-spirited ways, and many others love hilariously innocent and air-headed studmuffin, Joey. Or perhaps you were one of the millions of people who had a huge crush on Rachel, America's sweetheart?

However, it seems like the creators of the mega-popular sitcom had a clear favorite: they thought one Friends star was so funny and talented that they let him pitch in with writing jokes for the show. Who was it? We'll give you a hint: could this actor be any funnier?
What is 'Friends'about?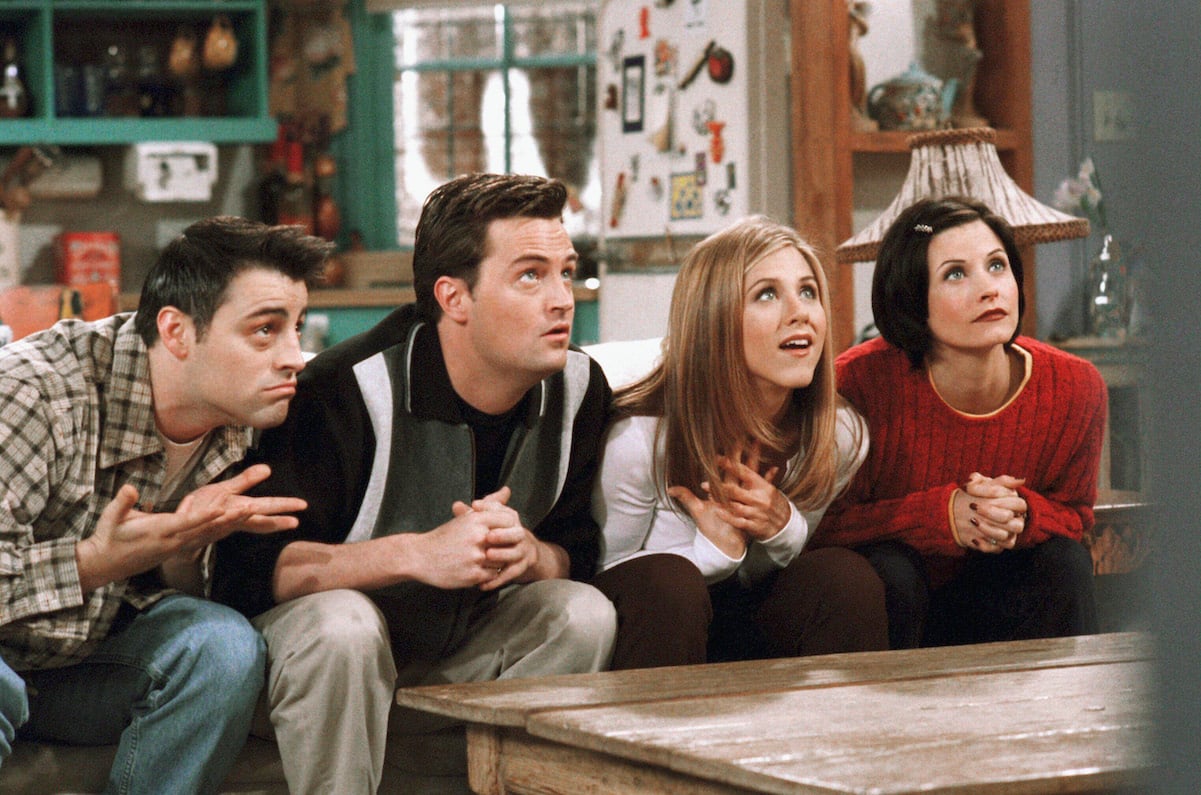 RELATED: Jennifer Aniston's 'Friends' Co-Stars Had an 'Intervention' For Her One Vice
If you haven't been living under a rock for the last two decades, you're probably very familiar with this enormously popular show. Even the younger generation has fallen in love with it after watching it on streaming services like Netflix.
The show premiered in 1994 on NBC and became an almost immediate hit. The premise of Friends is simple: it follows six best friends in New York City. This includes Monica, her older brother Ross, Monica's eventual husband Chandler, Ross's love interest Rachel, and relative newcomers to the group – considering the first 4 have known one another since high school and college — Joey and Phoebe.
The six navigate their careers and relationships. Most of them, except for the notable exception of Phoebe, become romantically entangled with at least one other member of the group.
Friends lasted for a whopping 10 seasons and to this day is one of the highest-grossing sitcoms to ever be made in history.
Who is Chandler Bing?
Chandler, one of the six titular friends, is Ross's best friend from college. He works in "statistical analysis and data configuration" (don't worry – his best friends can't figure out what it means, either) and ends up being the love of Monica's (another "friend" and Ross' baby sister) life.
Although Chandler has his quirks, at the end of the day, he is a loyal friend and a wonderful husband to Monica. Not to mention he's stuck by Ross's side since they were back in college.
Chandler is brilliantly played by actor Matthew Perry. Before his breakout role on Friends, Perry had roles on popular series like Growing Pains and Boys will be Boys. No one remembers that anymore, though; Perry's face has basically become synonymous with Chandler Bing.
Perry has suffered from alcoholism and drug addiction and has famously stated that he doesn't even remember shooting three whole seasons of Friends because he was always under the influence. Perry doesn't seem to have found the same success after Friends that his co-star Jennifer Aniston did, but maybe he doesn't need it: he is worth $120 million, after all.
Perry contributed jokes to 'Friends'
Even though he had some trouble with substance abuse, the creators of Friends appreciated Perry's wit and humor so much that they actually let him sit in on the screenwriting process -—the only cast member to be granted this honor. According to ScoopWhoop, the screenwriters thought Perry was so funny that they asked him to contribute his own jokes to the show.
Chandler has some of the funniest one-liners on Friends. Who could forget his hilarious over-the-top temper tantrums, and his sarcastic comebacks to his BFF and roommate Joey's innocently dim-witted comments? 

We're dying to know which of Chandler's jokes were written by Matthew Perry himself! Could we love Chandler Bing more?