'Frozen 2' Songs Ranked By How Popular They Are On Spotify
Considering the success of the first film, Frozen 2 was bound to do well in theaters. But boy, did it surpass all expectations! Even with high hopes, it raked in $130 million in just the United States and $358 million globally. This made it the number one "global debut ever for an animated title" ever, according to The Hollywood Reporter. It's also the third-highest opening for an animated film, ever, and the ninth biggest opening for a film this year, so far. 
And the first film didn't just set box office expectations, but musical ones too. The 2013 original created one of the most well-known songs ever with "Let It Go" and spawned a Broadway musical. Frozen 2's songs are even better, giving more characters a chance to show off their chops in different ways. Here's a ranking of those new songs, based on how many times people have streamed them on Spotify.
SPOILERS for Frozen 2 ahead!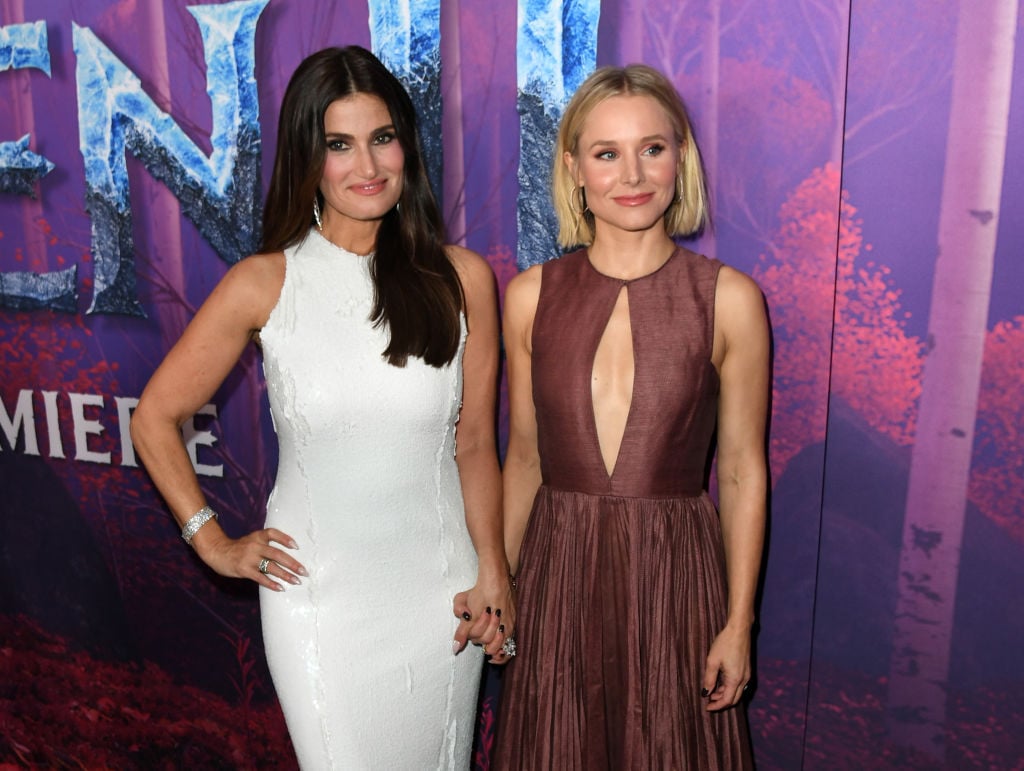 7. "The Next Right Thing" — Kristen Bell
5.3 million streams
The last song on the album that appears in the movie is Bell's "The Next Right Thing." It's full of so much emotion and comes after Anna realizes that Elsa has gone too far. Olaf ceases to exist and Anna is all alone. The song is a mourning tune but has a hopeful message to do "the next right thing;" to keep moving when those you love are gone. 
6. "When I Am Older" — Josh Gad
6 million streams
Olaf has yet another scene-stealing song in response to Frozen's "In Summer." This time, Olaf is grown up a little bit and he's dealing with a lot of new emotions and fears that come with age and maturity. While it's silly on the surface, any young adult can relate to not really feeling in sync with the world yet. 
5. "All Is Found" — Evan Rachel Wood
6.8 million streams
The gorgeous lullaby sung by Frozen newcomer Evan Rachel Wood comes in at number five. Iduna was in the first film but Wood plays her this time around in a more fleshed-out role. She's later revealed to be Northuldra and this song is a traditional lullaby from their culture. It carries hints for Elsa to find Ahtohallan.
4. "Some Things Never Change" — The Cast of 'Frozen 2'
7.3 million streams
The joyful opening song sounds a little like a Christmas tune as it starts, but it's actually a song about changing seasons and change in general. It's sweet, catchy, and a great ensemble performance. Each character has their own spot to shine. 
3. "Lost in the Woods" — Jonathan Groff
7.4 million streams
Finally! Jonathan Groff gets his own solo this time around and it's in the form of an '80s power ballad. It's full of emotion, of course, but it's also paired with some hilarious animation. Even though it's poking fun, a little bit, it's actually a pretty pivotal moment for Kristoff and brings about one of the best songs on the soundtrack. 
2. "Show Yourself" — Idina Menzel and Evan Rachel Wood
10.7 million streams
Definitely the more underrated Elsa song, "Show Yourself" is an emotional ballad with so much strength, thanks to Idina Menzel's vocals. It mixes the voice Elsa hears from Ahtohallan and the enchanted forest with Iduna's (Wood's) vocals. It truly is powerful to hear Elsa searching for herself, when she is, in fact, her own answer. And the climax? Chill-inducing. 
1. "Into the Unknown" — Idina Menzel ft. Aurora
18.2 million streams
This is definitely the "theme song" of the movie, if that were a thing. It happens at the beginning of the film and is the catalyst for all the sisters' troubles. Elsa is trying to call off the haunting voice seducing her to the forest. Even though Elsa wants to push it aside, she succumbs to its mystery and unleashes the four elements on Arendelle. 
No matter which one is your favorite, this soundtrack certainly has more choices than the first one. They also all have a lot of streams, so it's safe to say the music is as big of a hit as the film itself.