'Fuller House' Added Plot Holes By Having Kimmy's Parents Appear
'90s kids around the world screamed with delight when we heard that a Full House sequel, aptly titled Fuller House, would be coming to Netflix. The show is now airing its final season, and it has been nothing but a delight to watch the Fuller siblings navigate life as adults.
Of course, it wouldn't be Full House without Kimmy Gibbler, the Tanners' charmingly obnoxious next-door neighbor. Although Kimmy plays a major role in the Netflix sequel, some fans have spotted some plot holes that became clear when her parents made an appearance on the show. Let's take a closer look.
Who is Kimmy Gibbler?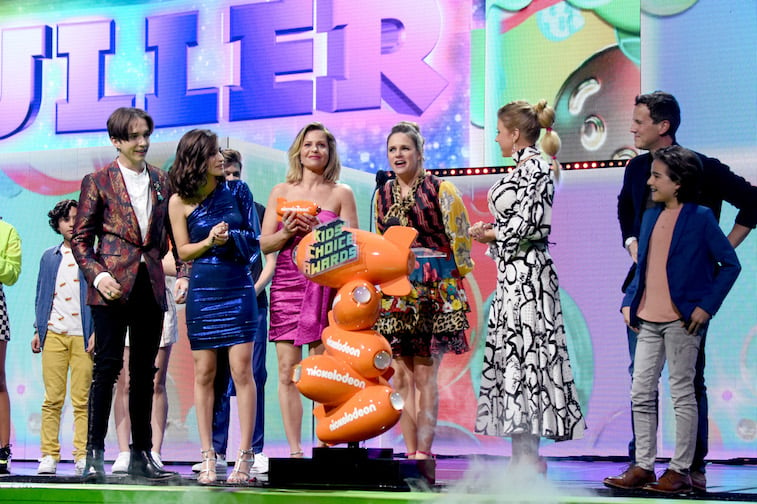 Kimmy Gibbler, played by actress Andrea Barber, is a fundamental character in the franchise, beginning with the original Full House. Kimmy is the character that fans either love or hate; she's quirky, a bit obnoxious, and provides a lot of the most comedic moments in the show.
As a kid, Kimmy seemed to always be hanging around the house, and that became a running joke. Where were her parents, and why was she constantly left without any supervision to roam around her neighbors' home? 
For all of her quirks and annoying habits, Kimmy became one of the most beloved characters on Full House. Barber has reprised the role beautifully in Fuller House as a more mature, but still quirky, Kimmy Gibbler.
Being the good friend that she is, Kimmy moves into a grown-up DJ Fuller's home (along with DJ's sister and Kimmy's childhood friend, Stephanie) after DJ's husband dies, and she finds herself needing support to raise her three children. Kimmy is just as loyal of a friend as ever.
The glaring plot hole surrounding Kimmy's parents
However, according to Screen Rant, fans have noticed that there's a pretty glaring plot hole in Kimmy's storyline in Fuller House. In the original Full House, not much information is ever given to viewers about Kimmy's family.
In a recent season 5 episode of Fuller House, Kimmy's parents are referenced in a much more direct way. Kimmy and her brother, Jimmy (who isn't even mentioned in the original Full House, revealing another plot mystery) are excited because their parents are coming to town to visit them.
Kimmy mentions that her parents have been away traveling the world for two decades, and says that they haven't even seen her with straight hair.
In the first several seasons of Full House, Kimmy does have crazy, curly hair. However, this is where the plot hole becomes glaring. In the final season of Full House which aired 25 years ago in 1995, Kimmy was already wearing her hair straight most of the time.
Something's not adding up: If Kimmy's parents haven't seen her with her hair straight, that means that they left her to travel the world when she was only a child!
What's next for 'Fuller House'?
Sadly, Fuller House is airing its fifth and final season on Netflix right now. Netflix didn't give a reason for canceling the show, but fans and the stars alike are disappointed and saddened by the end of an era.
Spoiler alert: the series finale sees DJ, Stephanie, and Kimmy have a triple wedding and become a true family (Stephanie marries Kimmy's brother, Jimmy). The three "sisters" have had their time together, and Kimmy and Stephanie each move out of the Fuller home to start their own marriages and lives.
The series finale even features beloved characters like Danny Tanner, Joey, and Uncle Jesse from the original series.
Although there's no sequel or spinoff planned as of right now, one of the star's shows is hopeful. Candace Cameron Bure, who plays DJ, has stated via Distractify: "It's beloved by millions and millions of people. And I think there's so many more stories that we could tell. I don't know, maybe we'll be back!"
It's likely that a Fullest House, if we're ever so lucky to receive it, would feature the younger generation: DJ and Kimmy's kids. Only time will tell, but we can hope!