Gabe Erales Isn't the 1st 'Top Chef' Winner to Face Misconduct Allegations
Top Chef is a fan-favorite cooking competition show that has been around since 2006. The Bravo show, which is hosted by the stunning Padma Lakshmi, has often been praised for the way that it highlights talented chefs competing against each other in a variety of difficult settings. While fans love the series, it has caused controversy over the years — and in recent weeks, with news of misconduct allegations leveled against the newly-crowned Top Chef champion, many critics are taking a second look at the series, reviewing some of the more outrageous scandals in Top Chef history.
Gabe Erales won 'Top Chef: Portland,' which was Season 18 of the Bravo show.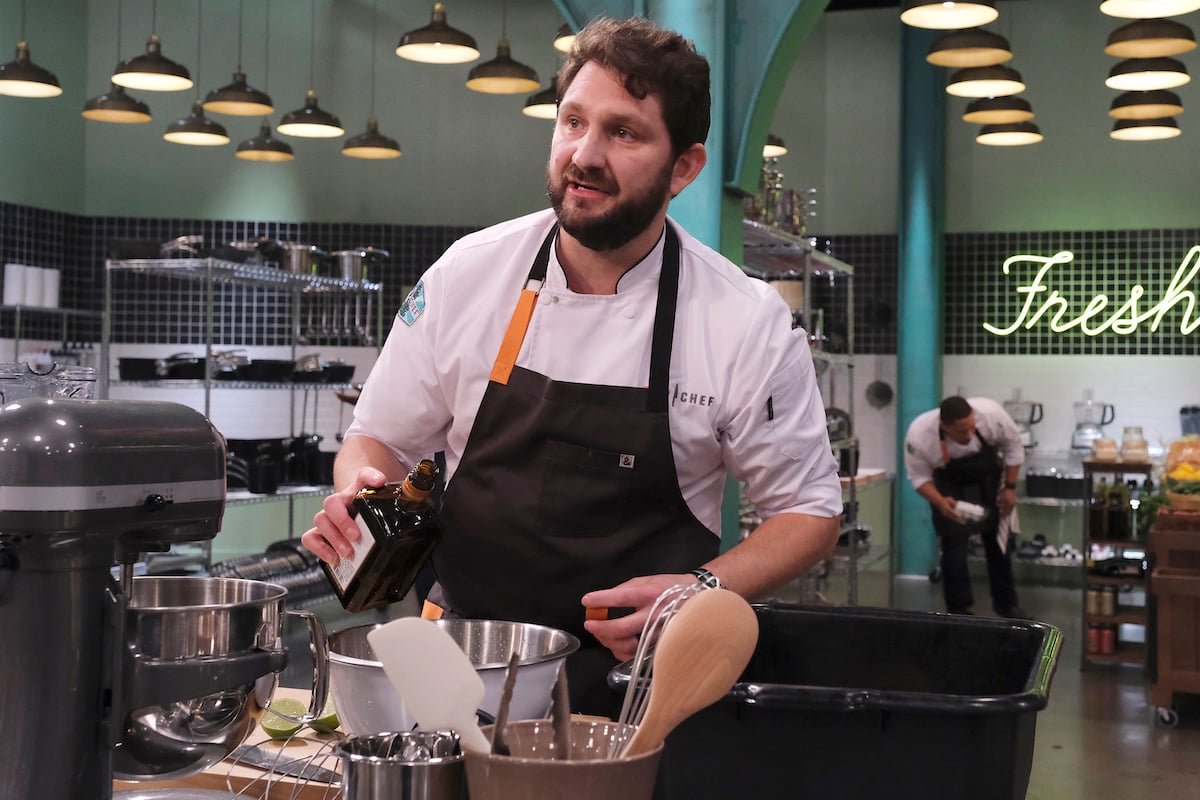 Season 18 of Top Chef: Portland was immensely popular with viewers. Fans loved watching Gabe Erales journey to the top of the competition, ultimately winning in the season finale. The final episode, which aired on July 1, 2021, featured Erales beating out his competitors, former Olympian turned expert chef Dawn Burell and the talented Japanese cook, Shota Nakajima.
Not only did Erales' win make him the first Mexican-American chef to win the cooking competition series, but it prompted many viewers to believe in the power of hard work and dedication. After his win was announced, Erales made an emotional statement, remarking, "One of the biggest things that has really warmed my heart is knowing that I am the first Mexican Top Chef. I'm happy to be representing my culture, my cooking, and also a group of people that, really, operate the kitchens across the U.S." However, the joy surrounding his win was short-lived following reports of misconduct allegations that have been making the rounds online.
Why is Gabe Erales' win on 'Top Chef: Portland' so controversial?
As reported by Austin Eater, Gabe Erales was fired from his position as the opening executive chef of Comedor in December 2020, just a couple months after his season of Top Chef: Portland wrapped filming. While the exact reason for his firing remained private, the restaurant's partner and chef Philip Speer did make a statement, revealing that Erales was fired for "repeated violations of our policies and for behavior in conflict with our values."
In the wake of Erales' alleged sexual misconduct, fans have taken to social media, demanding that he be stripped of his prize. Top Chef host Padma Lakshmi even made a statement, posting on via Twitter, "As someone who has been sexually harassed, this topic is a serious one and merits openness. We filmed Top Chef in October of last year & were not aware of the allegations now coming out about Gabe. This should be investigated & the network should consider its best action." She also clarified that there was no inappropriate behavior from Erales when he was on the set.
Several 'Top Chef' contestants have faced allegations in recent years
Unfortunately, the controversy surrounding Gabe Erales is not the first time that a Top Chef contestant has ended up in the spotlight under difficult circumstances. In early 2018, Top Chef alum Mike Isabella was sued by Chloe Caras, a former director of operations at one of his restaurant concepts. Caras alleged that she was subjected to inappropriate comments from Isabella and that she was forced to deal with "a visibly intoxicated Isabella in the workplace." Isabella denied all the charges, and ultimately, the lawsuit was settled out of court — but the allegations certainly damaged his professional career.
Sexual harassment charges are nothing new to the world of Top Chef, either — John Besh, a regular on Top Chef, was accused of sexual harassment in 2017. He later decided to step down from his various high-profile positions.
Another Top Chef contestant, Jamie Lynch, made headlines in 2017 when he was arrested for public intoxication in Charleston, S.C. Notably, Lynch was arrested the day before the show's finale episode was set to air.
Similarly, Paul Qui, who appeared on Top Chef in 2012, was arrested in 2016 and charged with assaulting his girlfriend while intoxicated. The charges against Qui were dropped in 2018 — but the young chef has struggled to find his way forward in the years since, and has remained mostly out of the spotlight.
RELATED: Is 'Top Chef' Coming Back in 2021?