'Game of Thrones' Co-Creators Reveal the Real Reason Jon Snow Survived the 'Battle of the Bastards'
ARTICLE HIGHLIGHTS
Game of Thrones featured a number of memorable episodes over its eight seasons.
Battle of the Bastards has been hailed as having one of the most spectacular battle scenes ever shot for TV.
Co-creators David Benioff and D. B. Weiss revealed the real reason Jon Snow survived.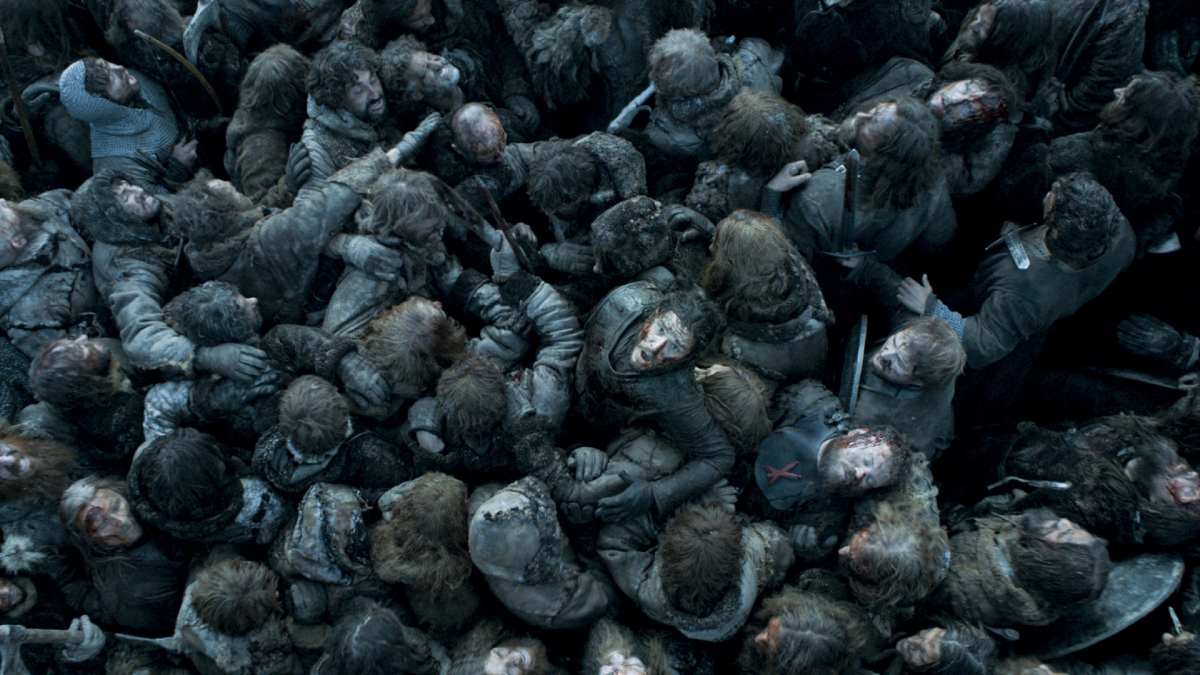 Game of Thrones featured a number of memorable episodes with epic scenes during its eight-season run. One of the best was the season six episode Battle of the Bastards, which was directed by House of the Dragon co-creator Miguel Sapochnik.
It was an episode where Jon Snow (Kit Harington) was nearly trampled to death by his own men (he eventually made it out alive) in one of the most spectacular battle sequences ever shot for TV. According to Game of Thrones co-creators David Benioff and D. B. Weiss, the real reason Jon survived the battle wasn't because of Littlefinger's help.
This 'Game of Thrones' episode followed Jon Snow for a specific reason
With an episode of this magnitude, the creators and director had to find a way for the audience to really connect to the battle at hand. Sapochnik explained that Benioff and Weiss "really wanted to kind of get into the mindset of what it would be like to be in a battle like that."
RELATED: 'Game of Thrones': 8 Bizarre Moments That Left Fans Scratching Their Heads
"It was fluid all the way through, it morphed. It changed," Harington explained. "But the most important thing all the way through is — it can't just be a battle. If it's just a battle, the audience doesn't have stakes in it, you know? You have to be following someone, so we decided to follow Jon."
'Game of Thrones' co-creators reveal the real reason Jon Snow survived
During the battle, Jon brandished Longclaw and was prepared to fight to the death. And that's almost what happened. He was trampled by his own forces and nearly suffocated under a group of his own men who were crawling on top of him.
He manages to survive and bust out of the crowd, with Sansa and Littlefinger arriving just in time with the Knights of the Vale. But according to Benioff and Weiss, Littlefinger wasn't the reason Jon Snow survived The Battle of the Bastards. In a behind-the-scenes video for the episode, the co-creators said that the hero "just got lucky."
The season 6 episode took 25 days to shoot
The Battle of the Bastards was a spectacle of an episode that required 500 extras and stuntmen, 600 crew members, and 25 days to shoot.
They did use some visual effects to duplicate the extras and show arrows flying. But, their use of CGI was extremely limited. Instead, the majority of the action on-screen in that episode of Game of Thrones was done in real life.
RELATED: Kit Harington Admits Fans Still Shock Him About 1 Aspect of 'Game of Thrones' Years After the Series Finale
"Probably my favorite shot of the whole season is when we're behind Jon Snow and he sees that cavalry wall galloping towards him," Benioff said in the video. "And part of the reason it's such a great shot is it's all real. That's 40 horses charging full speed at Kit Harington."
Kit Harington admits shooting the sequence was 'scary'
Harington says that the incredible shot of the Bolton cavalry charging toward him was a "scary" experience. Until the very last minute, Harington "stood there facing off against this cavalry charge." And he's upset viewers might think it was all visual effects.
"We were a bit annoyed because I think everyone's going to think it was CGI and it wasn't," Harington admitted.
'Game of Thrones' had its own horse whisperer to choreograph the scene
In order to film the scene, Game of Thrones "horse whisperer" Camilla Naprous had to choreograph the horses charging to make it look like they were crashing into one another. She made channels that the horses passed through before clearing out.
RELATED: One 'Game of Thrones' Star Fires Back at Fans, Admits She Was 'Blown Away' By Season 8
"So in a very tight formation we'll have those guys cross, and they will pull the horses as they cross through," stunt coordinator Rowley Irlam explained. "We're falling them onto thick falling beds so we don't injure the horses or injure the guys."
All eight seasons of Game of Thrones are available on HBO Max.