'Game of Thrones' Kit Harington Reveals What He'll Tell His and Rose Leslie's Son About Their Sex Scenes
For years, Game of Thrones captivated audiences with its bleak and dangerous conception of medieval-style fantasy. Up until the terrible final season, adult viewers were kept at the edge of their seats wondering which of their favorite characters would be unceremoniously slaughtered next. A character who many worried about was Jon Snow, the career-defining role of actor Kit Harington. Now that Kit Harington has a child of his own, some have wondered when and how he might introduce his son to the ultra-violent series — and namely, how he'll tackle the many sex scenes between himself and his now wife, Rose Leslie.
Harington and his wife played characters in a relationship on the show prior to their real-life marriage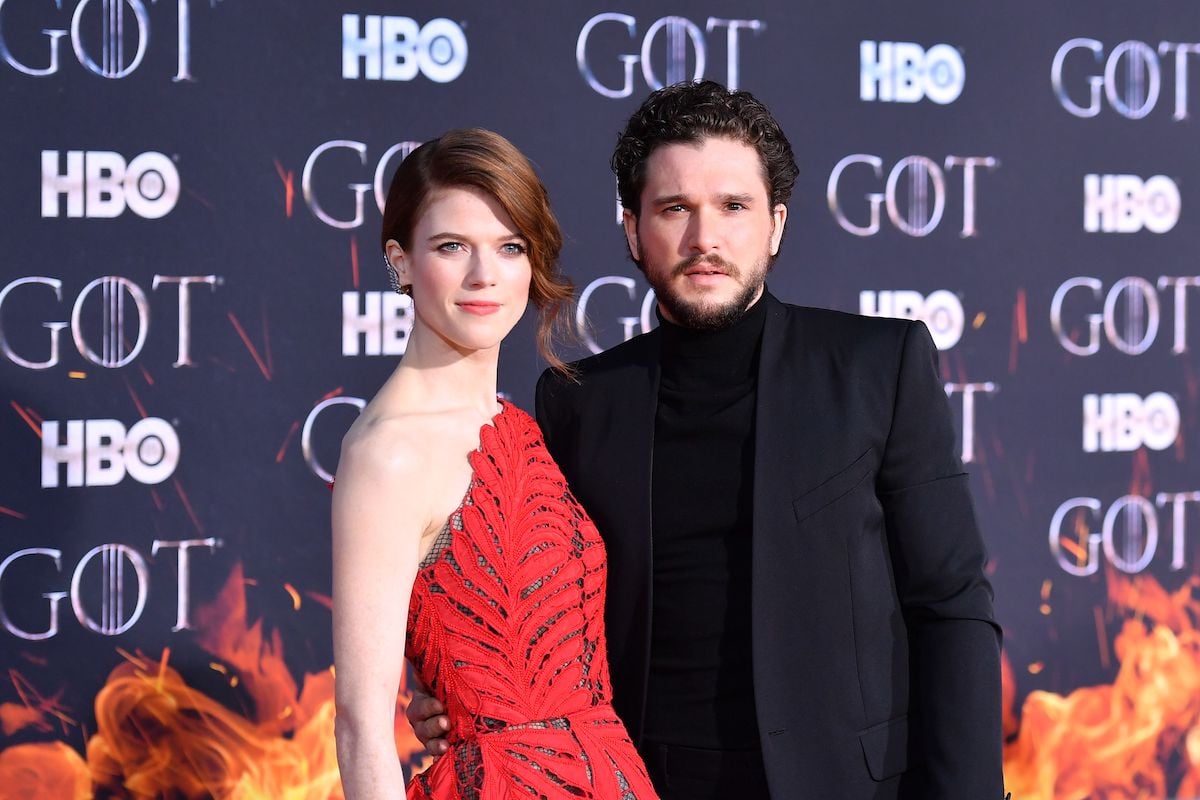 Harington and Rose Leslie met while filming season 2 of Game of Thrones in 2011. Their chemistry off screen seemed to majorly enhance what audiences saw on screen, as many noted how much more interesting they found the relationship between Jon Snow and Ygritte (Leslie's character) in the series compared to the book — especially when it came to her delivery of one of the show's most iconic lines.
For many, it came as no surprise when the two finally got married in 2018. While things didn't work out quite so well for their characters, fans could at least take solace in knowing the actors that played those characters got to have their own happy ending.
Kit Harington shared how he'll handle showing his and Rose Leslie's son certain scenes from the show
Whether a coincidence or as an inside joke on the part of the showrunners, the two characters that Harington and Leslie ended up playing eventually started a relationship in the series. As GoT law dictates, that meant graphic sex scenes were to follow. They seem to have had a fairly easy time of it, all things considered.
Now that they have a son, Harington and Leslie are carrying that attitude with them when it comes to showing him the series when he gets older — including the sex scenes featuring the boy's parents. Uncomfortable as it might be for some, Harington seems to view it as just another part of the show. It might also help that not every shot of the characters were actually the actors themselves (particularly one from behind). He even joked about it in a recent interview with E! News, saying, "Look, I mean, you can just be thankful that it happened because otherwise you wouldn't be here."
Both actors are tackling the joys and challenges of parenthood head on
Ever since confirming the pregnancy in late 2020, both actors have been excited about taking on the role of parents. Now that their child is here, they've each commented on how different the world feels now that they're a family of three.
Harington could have learned a few things from his character, as he's talked about how little he felt he knew about becoming a dad before it happened. He talked about this in an interview with Access, summarizing his feelings.
"What surprises you is you go, 'Oh, this goes on forever!'" he explained. "You don't get a break from it. You're just like … Every day I wake up and look after this little human and now we're part of a unit together." He then added that seeing all the ways his son grows and changes has been "a beautiful thing" to experience.
In a New York Post piece, Leslie was equally thrilled ever since their first announcement, saying, "I am thrilled to be expecting, and I can't wait to meet the new member of our family!"
RELATED: Kit Harington Says Watching the 'Game of Thrones' Prequel 'House of the Dragon' Will Be 'Painful'