'Game of Thrones': Nothing 'Clicked' for Jason Momoa on the Disastrous Pilot Until They Recast the Role of Daenerys
Game of Thrones fans will soon have access to every behind-the-scenes detail they could possibly want to know about the HBO fantasy series. The new book Fire Cannot Kill a Dragon is about to hit bookshelves. This is an oral history – as told by nearly everyone involved – of GOT from concept to series finale. In the book, star Jason Momoa reveals that nothing "clicked" for him on the disastrous pilot until they recast the role of Daenerys.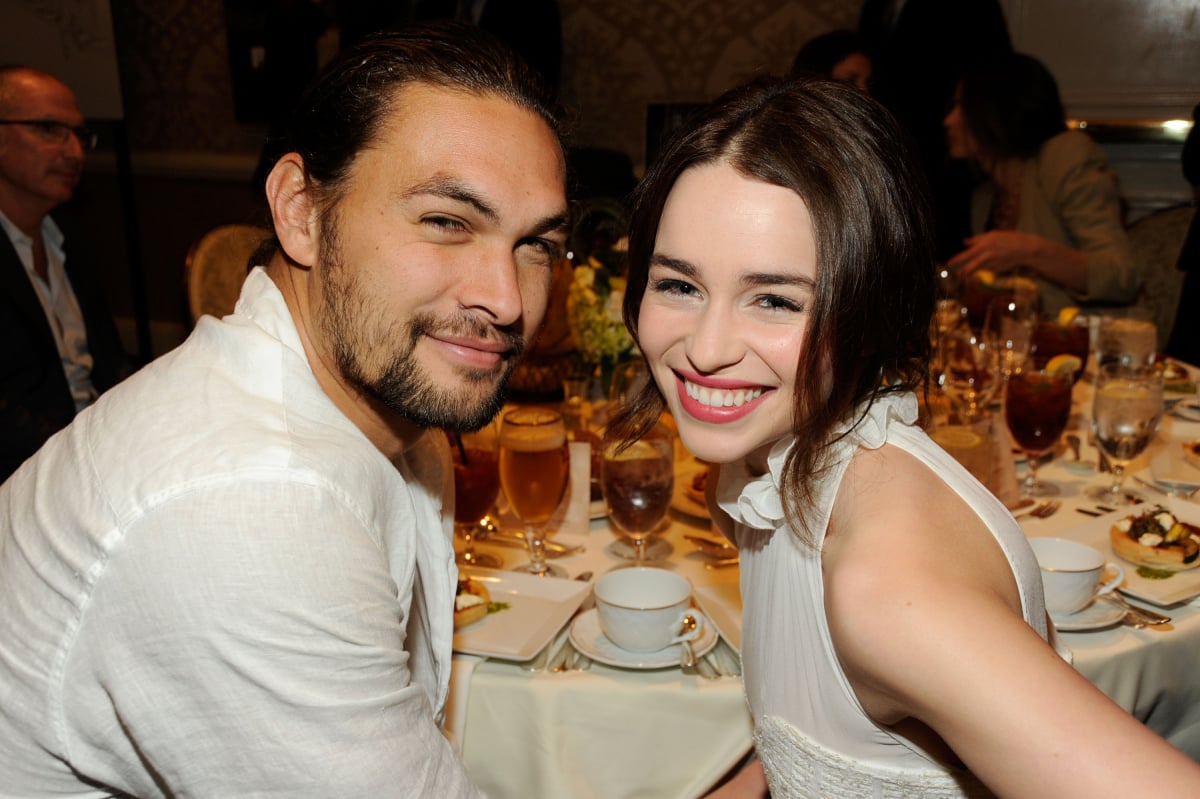 One controversial 'Game of Thrones' scene was completely different in the original pilot
Many fans already know that David Benioff and D.B. Weiss infamously scrapped the original Game of Thrones pilot. They had to make significant changes due to the poor reception. In addition to some key costume changes, one controversial scene ended up completely different.
According to the new book from Entertainment Weekly editor-at-large James Hibberd, the scene in question was Khal Drogo (Momoa) and Daenerys Targaryen's wedding night.
In the original pilot, actress Tamzin Merchant played the role of Daenerys. TV Guide reports that George R.R. Martin reveals in Hibberd's book that the scene originally featured consensual sex.
"In the Emilia Clarke version, it's rape. It's not rape in my book, and it's not rape in the scene as we filmed it with Tamzin Merchant. It's a seduction," Martin explained. "Dany and Drogo don't have the same language. Dany is a little scared but also a little excited, and Drogo is being more considerate. The only words he knows are 'yes' or 'no.'"
Jason Momoa admits nothing 'clicked' for him in the original pilot
Recasting the role of Daenerys wasn't easy. According to Entertainment Weekly, one insider claims that the producers hated breaking the news to Merchant. The source described it as "the hardest phone call they ever had to make."
Former HBO programming president Michael Lombardo explained that they had to rethink the role because it was compromised. They all knew that Daenerys' journey was critical, and Merchant's scenes with Momoa "just didn't work."
"[Merchant] was great. I'm not sure why everything was done. But when Emilia got there that's when everything clicked for me. I wasn't really 'there' until she arrived," Momoa explained.
Bryan Cogman, Benioff's assistant who later became co-executive producer, says that Merchant did a "really good job." And, it's hard to say exactly why things didn't work out. But ultimately, it was obvious that Emilia Clarke was "born to play that part."
The 'Game of Thrones' alum says he felt 'cheated' by his character's fate
Unfortunately, Momoa didn't read Martin's A Song of Ice and Fire book series before he accepted the role of Khal Drogo. The Aquaman star said in 2019 that he felt "cheated" by the Dothraki leader's fate.
As fans know, Khal was killed off at the end of the first season. But, according to Digital Spy, Momoa didn't realize his character would be off the show before he got the chance to show "a little bit of color."
"I've always felt like I've been cheated in a lot of the things I've done," Momoa said. "You try to show a little bit of color in there, you know, with Conan but no one wants to see Conan crying and with Drogo he died before any of that stuff could happen."
Fire Cannot Kill a Dragon hits bookshelves on Tuesday, October 6. Game of Thrones is currently available to watch on HBO and HBO Max.