'Game of Thrones' Prequel 'House of the Dragon' Reportedly Adds an 'Outlander' Star to the Cast
The Game of Thrones prequel House of the Dragon is not expected to premiere until next year. But the series is already in pre-production and HBO has confirmed that numerous roles have been cast.
HBO previously announced Matt Smith as Daemon Targaryen and Olivia Cooke as Alicent Hightower. Now, it appears that they've added an incredibly popular Outlander star to the cast.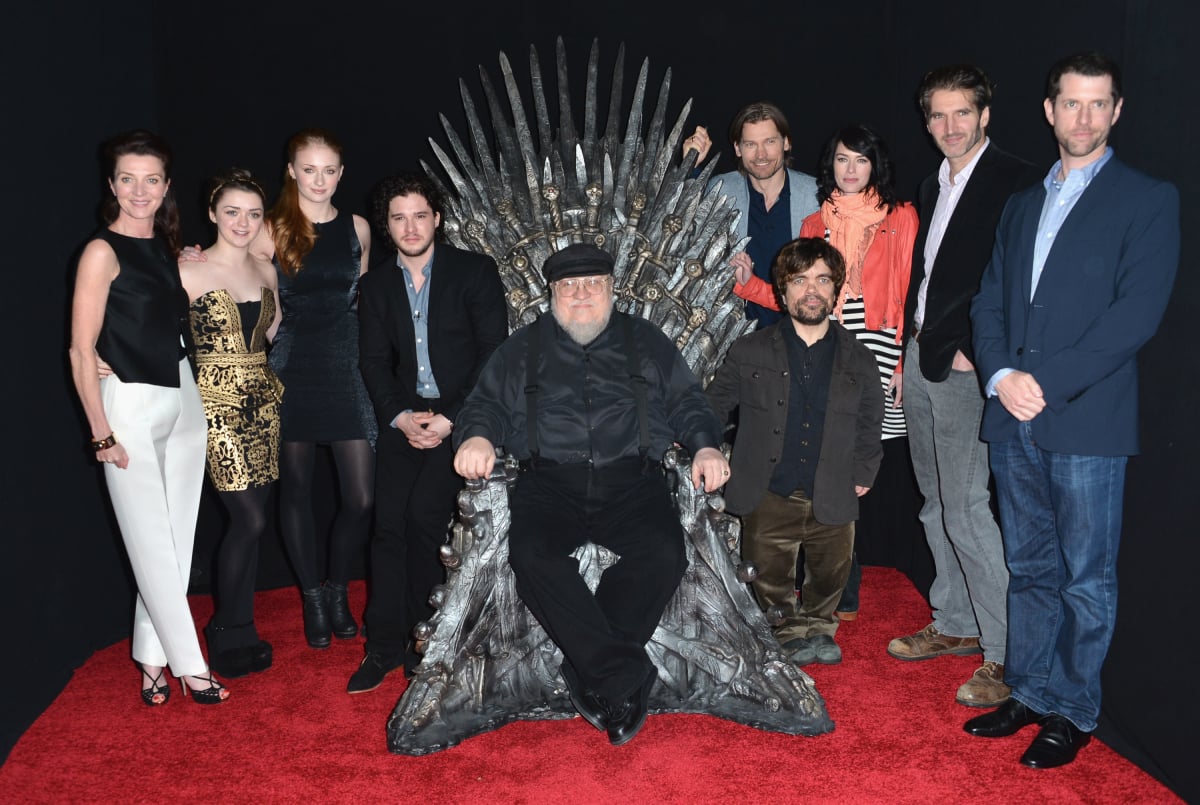 'House of the Dragon' takes place 3 centuries before 'Game of Thrones'
According to CNN, House of the Dragon is a Game of Thrones prequel series based on George R.R. Martin's book Fire & Blood. It will cover the history of House Targaryen approximately 300 years before the Game of Thrones storyline.
Smith will star as heir to the throne Prince Daemon Targaryen, a fierce warrior and younger brother of the king. Cooke's Alicent Hightower is "the most comely woman in the Seven Kingdoms." She's the daughter of Otto Hightower, played by Rhys Ifans.
Emma D'Arcy will play Princess Rhaenyra Targaryen, a dragonrider who is the first-born child of King Viserys. Lord Corlys Velaryon, known as "The Sea Snake," will be played by Steve Toussaint. House Velaryon is a Valyrian bloodline as old as House Targaryen.
'House of Dragons' will be different from its predecessor
According to Cooke, House of the Dragon will be very different from Game of Thrones, especially the first few seasons.
The 27-year-old actor told The Guardian that the prequel won't depict sexual violence against women. She also said the actors aren't going to get naked just to attract viewers.
"I wouldn't feel comfortable being a part of anything that has just egregious graphic violence towards women for no reason whatsoever, just because they want it to be tantalising in a way that gets viewers," Cooke said. "I was lucky enough to read the script before, and it has changed a lot from the first few seasons. I don't think they'd be in their right minds to include any of that anymore."
The 'Game of Thrones' prequel has added on 'Outlander' star to the cast
HBO has yet to confirm he's part of the cast, but Outlander star Graham McTavish has just been spotted on the House of the Dragon set.
Outlander fans will remember McTavish as Dougal MacKenzie during the first couple of seasons. He quickly became a fan favorite before the character was killed off at the end of season 2.
RELATED: Kit Harington Once Revealed the Hardest Part About Filming 'Game of Thrones' — and It Wasn't 'Battle of the Bastards'
Recently, McTavish starred alongside Sam Heughan for their Scottish road trip series Men In Kilts. The duo traveled around their home country to learn all about Scottish culture, food, music, and sports.
What role will Graham McTavish play?
It's not clear yet exactly which character McTavish will play. But there are a few theories. He could be Ser Harrold Westerling, the Lord Commander of the Kingsguard for King Viserys I Targaryen.
A casting description of Harrold says he's a "once powerful Knight [with] a successful military background." He's given "the responsibility to the King to watch over and guard the Princess" but he feels "a loss of purpose in the current regime, where widespread peace has led to complacency and indulgence."
Others have suggested that McTavish could be playing Lyonel Strong, the Lord of Harrenhal. He serves as both master of laws and Hand of the King to King Viserys.
'Game of Thrones' is just Graham McTavish's latest major franchise
This warrior role would definitely be on brand for McTavish. He's played a seasoned fighter many times throughout his 20+ year career. In Outlander, Dougal was a War Chief and McTavish played both him and the role of his son. In The Hobbit, McTavish played dwarf Dwalin.
The veteran actor also has connections to the Marvel Cinematic Universe and Star Wars. He will also be in season 2 of The Witcher. McTavish is also part of some major video game franchises, like Call of Duty, Halo, and Assassins Creed.
House of the Dragon will premiere on HBO in 2022.