'Game of Thrones': These Cast Members Confessed To Being 'Annoying' on Set
When people think of Game of Thrones, many things come to mind. Whether it's the incredible acting, the beautiful scenery, or the unfathomable plot twists, the HBO series stands out as one of the most memorable shows to ever grace our TVs. Yet what people often forget to mention when contemplating the series is how beautiful and complex some of the love stories are. Whether it's Jon's relationship with Ygritte or Daenerys' relationship with Khal Drogo, there are tons of sizzling romances on Game of Thrones. 
As it turns out, one of the GOT romantic duos has confessed to being so chaotic on set, that they've "annoyed everyone." Keep reading to find out the pair that admitted to this.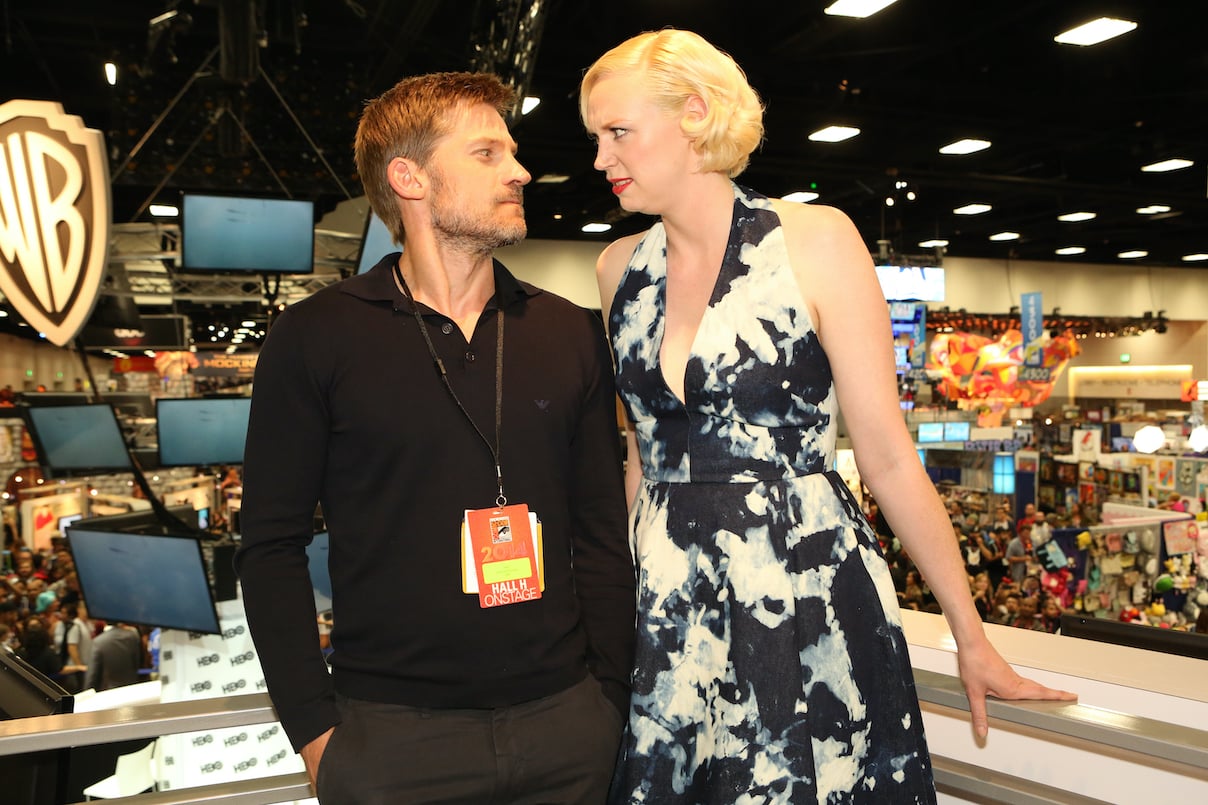 Brienne and Jaime's love/hate relationship
Brienne of Tarth and Jaime Lannister have the best dynamic on Game of Thrones. They start in the series as mortal enemies, who are forced to band together in order to survive. All of their scenes seem like something straight out of a rom-com, rather than what we're used to seeing on Thrones. 
Originally, Jaime believes he only has one love: Cersei. Yet as he gets to know Brienne, things change, and he develops feelings for the aspiring knight. 
The passion derived from their constant banter gets muddled with their growing attraction towards one another. Over time, these unsuspecting characters end up falling in love. Whether you're "Team Jaime" or "Team Tormund" when it comes to the quest of winning Brienne's heart, you can't deny the chemistry between Jaime and Brienne.
This quote from George R.R. Martin's book further proves the complexity of their relationship. 
"'Ser Jaime?' Even in solid pink satin and torn lace, Brienne looked more like a man in a gown than a proper woman. 'I am grateful, but… you were well away. Why come back?' A dozen quips came to mind, each crueler than the one before, but Jaime only shrugged. 'I dreamed of you,' he said."
Nikolaj Coster-Waldau and Gwendoline Christie are just like Brienne and Jaime
If you thought the banter between the two ended off-screen, you would be wrong. Actors Nikolaj Coster-Waldau (Jaime) and Gwendoline Christie (Brienne) are eerily similar to their Game of Thrones characters. Watch just one interview with these two, and you'll see why. Nikolaj and Gwendoline have the same amount of hilarious back-and-forth as Jaime and Brienne, (yet arguably with more laughs involved.) 
In an interview with Access, the actors reveal how hilariously chaotic their real-life dynamic can get. Referring to their relationship off-screen, Gwendoline jokes, "No one likes it, we've annoyed everyone. We've annoyed everyone on set, and they don't want to be around it. We did alienate people over the years, didn't we?
Nikolaj responds, saying, "They didn't appreciate the fun we were having."
The 'Game of Thrones' actors recall their first time meeting
According to Gwendoline, upon meeting, the actors got off on the wrong foot. The Game of Thrones actress recalls her experience meeting Nikolaj, who she was nervous to meet at first. She describes him as impatient and rude upon their first meeting, which only helped their on-screen relationship seem more authentic. 
In a season 3 interview, Nikolaj admits to this. Referring to his co-star, he says, 
"She was wonderful. We met a few days before filming, and for some reason, I just decided to start treating her like Jaime would, and we've never stopped. It's driving everyone crazy around us, as I'm just being really inappropriate and horrible. The funny thing is that I've taught her too well. She's winning more and more of our little exchanges now."