One 'Game of Thrones' Villain Reveals Their Death Was Originally Supposed to Be Much, Much Worse
Games of Thrones seasons 5 and 6 featured villain Septa Unella, played by Hannah Waddingham. Fans didn't witness the character's demise on screen. But it was implied that Septa was tortured to death by The Mountain (Hafþór Júlíus Björnsson) after Cersei Lannister (Lena Headey) imprisoned her.
Yes, the character had a brutal ending. But according to Waddingham, it was supposed to be much, much worse.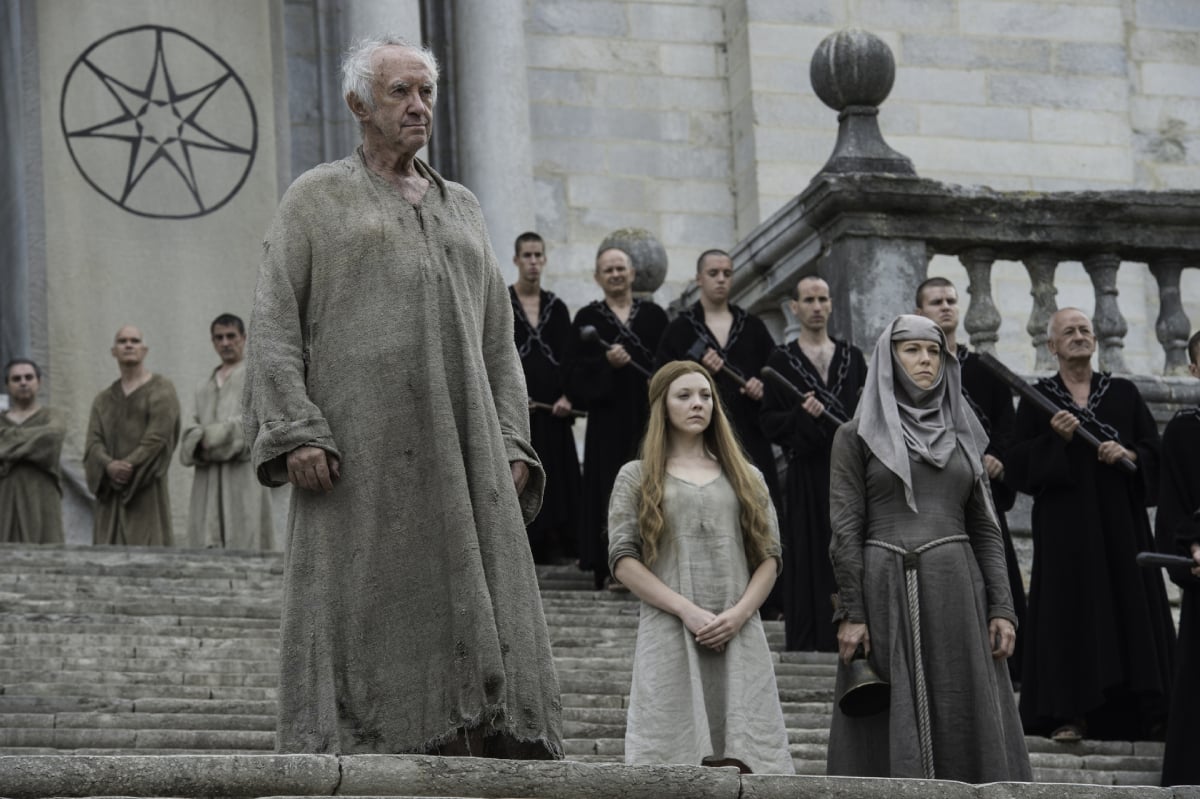 Unella was a big part of Cersei's walk of atonement on 'Game of Thrones'
Fans will recall that Unella was a Septa of the Faith of the Seven under the High Sparrow (Jonathan Pryce). When the High Sparrow arrested Cersei, it was Unella who tortured her in her cell underneath the Great Sept of Baelor.
When Cersei finally confessed, she completed her walk of atonement back to the Red Keep. In one of the most memorable scenes in Game of Thrones' eight seasons, Unella yelled "shame" with every step that Cersei took. But by the end of season 6, the tables had turned and Cersei wanted Unella to pay.
Cersei imprisoned and tortured Unella
When fans saw Unella for the last time, Cersei was pouring wine on her and demanding that she confess. Then, she was locked in the room with The Mountain and the door closed. It was a disturbing moment, but it could have been much worse.
"She was meant to be raped by The Mountain, and I think they'd had so many complaints about the rape of Sansa that they chose not to go with it," Waddingham recently told Collider.
She went on to explain that the story idea changed at the last minute. Waddingham recalled flying to Belfast and suddenly receiving new sides mid-flight. The new scene required the actor to have a wetsuit top, and she thought it was a mistake.
"And sure enough, when I got there, I was then put in a wetsuit top and I was like, 'Because?' And they went, 'Oh, it's waterboarding instead,'" Waddingham said.
Filming her final scene on 'Game of Thrones' was the worst day of Hannah Waddingham's life
When Waddingham questioned producers about the waterboarding scene, they told her they weren't relying on editing magic. Instead, they told her that she would really be tortured.
RELATED: 'Game of Thrones': Why 1 of the Most Iconic Scenes Was Both 'Scary' and 'Wonderful' to Film
"And there I was strapped to a wooden table with proper big straps for ten hours," Waddingham revealed. "And definitely, other than childbirth, it was the worst day of my life. Because Lena was uncomfortable pouring liquid in my face for that long, and I was beside myself."
Hannah Waddingham had second thoughts about the torture scene
When talking about that difficult day of filming, Waddingham admitted that she had second thoughts about the scene. She says she questioned whether or not she should serve the piece and get on with it. Or, she thought maybe she should "chicken out" and tell them, "No, this isn't what I signed up for."
"The funny thing was, after we'd finished shooting it for the whole day, and people like Miguel Sapochnik, the director by the way, walking past with a cup of tea and a sandwich on-the-go and going, 'Hi hunny, you alright?' And I was like, 'Not really,'" Waddingham recalled.
She says that Sapochnik told her that the crew had informed him that they were "actually really waterboarding" her. In response, Waddingham told the director, "Yup, you don't need to tell me that!"
Unella's torture scene on 'Game of Thrones' had lasting effects
Waddingham says that after filming the brutal torture scene, she later realized that it gave her claustrophobia around water. She says she's talked to someone about it because "it's quite full-on being waterboarded for ten hours, and then only one minute and 30 seconds can be used on camera."
However, the actor does admit that being "uncomfortable" during the scene was ultimately worth it. She says she kept thinking that the production company wouldn't let her die, so there was no genuine threat of something happening.
"Push yourself, be uncomfortable," Waddingham said. "It's the same as if people don't cry on camera, don't impart this emotion to the right moment. Why not? My whole thing has always been, take people to the absolute nth degree of their emotions and that's the same thing. Give of yourself and then it gives back to you."
All eight seasons of Game of Thrones are streaming on HBO Max.