'General Hospital': Carly's Dark Path Could Leave Sonny In His Time of Need
Anyone who has spent any time browsing the covers of the magazine grocery store display in the checkout lane knows that Carly and Sonny are a soap opera super couple. It's rare that at least one of the headlines on Soap Opera Digest doesn't contain some mention of the turbulent couple. Next to Luke and Laura, Sonny and Carly are one of the most famous couples in soap opera history. What the casual observer might not know is that the General Hospital power couple's road to romance is anything but smooth. At the moment, it appears that at least one half of the pair is about to walk a dangerous path that could split them up forever.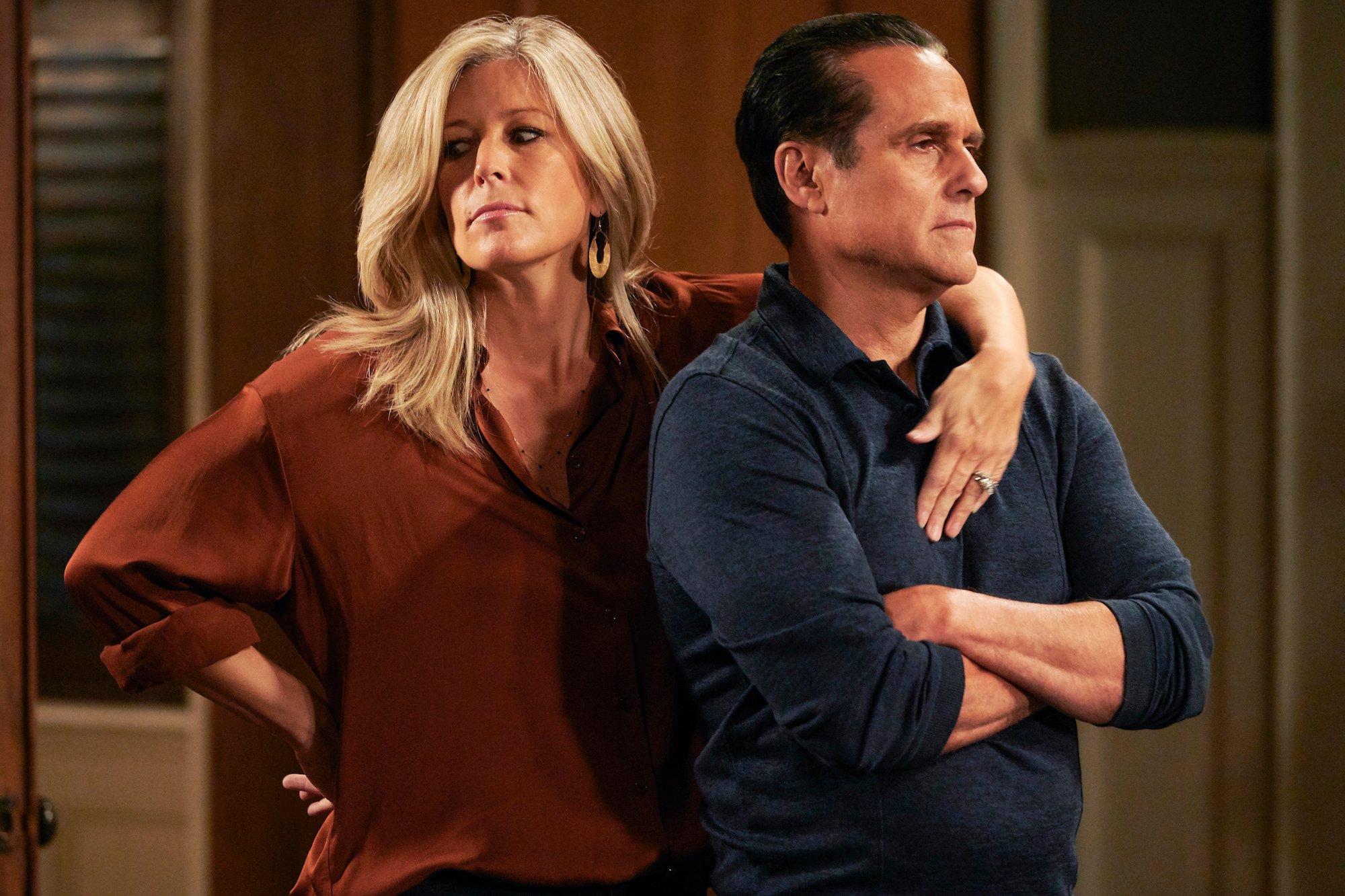 Carly and Sonny's long and twisted history
Carly and Sonny are one of soap opera history's most famous couples. Their on-again, off-again relationship has been a major part of Port Charles's history for decades. They have been married multiple times, share children, and drive each other up a wall. On paper, they're a couple that shouldn't work, yet even though they don't always bring out the best in each other, they can't stay away from one another. The past few decades have been littered with break-ups, arguments, passionate moments, and four weddings. The last time the couple walked down the aisle was in 2019 when they renewed their wedding vows. At the time, everyone hoped it would be Sonny and Carly forever, but at the moment, it appears that Carly is venturing down a dark path that could leave Sonny desperate and alone just when he needs her the most.
Sonny struggles to cope with Mike
Sonny and his father, Mike, have never had the best father/son relationship, yet even when they were getting along, Mike was always in the periphery of Sonny's life. That's changing. The character of Mike has developed Alzheimer's. Watching his father slip away is taking a huge toll on Sonny, who also lives with bipolar depression and has trouble whenever he has to deal with emotional upheaval. Fans of the character know that having family, especially Carly, close at hand, is the one thing that prevents Sonny from making incredibly bad and dangerous decisions when his life falls apart.
Carly poised to go down a "dark path"
Frank Valentini, General Hospital's executive producer, recently released a cryptic tweet that indicated that Carly is about to go down a dark path. Considering that sweeps month is fast approaching, this doesn't come as a surprise to anyone. Based on Carly's history, the dark path will likely involve jealousy, passion, hatred, and a lot of misunderstanding. It will also likely involve at least a bit of Jason Morgan telling Carly that she's overreacting and Carly going out of her way to ignore him. It's also likely that Carly will become so involved with the situation (many fans are speculating that the "dark path" will involve Nelle and/or Nina) that she leaves Sonny hanging in the wake of Mike's death, which send Sonny into an emotional tailspin and put Port Charles in danger.
The writers have been pretty good about keeping just what the future holds for both Carly and Sonny quiet. At this point, fans can only speculate about how the show will progress over the next few months, but things are sure to change now that Mike has died. Most of the speculation is based on what has happened in previous years with the couple. What fans do know is that the couple will struggle, there will likely be heated arguments that lead to massive misunderstandings, and its likely stuff will blow up. Fans of both General Hospital and Carly/Sonny are confident that the storyline will be exciting to watch unfold.