George Clooney Pranked His Father at a Movie Screening With 6 Words
George Clooney has a reputation in Hollywood for pulling pranks. He's been known to pull pranks on co-stars and friends. No one is safe, not even Clooney's own father. The Midnight Sky actor and director once played a prank on his dad, Nick Clooney.
George Clooney's father is a retired broadcast journalist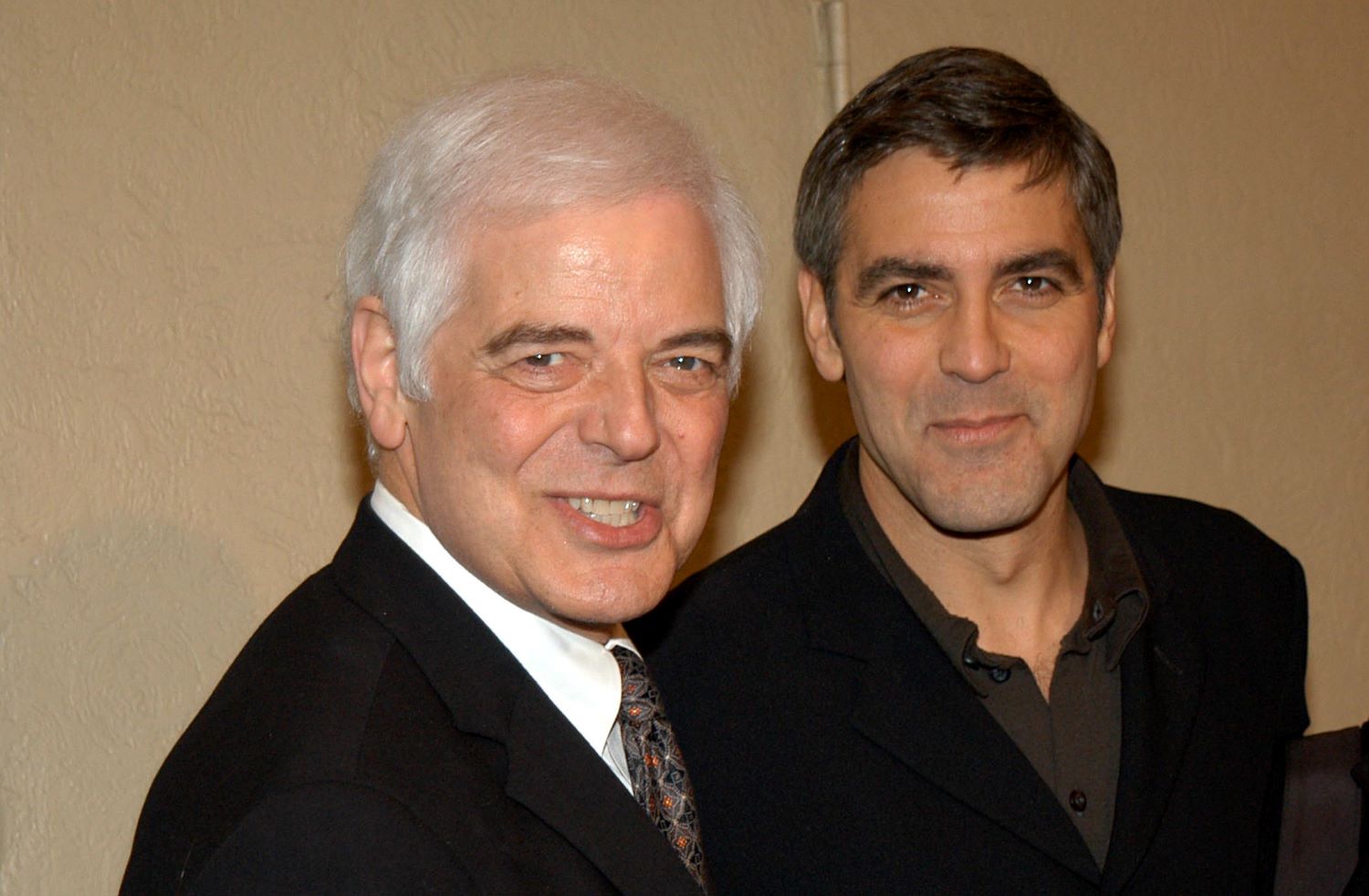 Before Clooney graced the small screen as a doctor on E.R., his father had already spent decades on TV. The Ocean's 11 star grew up seeing his dad host his own variety show. As a kid, the future actor used to appear on The Nick Clooney Show where he'd dress up in costumes and get interviewed by his dad.
Clooney's father worked as a reporter, anchor, news director, and managing editor throughout his career in broadcast journalism. Now 87 and retired, Nick lives in Kentucky with his wife and Clooney's mother, Nina.
Close with their movie star son, Nina and Nick make occasional trips to Clooney's Lake Como villa. In fact, the actor's parents were there when he met his future wife, Amal Clooney. She went to a dinner party at the Up in the Air star's Italian home when his parents were there for a visit.
RELATED: Why George Clooney Gave up the Lead Role in an Oscar-Winning Movie To Ben Affleck
George Clooney joked about his dad's mortality at a screening of 'The Monuments Men'
During an Esquire UK interview published on March 1, 2014, Clooney shared that he'd played a prank on his dad. The actor gave his father a sneak peek of The Monuments Men, a movie he co-wrote, starred in, and directed.
Nick had a small role in the World War II drama. He played an older version of his son's character. The two sat down to watch a rough cut of the film and right at the end the actor decided to play a joke on dad.
"In the very last shot of the movie, [Nick] walks out through this church and the music is playing and for the screening I had this card come up at the end: 'In loving memory of Nick Clooney'. And he's like, 'I'm not … what the h*ll?' And I go, 'Hey, man, the movie doesn't come out for a while. I'm just covering all my bases.'"
How did Nick react to the joke about his advancing age? He must've found it funny because, according to Clooney, "he has a pretty good sense of humour."
The Monuments Men marked Clooney's fifth time directing a feature film. His co-stars — besides his dad — included John Goodman, Bill Murray, Matt Damon, and Cate Blanchett. 
RELATED: George Clooney's Embarrassing Prank on Matt Damon Ended Up Getting Him Named 'Sexiest Man Alive'
George Clooney's still making movies despite his sizable net worth
No surprise here, Clooney's a wealthy man. Thanks to his successful Hollywood career as well as endorsements he has a hefty net worth. But where the bulk of his fortune comes from is tequila.
Clooney created a tequila brand, Casamigos, with two of his friends. They eventually sold it in 2017 in a deal worth $1 billion. Clooney's cut? A reported $239 million. Factoring in his Hollywood earnings and what he made selling his tequila brand, Clooney's net worth is an estimated $500 million. 
Even though he has more than enough money to retire from acting Clooney's still making movies. However, he's being more selective about it. As he told GQ in 2020, he had a conversation with his friend and producing partner, Grant Heslov.
"'Let's sit down and try to figure out how many summers we have left,'" Clooney said. "'Let's say we were 55 at the time. So let's say we have 25 more summers left—25 years, 25 summers. That doesn't seem like that many if you lose a whole summer, right?'"
RELATED: George Clooney Almost Starred in 'Jack Frost' Instead of Michael Keaton