George Harrison Once Admitted That It Was a 'Bit Ironic' That He Loved Working With Jeff Lynne
Before Jeff Lynne co-founded Electric Light Orchestra, he and his band, the Idle Race, watched George Harrison and The Beatles record some of The White Album in 1968.
Lynne had no idea that he'd be back in the studio with George, who'd requested him specifically to produce Cloud Nine in 1987. George had no idea that the person he'd brushed off as a Beatles copycat would become one of his closest friends.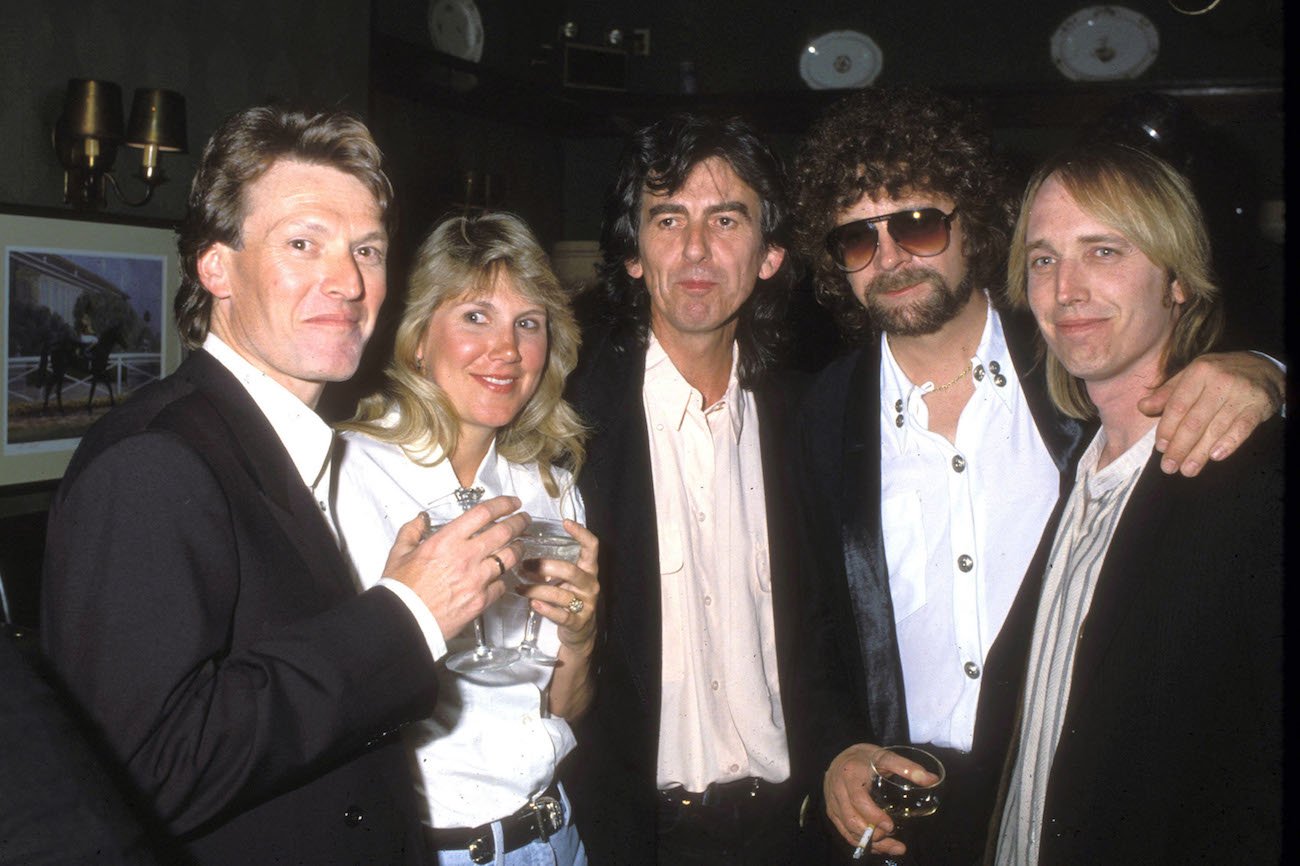 George Harrison thought it was a 'bit ironic' he loved working with Jeff Lynne
During a rare 1987 interview with Entertainment Weekly, George explained that it was a bit ironic that he loved working with Lynne.
"In an article from the 1970s, when the writer described an ELO song coming on the radio, you said, almost dismissively, 'Sounds like the Beatles.' Now, irony of ironies, you've ended up working with Jeff Lynne," Entertainment Weekly pointed out to George.
"That's one of the reasons why I tried to get Jeff Lynne, because he knew about… Okay, most people knew about the Beatles, but he really knew about 'em," George explained. "And I was looking to work with somebody who would know my past and not disregard that, but who I would also respect, as a writer and producer. But it is a bit ironic, I know.
"I think in those days I was a bit sensitive to all that kind of stuff, having just got nailed in court for the other song ['My Sweet Lord' and its similarities to 'He's So Fine']. Every song I listened to on the radio sounded like other stuff, and yet I had to go through that hassle."
George had a fair point. At least he later realized his mistake. George's relationship with Lynne ended up so much better than either of them could have imagined.
George asked Lynne to take a vacation in Australia with him the first time they met
In 2020, Lynne told Louder Sound that George needed a producer for Cloud Nine and sought Lynne out personally. Since their brief meeting in 1968, Lynne hadn't crossed paths with the ex-Beatle. Lynne was nervous. Meanwhile, George had put his previous prejudices about Lynne behind him. He realized that Lynne was potentially the only person in the music industry who understood him, The Beatles, and beyond.
"George was looking for me to work with him on Cloud Nine [1987]," Lynne said. "Dave Edmunds relayed the message to me, and then actually drove me round to George's house. It was like a giant palace, an amazing place – and kind of scary when you're going in to meet one of The Beatles for the first time.
"We went for a row around the tunnels underneath the gardens, these lovely little canals that you could paddle down, then we went into the studio and George played me some of the stuff he was working on."
George had a serious question for Lynne before they proceeded any further.
"He said: 'Before we start, do you fancy going on holiday? How about Australia?' This was in late 1986," Lynne explained. "We got to be good pals on that trip. I think he just wanted to know that we were going to get along. He'd had enough animosity in the past. When we got back, the whole of England was frozen solid.
"George and I started to make these tracks, and I co-wrote a few with him [including 'When We Was Fab']. It was just fabulous fun." Lynne was right; George needed to be sure Lynne was the right person to collaborate with. He needed to get to know Lynne. What he found was a kindred spirit.
George said it was challenging and fun writing songs with Lynne
During a 1987 interview with Entertainment Tonight, George explained he needed to get to know Lynne before working with him. After that, George said working with the producer was challenging and fun.
"When you've written on your own for so long, it's difficult to just suddenly sit down with somebody. I think you need to really know the person, and it's all the stuff that doesn't really count in the song that is important.
"It's important that I know what this person feels or if he thinks I'm an idiot or if he thinks that these chords are rubbish or-all the fears and paranoias that you may have by just saying, 'Here, let's do this.' You don't want somebody fall about and say, 'What are you talking about?'
"I think it's important you get to know each other to a point where you don't have any fear about inhibition, so you don't mind making a fool of yourself, then you've got all that out the way, and you're able to begin.
"I think with Jeff, it was a matter of I knew a lot of his songs and I could relate to them… and it was just a question of getting to know him a bit more, and it was sort of, not easy, but it was definitely fun because Jeff worked so hard at writing a song.
"We'd get through the first bit and get to the next bit, and he'd go back, and he'd say maybe that bit can be a bit better. He's a real hard worker at it, and it made me think a bit more about what we were doing, but we've had times when it was just fun as well.
"I wanted somebody who'd help me make my record; I didn't want somebody who would help me make their record," George continued.
George and Lynne continued to work together in the Traveling Wilburys and beyond. They became very close. Since George died in 2001, Lynne has safeguarded George's legacy. He helped induct George into the Rock & Roll Hall of Fame. Now, he's appeared in the new music video for "My Sweet Lord."
George knew he could trust Lynne; he just had to bond with him. Boy, did he.