George Harrison Didn't See Much Difference Between 'Rubber Soul' and 'Revolver': 'They Could Be Vol. 1 and Vol. 2'
George Harrison didn't see much difference between The Beatles' Rubber Soul and Revolver. He thought the group could've released them as Vol. 1 and Vol. 2.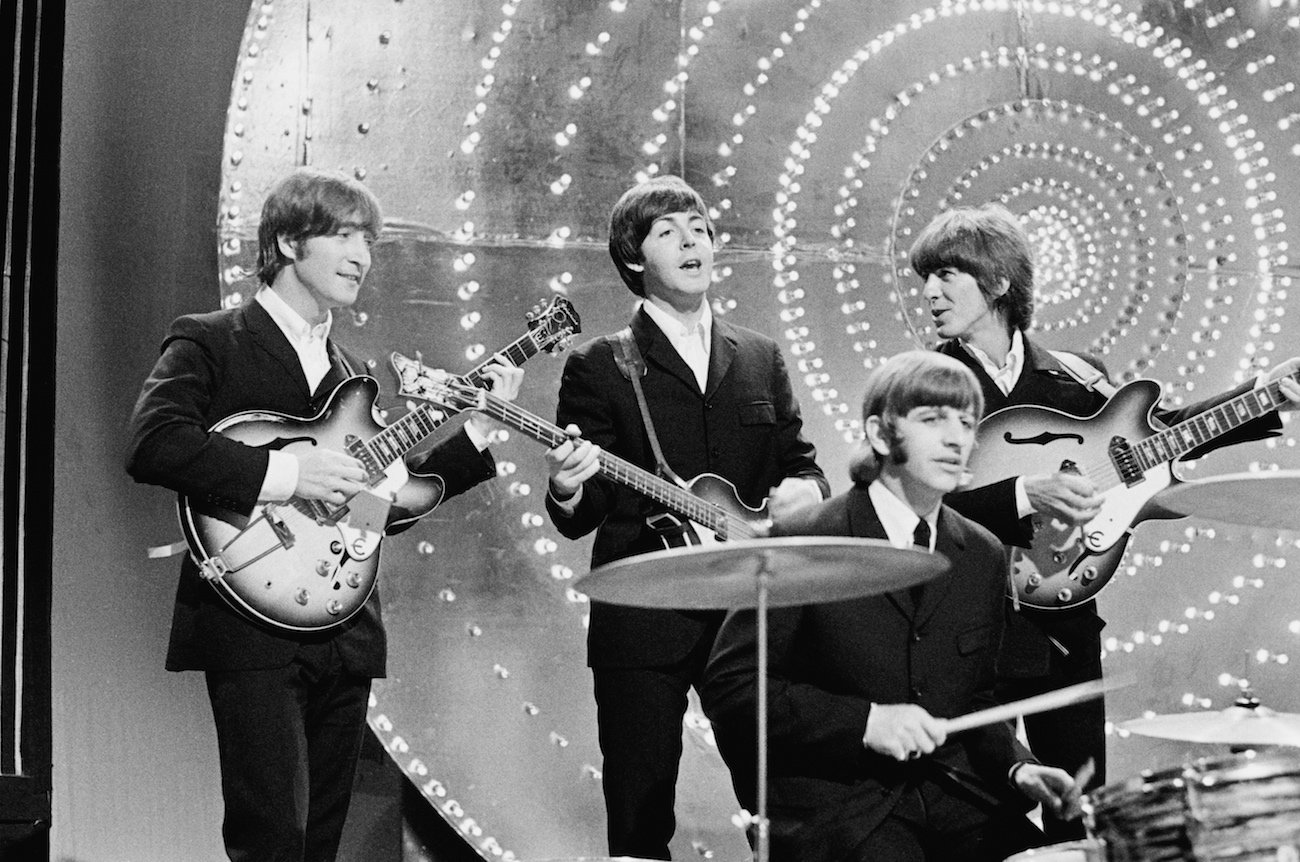 George Harrison had a 'sudden flash' while working on 'Rubber Soul' and 'Revolver'
George enjoyed making Rubber Soul and Revolver. The Beatles were experimenting in the recording studio more than ever, which was exciting. Their lyrics and musical direction were becoming more complex by the day.
In 1977, George told Crawdaddy (per George Harrison on George Harrison: Interviews and Encounters), "I liked when we got into 'Rubber Soul,' 'Revolver'—each album had something good about it and progressed."
In 1992, George told Guitar World that working on Rubber Soul and Revolver was like being "lost in the middle of it-not knowing a thing-and at the same time somehow knowing everything."
"I had a sudden flash, and it all seemed to be happening for some real purpose," George said. "The main thing for me was having the realization that there was definitely some reason for being here. And now the rest of my life as a person and a musician is about finding out what that reason is, and how to build upon it."
George didn't see a difference between 'Rubber Soul' and 'Revolver'
In the Apple Music documentary for Revolver, George said he didn't see much difference between Rubber Soul and Revolver.
"I don't see too much difference myself in 'Rubber Soul' and 'Revolver,'" he said. "To me, they could both be like Vol. 1 and Vol. 2. They both were very pleasant and enjoyable records for me. They fit in, and they seem like a part of the thing. It doesn't just seem like you know it's the giving me my slot."
Paul McCartney and John Lennon allowed George to add more of his songs to both albums, which he wasn't used to. So, right from the start, they were more enjoyable for him.
The Beatles grew more conscious of things in their experimentation
George told Guitar World that Rubber Soul and Revolver saw massive positive changes in the band. They grew more aware of things in their experimentation.
"We just became more conscious of so many things," he said. "We even listened deeper, somehow. That's when I really enjoyed getting creative with the music-not just with my guitar playing and songwriting but with everything we did as a band, including the songs that the others wrote. It all deepened and became more meaningful."
In The Lyrics: 1956 to the Present, Paul wrote that the radio and the sound effects library at Abbey Road Studios also liberated The Beatles during their experimental phase. Despite their old equipment, the group remained innovative and cutting-edge. They used sound effects in a way that no American recording studio could replicate.
"Take something like our use of sound effects as a way of extending our repertoire and range," Paul wrote. "EMI was such an all-encompassing record company of the old variety that they had a sound library in the same building as the studio.
"If I wanted to include the sound of blackbirds singing on the song 'Blackbird,' I could just find it in the catalogue and order it, and someone would go up and get it from the library and bring it down to the studio. So we started messing around with this library, and it was very liberating."
Many things contributed to The Beatles' new sound in the mid-1960s. However, George isn't exactly right about Rubber Soul and Revolver.
There were eight months between the two albums, after all, and The Beatles were experimenting and learning new tricks every day. While Rubber Soul saw massive changes in the band, they'd honed their techniques during the recording of Revolver. So, they aren't that alike.