George Harrison Didn't Understand Why Queen Elizabeth Awarded The Beatles With MBEs
George Harrison cared less about awards, even if the queen herself was awarding them. He used to tell his wife Olivia to let some other monkey get them. George couldn't wrap his mind around people wanting to give him awards for making music. He never saw what he did as a career, and he didn't need justification. So it's understandable that George felt a little awkward being awarded an MBE by Queen Elizabeth with his fellow Beatles.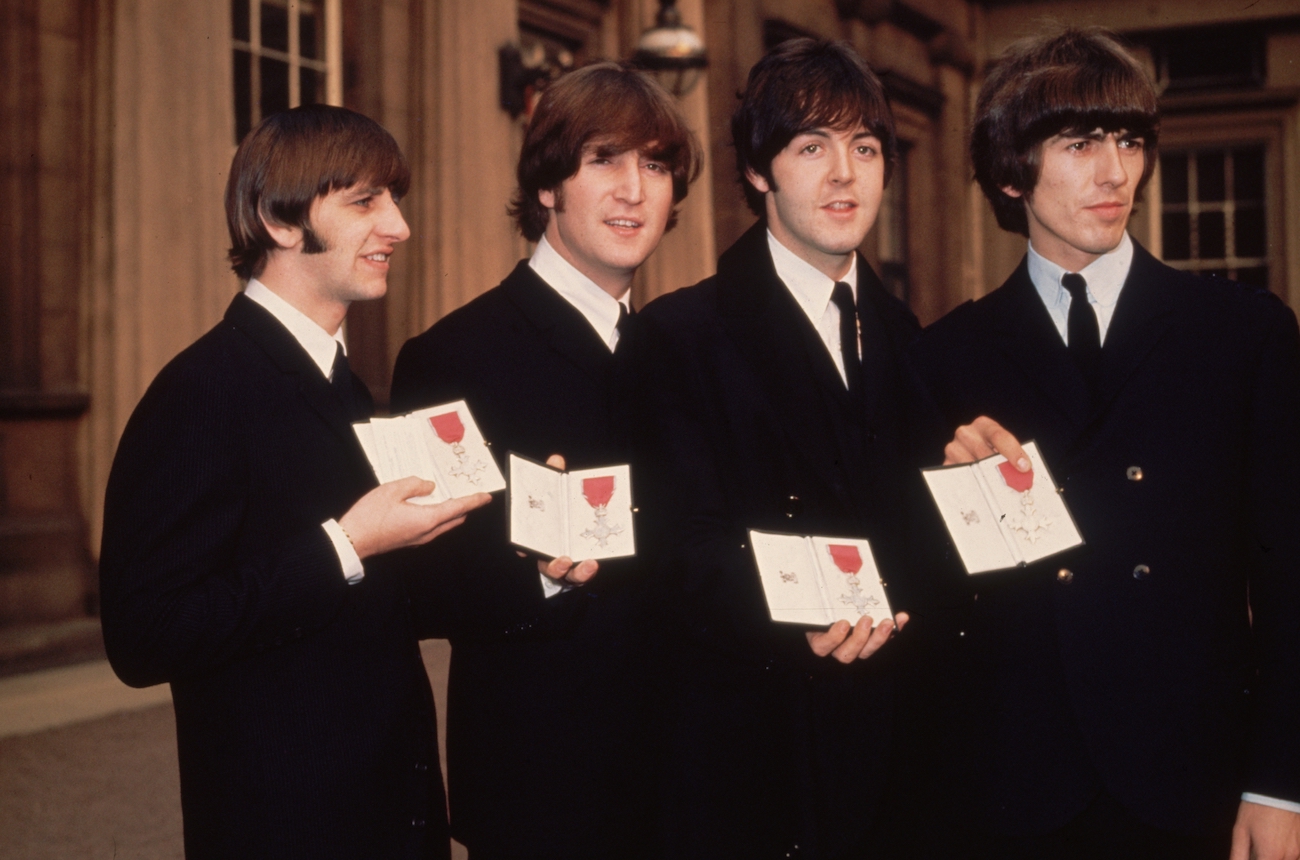 The Beatles found out they were getting MBEs after looking through their fan mail
In June 1965, Brian Epstein requested Paul McCartney and his then-girlfriend, Jane Asher, return from their holiday a day early. He wanted all of The Beatles would be present when it was announced that the queen would be awarding them with MBEs (Member of the Order of the British Empire).
"The press embargo restricting publication of the Queen's Birthday Honours list was lifted during the evening, to allow the next day's newspapers to carry the news," Beatles Bible writes. Harold Wilson, the prime minister at the time, nominated The Beatles for the award himself. Many believed Wilson only did this to get on the good side of the younger generations.
Shortly after, The Beatles held a press conference about the award at Twickenham Film Studios, where they were watching a rough cut of Help!.
When asked how they found out they were to receive the award, George said, "Paul was looking through the pile of fan mail in our dressing room a few weeks back and he came across this envelope that had 'From the Prime Minister' written on it. It must have been there at least a couple of days. He opened it and the letter said that he was being considered for an award and would he sign the enclosed form. We all said, 'We wish we had one,' then dived through the rest of the mail and found that we did have one – one each!"
"We thought that MBE stood for Mr Brian Epstein, because we always sign his contracts, because he's our manager," Paul joked.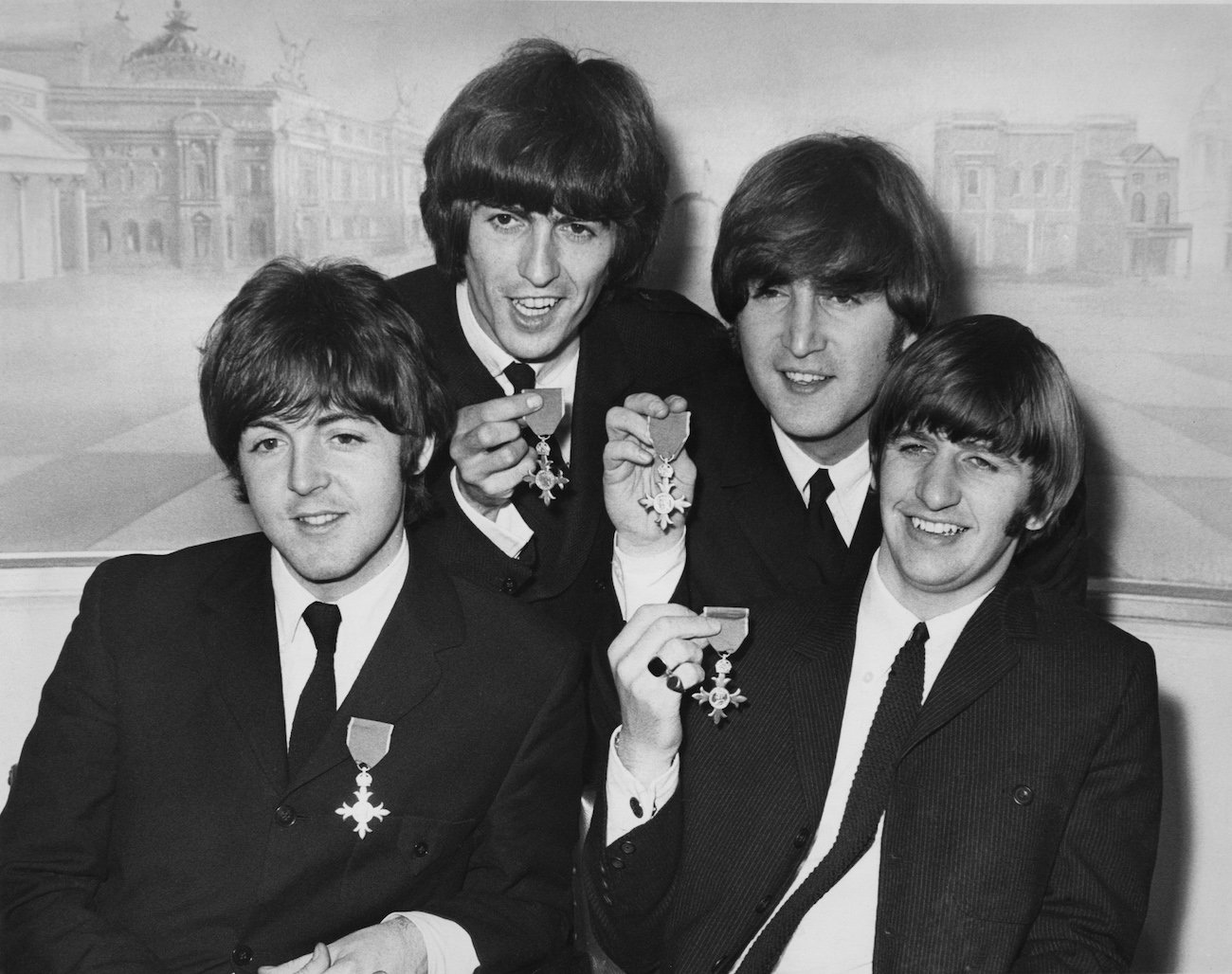 George Harrison couldn't understand why The Beatles received the MBEs
The press asked why they thought they were getting the awards. They said they paid tons of taxes to the British government. Replying to whether or not they thought they deserved the MBEs, George said, "It's not up to us to say that. The Queen must have thought so, or she wouldn't have given them to us, would she?"
At the same time, he couldn't really understand why The Beatles were receiving the awards either. According to the Liverpool Echo, George told the press that he "didn't think you got that sort of thing, just for playing rock 'n' roll music."
When asked what he'd do with his award, George said, "Hang it on the wall." In response to a question about what they thought of Wilson after he'd nominated the band, George replied, "We think of him what we always thought of him. He's a good lad."
Previous recipients returned their awards in protest
Once the press announced the news, past recipients, including Hector Dupuis, a Canadian MP, returned their MBEs in protest. Beatles Bible writes that they didn't want to be "on the same level as vulgar nincompoops."
Regardless of the backlash, The Beatles arrived at Buckingham Palace to hundreds of screaming fans. One fan actually climbed the palaces gates, an offense that could get you killed today. John Lennon said stepping into the palace was like a dream and that The Beatles were so nervous. He later claimed they smoked marijuana in the bathrooms before going in to calm their nerves. However, George said they only smoked a quick cigarette.
Later, John sent back his MBE with a note that read: "I am returning this MBE in protest against Britain's involvement in the Nigeria-Biafra thing, against our support of America in Vietnam and against Cold Turkey slipping down the charts."
In 1997, the queen knighted Paul, and in 2018, Ringo also joined the club. Unfortunately, George wasn't honored with a knighthood before he died in 2001. However, something tells us he wouldn't have really cared about being awarded that distinction.