George Harrison's and Eric Clapton's Guitar Playing Confused George's Son: 'Is That Clapton? Is That Dad?'
George Harrison is best known as the lead guitarist of the Beatles. He also contributed vocals and helped write some of their most memorable songs. Harrison's music career spanned several decades and included solo work as well.
However, his legacy lives on through his son Dhani Harrison, who is himself an accomplished musician after getting a late start in life. Being around musicians his entire life, Dhani has an ear for picking out his father's style of playing. However, one particular incident confused him at a young age. Let's look at George's career and the incident that baffled his son.
A look back at George Harrison's incredible career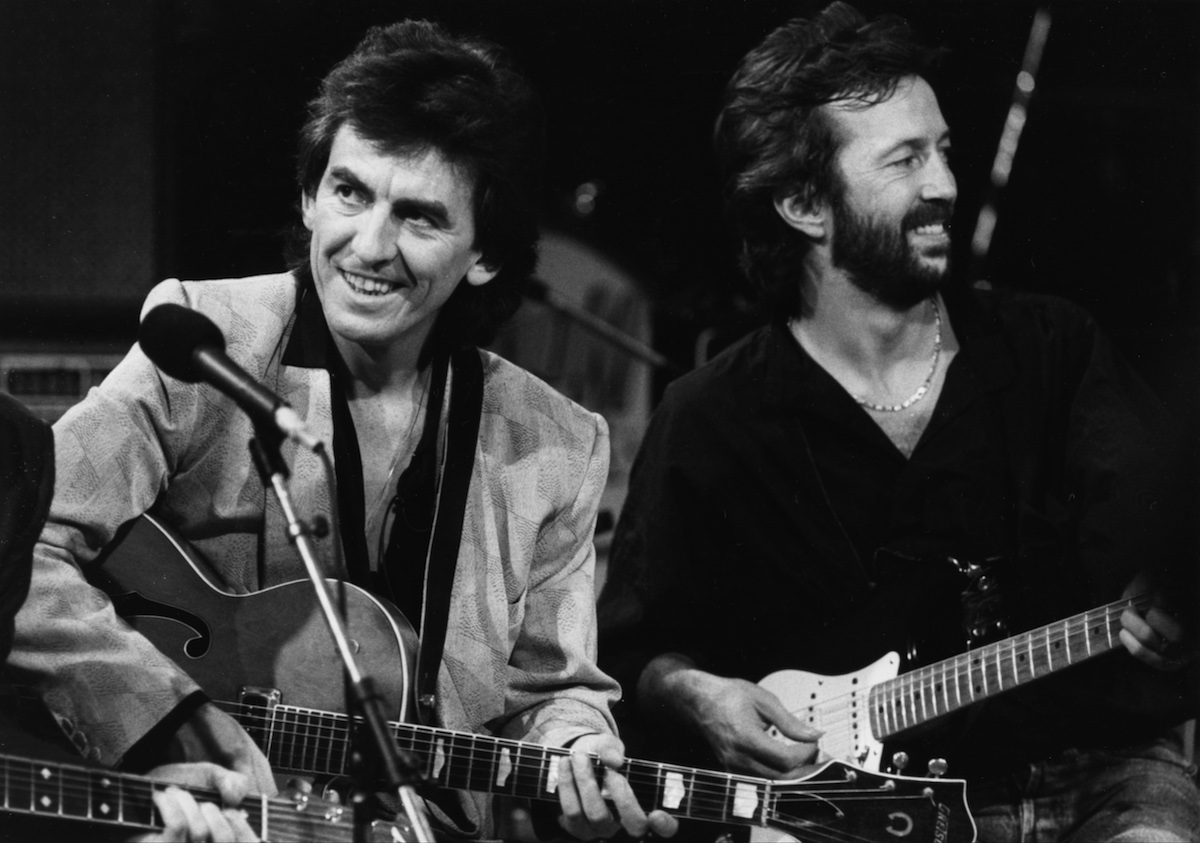 George achieved international fame as the youngest member of the Beatles. He met up with John Lennon when he was just 16 years old. Known as "the quiet Beatle," George was quite content to let the others take the spotlight. Though he didn't start writing songs for the Beatles until the end of the '60s, his songs became some of the band's most memorable hits. Those songs included Help, Abbey Road, Here Comes the Sun, and Something.
After the Beatles broke up, George started a solo career. One of his most memorable solo hits was My Sweet Lord. In 1988, he co-founded the Traveling Wilburys, a group including Roy Orbison, Bob Dylan, and Tom Petty among others. Sadly, George died in 2001 at 58 years old.
Dhani Harrison can't discern his father's playing from Eric Clapton's
George's only child, Dhani, has spent the past five years executive-producing the 50th Anniversary Edition of All Things Must Pass, his father's chart-topping solo album. While dissecting some of the album's tracks, Dhani sometimes had difficulty discerning his father's guitar playing from Eric Clapton's.
Dhani told Guitar World, "There were lots of points you're, like, 'Is that Clapton? Is that Dad?' You're like, 'Oh, it's Clapton. Dad would never play that.' But at that point, they were synched up. So it's Dad kind of playing Eric riffs and Eric playing these George riffs." 
For all the amazing talent featured on the album, it was a dark time in George's life. He had just lost his wife, Pattie Boyd, to Clapton, which must have made for some awkward recording sessions. In addition, George had also just left the Beatles and his mother died while he recorded the album. 
Dhani Harrison's music career began after his dad's death
Dhani didn't begin performing until after his father's death in 2001. George's son's first major musical project was completing Brainwashed, Harrison's first collection of new material in 15 years. The album's posthumous release took place in November 2002.
The release coincided with Concert for George, a tribute to the former Beatle that featured his two surviving bandmates, Paul McCartney and Ringo Starr, as well as Eric Clapton, Jeff Lynne, Billy Preston, Tom Petty, Ravi Shankar, and Dhani, who played acoustic guitar throughout the show.
Then, Dhani formed Thenewno2 with Oliver Hecks. He recorded and toured with the band into the 2010s. In 2017, Dhani released the album IN///PARALLEL, his first solo album. 
George's musical legacy made a lasting impact that will influence generations of musicians well into the future. George, McCartney, Lennon, and Starr collectively ushered in a new genre of music that is still popular decades later. On January 20, 1988, the Beatles entered the Rock and Roll Hall of Fame; George was inducted posthumously in 2004. 
His induction coincided with Prince's induction on the same night. Prince was asked to perform twice during the ceremony, once for his induction and once for Harrison's induction. Prince only performed one time that night, during Harrison's induction. He performed a three-minute guitar solo that has become one of the most famous moments in the Rock & Roll Hall of Fame's history.
RELATED: Why John Lennon Had George Harrison Sing The Beatles' 'Do You Want to Know a Secret'