George Harrison and Eric Idle Smoked Pot in a Projection Room at the Premiere of 'Monty Python and the Holy Grail' the First Time They Met
The first time George Harrison and Eric Idle met, they smoked pot in the projection room during a screening of 'Monty Python and the Holy Grail.'
George Harrison and Eric Idle got up to all sorts of shenanigans throughout their life-long friendship. They partied together, hung out together, and played together. Idle was a member of one of the most famous comedy troupes, Monty Python, and George was once the guitarist of one of the biggest bands in the world. They understood each other and bonded over comedy.
So, it was no wonder George and Idle often found themselves in interesting situations. They once disturbed Norman Lear and his wife by playing guitar together all night in their hotel room. However, nothing describes their friendship better than the night they met. They snuck off to the projection room to smoke pot like naughty schoolboys during a screening of Idle's Monty Python and the Holy Grail.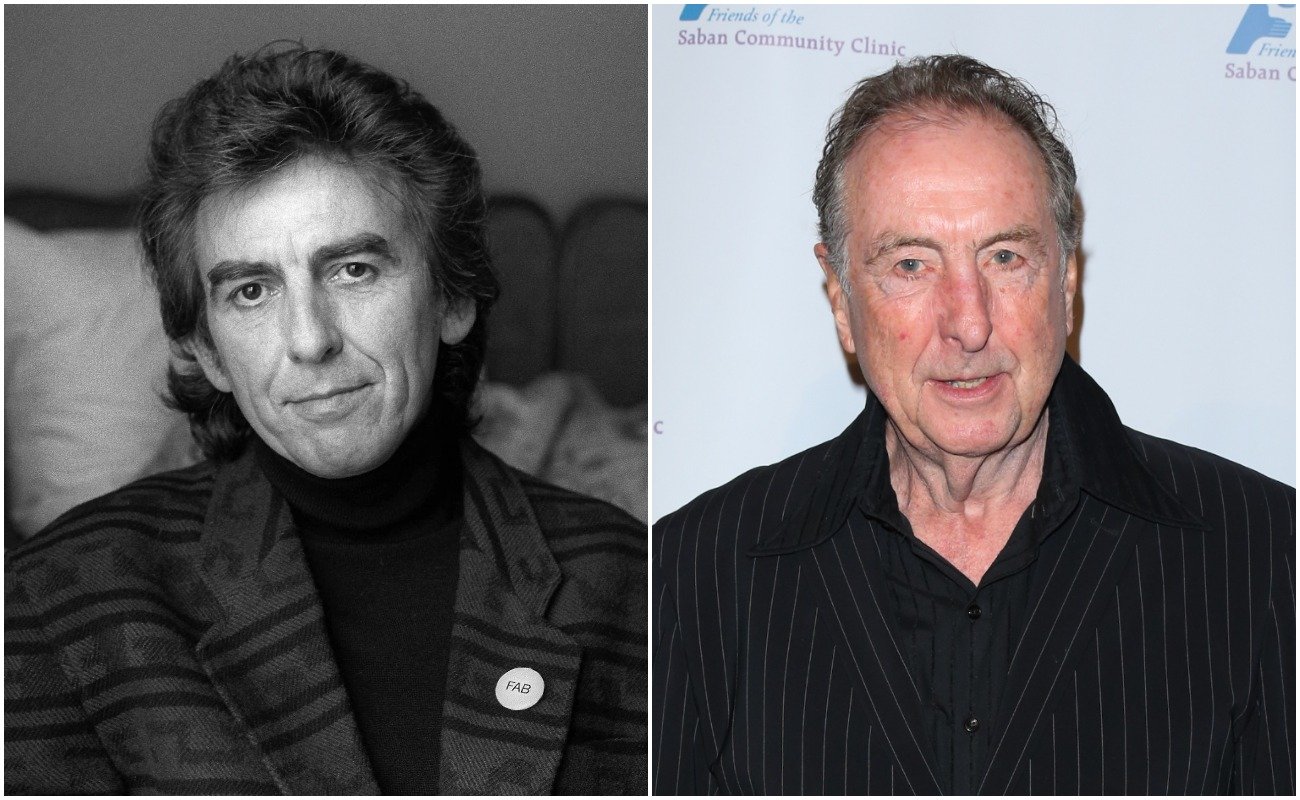 George Harrison and Eric Idle smoked pot in a projection room during the premiere of 'Monty Python and the Holy Grail' the first time they met
In his memoir, Always Look on the Bright Side of Life: A Sortabiography, Idle explained that he met George at a Monty Python and the Holy Grail screening. Although, the meeting didn't go as Idle expected.
Idle wrote, "I had heard that George wanted to meet me, but I was somewhat shy of meeting him. I was shy and tried to avoid him, but he snuck up on me in the back of the theater as the credits began to roll. I hadn't yet learned he was unstoppable.
"We began a conversation that would last about twenty-four hours. Who could resist his opening line? 'We can't talk here. Let's go and have a reefer in the projection booth.' No telling what the startled projectionist felt as a Beatle came in with one of the actors from the movie he had just projected and lit up a joint."
Idle couldn't get rid of George after that.
George and Idle talked for hours about how their careers were similar
After the projectionist made George and Idle leave, they went to dinner with Terry Gilliam and George's wife, Olivia Harrison. Then, George insisted Idle come with him to A&M Studios, where he introduced the comedian to Joni Mitchell. "Joni f***ing Mitchell, for Christ's sake," Idle wrote.
"Saxophonist Tom Scott was at work on some overdubs of George's latest album, Extra Texture, and we listened to some of the tracks and then went back to the Beverly Wilshire Hotel, where we talked and talked and talked for the rest of the night."
George and Idle talked about how their careers were similar. "What was it like to be a Python? What was it like to be a Beatle? A thousand questions," Idle continued.
Idle told Rolling Stone, "It occurred to me later that we both played similar roles inside our groups with big power blocks. Once I was moaning a little bit on Brian, saying, 'It was hard to get onscreen with Michael Palin and John Cleese.' He said, 'Well, imagine what it's like trying to get studio time with Lennon and McCartney.'
"I said, 'All right. Absolutely. Got it. OK. Check. I'll shut up now.' Then it occurred to me that yes, in fact, we were slightly the outsiders, playing similar roles in our groups."
The Beatle taught the comedian many things
Idle wrote in his memoir that George forever changed his life. "Funny and serious and wise, he changed my life," Idle wrote. "We played together, partied together, argued together. He was irresistible. It was definitely love at first sight."
George taught Idle many things. He talked to the comedian about spirituality, taught him to live in the here and now, and to find humor in every situation. The comedian said the ex-Beatle was his guru.
In 1999, a man attacked George and Olivia during a home invasion. George nearly died. Still, he found the humor in the attack when Idle called him about it. George told Idle (per Rolling Stone), "Why doesn't this kind of thing happen to the Rolling Stones?"
In an interview with The Off Camera Show, Idle said George taught him to live in the now because he could die at any moment. Idle explained, "He said, 'Well you know we're still going to die," Idle explained, "'fame you know doesn't give you anything, you're going to die.'
"I was fortunate that he was kind of a guru to me. I mean, he was a pal, we got drunk, we did all sorts of wicked, naughty things, and had a ball. But he was always saying, 'Well, don't forget you're gonna die.' I think these sort of good people encourage people to remember your here now. You might get hit by a bus on the way out, so just make sure that you're living exactly to the fullest as you can, every single moment."
Since George died in 2001, Idle has supported his friend on multiple occasions. Idle and the rest of the Monty Python troupe performed at the Concert for George. The comedian also spoke at George's Hollywood Walk of Fame ceremony. Idle will always safeguard George's legacy.