George Harrison Felt He Was Being Tricked Into a Beatles Reunion at the Prince's Trust Concert in 1987
After George Harrison left The Beatles, he hoped they'd get back together because it would've been "selfish" if they didn't make music together again. However, once George got a taste of life outside of one of the biggest bands in the world, he started to hate the idea of a Beatles reunion.
George could do anything he wanted outside the band, even if that meant not making music. Regardless of what he did with his life, though, it was always under the watchful eye of the media and fans. He didn't like doing what music executives, the press, or fans wanted. A Beatles reunion was at the top of everyone's list.
So, after George got the call about performing at the Prince's Trust Concert, he was concerned someone was trying to trick him into being a part of a Beatles reunion.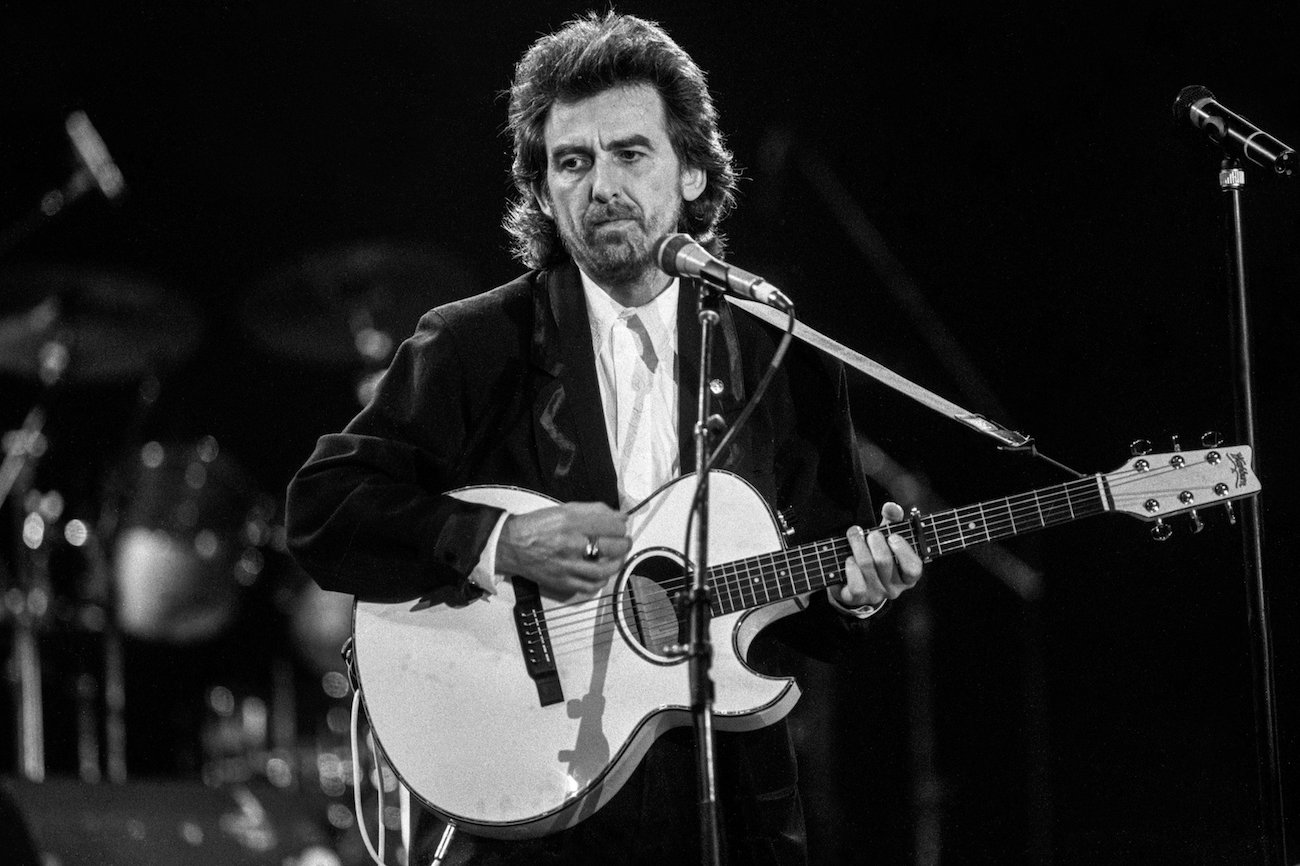 George felt like he was being tricked into a Beatles reunion when he got a call about performing at the Prince's Trust Concert
In 1987, George got a call about performing at the Prince's Trust Concert. Other big-name rock stars were also set to perform, including George's buddies Eric Clapton, Jeff Lynne, Elton John, and Phil Collins.
However, George didn't know his fellow Beatle Ringo Starr was also set to perform until Ringo called him. According to Rolling Stone, George and Ringo had been contacted without the other knowing about it.
"Ringo phoned me up," George said, "saying, 'Somebody's asked me if I'm doing this Prince's Trust, and of course, I can't really do it without playing on it with you.' I said, 'Ooo, I don't know about that.' I mean, Ringo will always be my friend, but just that made me nervous.
"I felt straightaway, somebody's trying to set this up again." This being a Beatles reunion. "You know, it's one thing going on as me. But if I'm going on as the Beatles, I want to be able to have some sort of control over it."
RELATED: George Harrison Said He Felt Constipated for Years Before 'All Things Must Pass'
George hated fans pressuring him into playing Beatles hits and said it would have been worse during a Beatles reunion
In 1979, George told Rolling Stone that The Beatles had been nostalgic since 1967. However, George started to detest that nostalgia when fans only ever wanted him to play Beatles hits during the rare performances he gave throughout the 1970s and 1980s. He told Entertainment Tonight that pressure would have been worse during a Beatles reunion.
"The pressure, you know, of the people expecting you to do something," George said. "It's a wonder we didn't all go bananas really because I mean just say for that instance that Prince's Trust. It was bad enough me and then Ringo.
"If you imagine Paul there as well, people are gonna-they're expecting to hear you know whatever, I don't know what they're expecting to hear, but we could never deliver that, can't deliver the goods."
George hated playing the same 10 songs during The Beatles' performances. That wasn't going to change years after the group split up.
RELATED: George Harrison Said It Was Good The Beatles Split up Because Then They Didn't Have to Compromise
The former Beatle said fans didn't care about their well-being; they just wanted them to go on
George wasn't OK with fans wanting a Beatles reunion because it meant they didn't care about the band's well-being.
"They've got lots and lots of songs they can play forever," George told Rolling Stone. "But what do they want? Blood? They want us all to die like Elvis Presley? Elvis got stuck in a rut where the only thing he could do was to keep on doing the same old thing, and in the end his health suffered and that was it.
"The Beatles, fortunately, did that hit-and-run. But every year we were Beatling was like twenty years; so although it might only have been five or six years it seemed like eternity…. People used us as an excuse to trip out, and we were the victims of that.
"That's why they want the Beatles to go on, so they can all get silly again. But they don't have consideration for our well-being when they say, 'Let's have the Fab Four again.'"
Continuing to Entertainment Tonight, George explained that most Beatles fans were "stuck on something that's a craze and then they don't see that it takes all these other bits that make that.
"I think a lot of people would, you know, if you put out a record and call it 'The Beatles,' you'd have all these people who'd rush out and buy it regardless of if it was a load of rubbish. Because you know of the name."
George never wanted to become a Beatle again. "Not in this life or any other life," he said.
RELATED: Tom Petty Said George Harrison Loved The Beatles Deep Down