George Harrison Was the First Beatle to Visit America
George Harrison was the first Beatle to do many things. He was the first Beatle to score a No. 1 hit as a solo artist, and he was technically the first Beatle to quit the band. But most fans don't know that George was also the first Beatle to travel to America. He'd already been to the States a year before The Beatles started the British Invasion and played on The Ed Sullivan Show in 1964.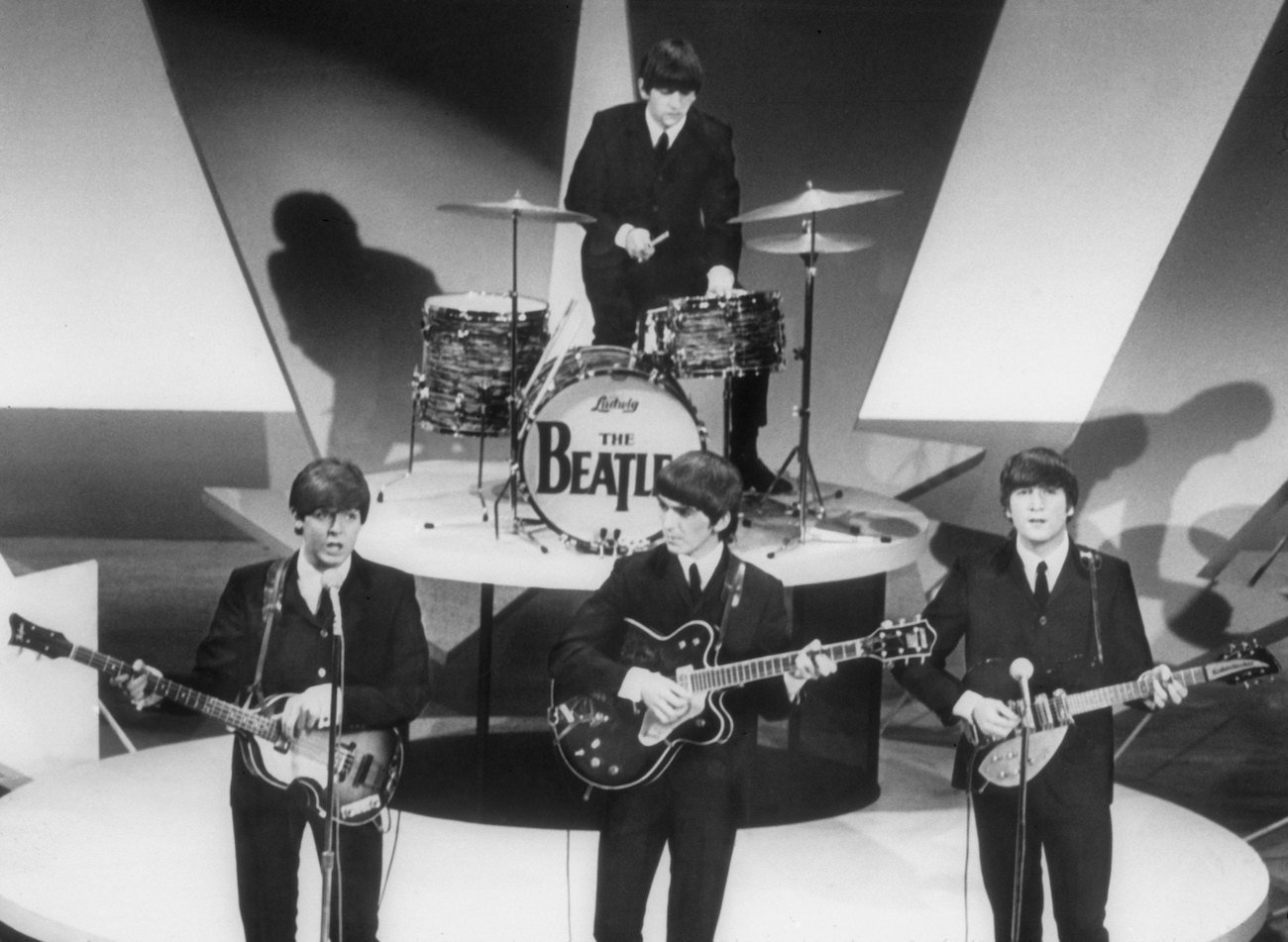 The Beatles came to America in 1964
One of the most significant dates in Beatles history is Feb. 7, 1964. That's the date that The Beatles first landed in America. They left 4,000 screaming fans at Heathrow Airport in the U.K. and were greeted by 3,000 screaming American fans when they arrived at J.F.K. Airport.
Two days later, on Feb. 9, they played on The Ed Sullivan Show to a screaming live audience and 73 million viewers at home, 34 percent of the American popular at the time. During their visit, they also performed at the Washington Coliseum and then back to New York for a couple of gigs at Carnegie Hall. On Feb. 22, they played on The Ed Sullivan Show again, this time in Florida.
The Beatles' success on their first American tour ultimately influenced other British bands to come over to the States in what has come to be known as the British Invasion. But most of the screaming fans who greeted The Beatles on their first American tour didn't know that the British Invasion technically started the year before.
George Harrison visited America in 1963
A year before The Beatles touched down at J.F.K. Airport in 1964, George landed in America for the first time. He was going to visit his sister, who was living in Illinois.
"I'd been to America before, being the experienced Beatle that I was," George recalled in the 1995 Beatles Anthology documentary (per Rolling Stone). "I went to New York and St. Louis in 1963, to look around, and to the countryside in Illinois, where my sister was living at the time."
By September 1963, The Beatles had already had three No. 1 singles in the U.K. and had released their album Please Please Me. Their popularity was skyrocketing by the hour. So the band agreed that after all their hard work, they needed a much-needed vacation.
So, John Lennon took his wife Cynthia to Paris, Paul McCartney and Ringo Starr went to Greece, and on Sept. 16, George flew to America with his older brother, Peter, becoming the first Beatle to do so. The Harrison brothers stayed with their eldest sister Louise 'Lou' Caldwell's home at 113 McCann Street in Benton, Illinois.
Lou had recently immigrated there with her husband Gordon, an engineer at a nearby coal mine. Benton, Illinois, is a small town, but George welcomed the quiet because of Beatlemania. No one recognized him, and he was able to experience some American staples without hassle.
The siblings camped for a few nights in the Shawnee National Forest and ate at a burger joint, where George was shocked to see the waitresses on roller skates. But while George was getting the R&R that he very much needed, his visit quickly turned into a missionary trip, as he brought The Beatles to Illinois.
George Harrison played with another band during his trip to America
During George's visit, Louise introduced him to Gabe McCarty, a local dry cleaner who also played with a band called the Four Vests. McCarty became George's tour guide, but one of the biggest places he took George was the record store.
George bought many records and singles. However, when he asked an employee if they had any Beatles records, she gave him a confused look. So George went over to the WFRX-AM radio station in West Frankfort and gave them his copy of "She Loves You." They gladly played the song, which they'd never heard before.
While Stateside, George also bought a 400 dollar Rickenbacker 425 solid body and had it painted black. George agreed to play a gig with the Four Vests at a VFW Hall in Eldorado, Illinois, to show off the new instrument. They announced him as "the Elvis of England." This was the first time any of The Beatles played a show in America.
George and the band played "Roll Over Beethoven" and "Johnny B. Goode" by Chuck Berry, Carl Perkins' "Matchbox," and Hank Williams' "Your Cheatin' Heart." A man in the audience approached George at the end to tell him: "With the right breaks, you could really go places."
George's next stop was St. Louis and New York City. In the Big Apple, George was like any other sightseer. He had no idea that in the next year, he'd be in the same city with thousands of fans chasing him. That was probably his last vacation in peace, where he could go where he pleased without being recognized.