George Harrison and Formula 1 Driver Jackie Stewart Didn't Just Bond Over Fast Cars
George Harrison had a deep love for race cars and made friends with Formula 1 driver Jackie Stewart. But they didn't just bond over their love of fast cars.
George Harrison had many friends, and not all of them came from the music industry. His closest friends were Eric Clapton, Ravi Shankar, and his Traveling Wilburys bandmates, Tom Petty, Bob Dylan, Jeff Lyne, and Roy Orbison. However, George was also close with the guys in Monty Python, including Eric Idle, who learned a lot from George. Even more surprising was George's friendship with the Formula 1 race car driver, Jackie Stewart.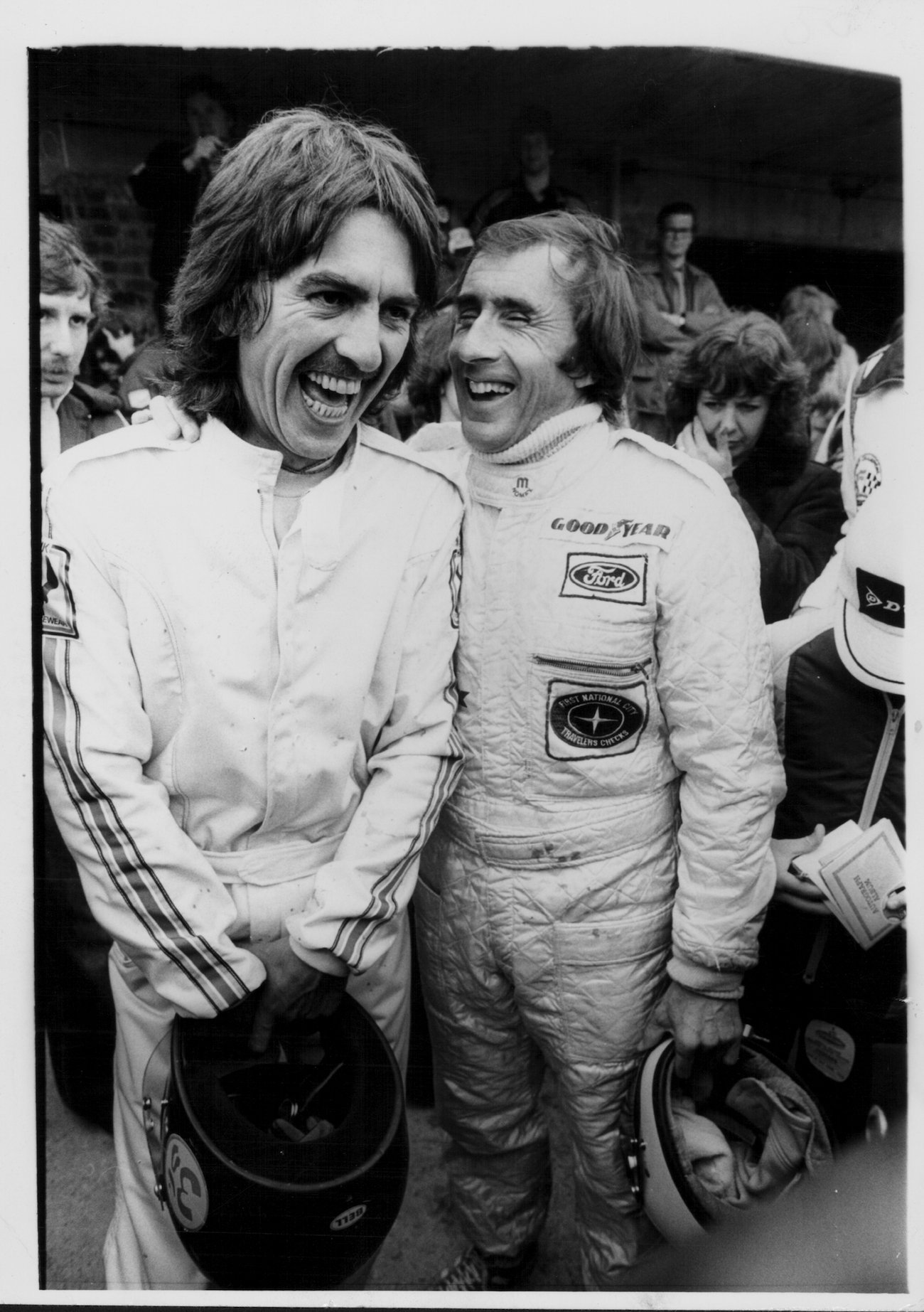 George Harrison met Jackie Stewart in the late 1970s
George's love for racing cars actually predates his passion for music. According to Rolling Stone, George said, "I was 12 when I saw Liverpool's first British Grand Prix, in Aintree. I followed Formula One until the time we started being professional musicians, and even then in the Sixties, though we were so busy, I caught a few races, mainly Monte Carlo."
In the late 1970s, George started hanging out with Jackie Stewart, the retired triple world champion Formula One driver. "It was really through him that I got backstage, and it's much more interesting back there," George explained. "Jackie was the outspoken world champion, and he lived to tell the story."
Being friends with Stewart, George was able to understand much more about racing. During an interview in 1979, George joked he had to leave the "backroom" because he knew too much about racing and its politics. Just before that interview, George had jumped behind the wheel to do a mock race. He said it was very nice and was a bit "dubious" about it, being around all the masters. Stewart joked that he'd have to start playing the guitar if George continued to drive.
George and Stewart truly bonded over a love for heightened experiences
It might seem weird that George loved racing, considering he "often dismissed the secular world in favor of more pious pursuits." However, George's love for the sport wasn't so much materialistic as it was spiritual. Stewart says his and George's friendship was based on their shared love of the heightened experience one gets from driving fast cars. Not the fast cars themselves.
"When you're driving a racing car to the absolute limit of its ability, and that of your own ability, it's a very unique emotion and experience," Stewart explained in Martin Scorsese's documentary George Harrison: Living in the Material World.
"When that happens, your senses are so strong. That's what I think George saw in racing. We talked about things like that a lot: heightened sense, of your feel and your touch and your feet… If you listen to a really top guitarist, or any top musician, and how they can make that guitar talk, or that keyboard talk, or the skins talk, that's another heightening of senses that is beyond the ken, the knowledge of any normal man or woman."
George was always trying to find a heightened experience because he was sick of the world; he wanted more. George wanted to connect with God in any way, whether it was through nature or listening and playing music.
George paid tribute to Stewart and other F1 drivers with the song 'Faster.'
It was actually at the races that George got the inspiration to write another album. Before 1979, George wasn't making new music because he'd become disenchanted with the music industry. He told Rolling Stone that he only started thinking about music again once everyone at the races began asking him about new material.
"I was getting embarrassed because I was going to all these motor races, and everybody was talking to me like George, the ex-Beatle, the musician, asking me if I was making a record and whether I was going to write some songs about racing, and yet musical thoughts were just a million miles away from my mind," George explained.
After Niki Lauda told George he faced similar hassle from the racing business and just liked to go home, relax and play music, George was prompted to write music again, if only so Lauda had something to listen to. He wrote "Faster" as a tribute to Stewart and all the other guys at F1.
People always asked him when he would write a song about racing, and George did, but he didn't write something corny. "It's easy to write about V-8 engines and vroom vroom – that would have been bulls***. But I'm happy with the lyrics because it can be seen to be about one driver specifically or any of them, and if it didn't have the motor-racing noises, it could be about the Fab Four really – the jealousies and things like that."
George donated all the proceeds from the song to the late Swedish driver Gunnar Nilsson's cancer charity. George continued to travel on the international Grand Prix circuit for many more years as his friendship with Stewart and all the guys at F1 grew.