George Harrison and Other Performers Swore By Using This Strange Medicinal Mixture on Tour
When George Harrison left The Beatles, he was the first to do many things. He was the first Beatle to earn a No. 1 hit as a solo artist and the first Beatle to embark on a solo tour of America. However, by the time the George Harrison and Friends North American Tour began in 1974, George's voice was already shot from excessive rehearsals. So he turned to an age-old remedy that would hopefully soothe his throat enough to continue.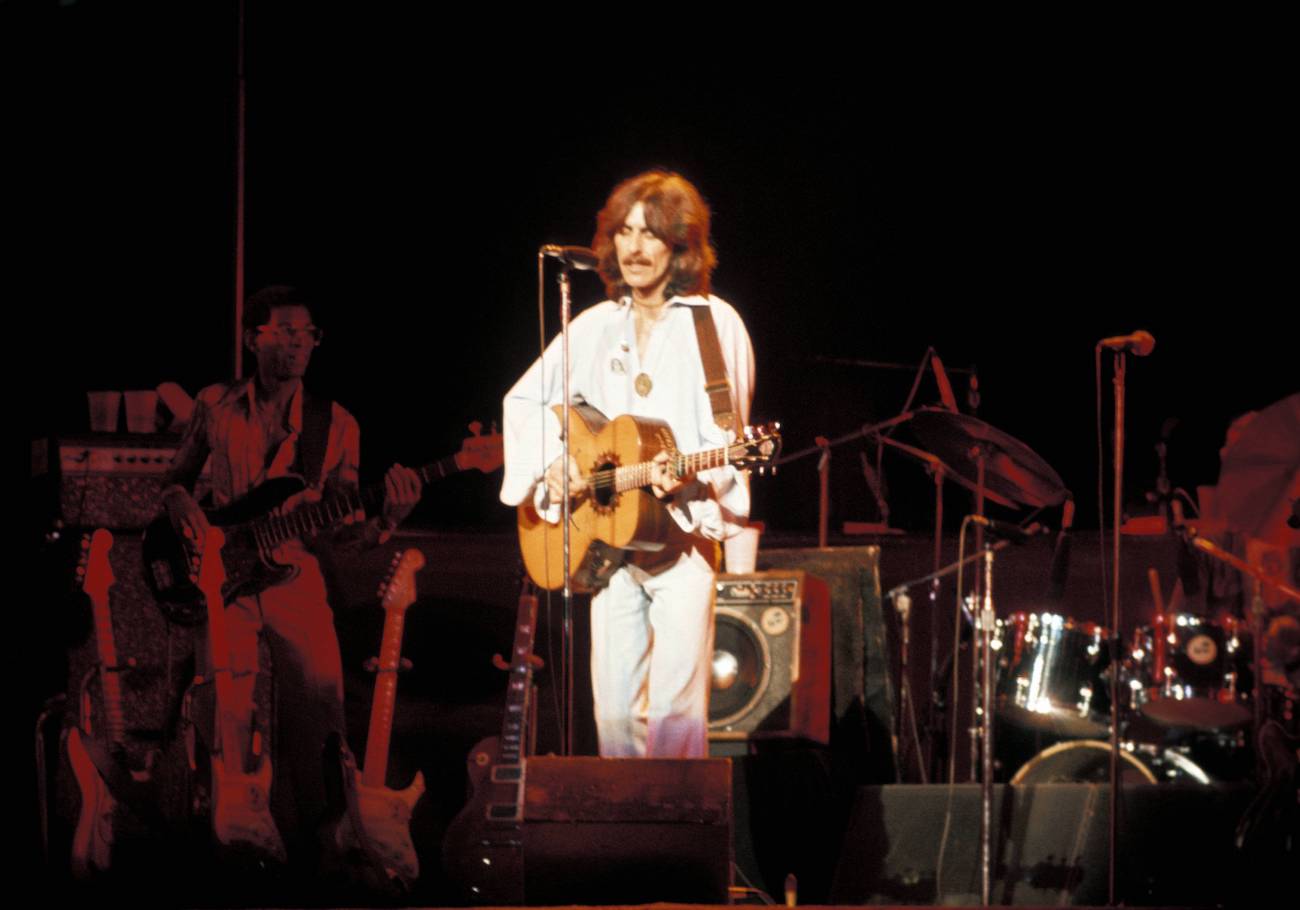 George Harrison wore his voice out before tour
The first stop on the George Harrison and Friends North American Tour was the Pacific Coliseum in Vancouver. But George entered the venue with a sore throat, and he hadn't even sung a single tune for the crowd yet.

Ultimate Classic Rock writes George had become "worn down, and croaky from relentless sessions and rehearsal work." A lot was going on in George's life then. He was in the middle of a nasty divorce from his first wife, Pattie Boyd. Through the chaos of his first tour of America, only his new girlfriend, Olivia Arias, could keep him afloat.
Days before the Vancouver show, George said, "I either finish this tour ecstatically happy and want to go on tour everywhere, or I'll end up just going back to my cave for another five years."
Unfortunately, George's voice wasn't up to the task, and many critics dubbed the tour "The Dark Hoarse Tour." Suddenly George found himself in a situation he thought he'd never return to: a tour so hectic that it bordered Beatle proportions.
They had to squeeze so much in that 1974 tour, and it began to get so chaotic that Rolling Stone wrote that George had to resort to "snorting mountains of cocaine" to keep up. "He had a nasty case of laryngitis, and snorting mountains of cocaine didn't exactly make his voice any sweeter. By the end of the tour, his voice was absolutely shredded," Rolling Stone wrote.
George needed something to help his throat, and fast.
RELATED: George Harrison Proposed to Pattie Boyd The First Day They Met
George tried using a special mixture to help his throat
George resorted to age-old remedies to help his voice. In Martin Scorsese's George Harrison: Living in the Material World, there's a clip of George gargling a strange liquid backstage during the tour.
"Recommended by Eric Clapton, Barbra Streisand, and many other top-notch singers and entertainers. Secret mixture of honey, vinegar, and warm water. And your throat will never bother you again," George said. "You just won't have a throat. But it coats what you don't have, so they tell me."
Big-name performers might use the mixture, and it might work for them, but at that point, George's voice wasn't coming back unless it rested for a couple of years. Between his voice and the long sitar performances that George insisted on in an attempt to turn his crowd on to "minority music," George's 1974 tour didn't go down well with fans. Not to mention, they expected to hear many more Beatles songs.
RELATED: How George Harrison Reacted to the Death of John Lennon's Mother
George was thankful to return to his garden after the disasterly tour
Coming home from the hectic tour, George was just glad to be back in his garden. That's where he could unwind and reconnect with God.
"When I got off the plane, and back home, I went into the garden and I was so relieved," George wrote in his autobiography I, Me, Mine. "That was the nearest I got to a nervous breakdown. I couldn't even go into the house. I was a bit wound up – then, when I came in, I looked in the mirror and decided: 'Oh, I'm not that bad after all.'"

After some much-needed rest, George's voice came back, but he hardly toured after that. Touring was never George's thing anyway.