George Harrison Gave George Martin a Statue of Ganesha the Hindu Elephant God After Martin Had Ear Surgery
George Harrison visited The Beatles' producer, George Martin, after he had ear surgery. George gave Martin a statue of Ganesha the Hindu elephant god.
George Harrison and The Beatles' producer, George Martin, didn't always see eye to eye. Initially, Martin didn't like it when George would come forward with songs. However, George treated the producer with respect and thought of him as a close friend and collaborator until he died in 2001.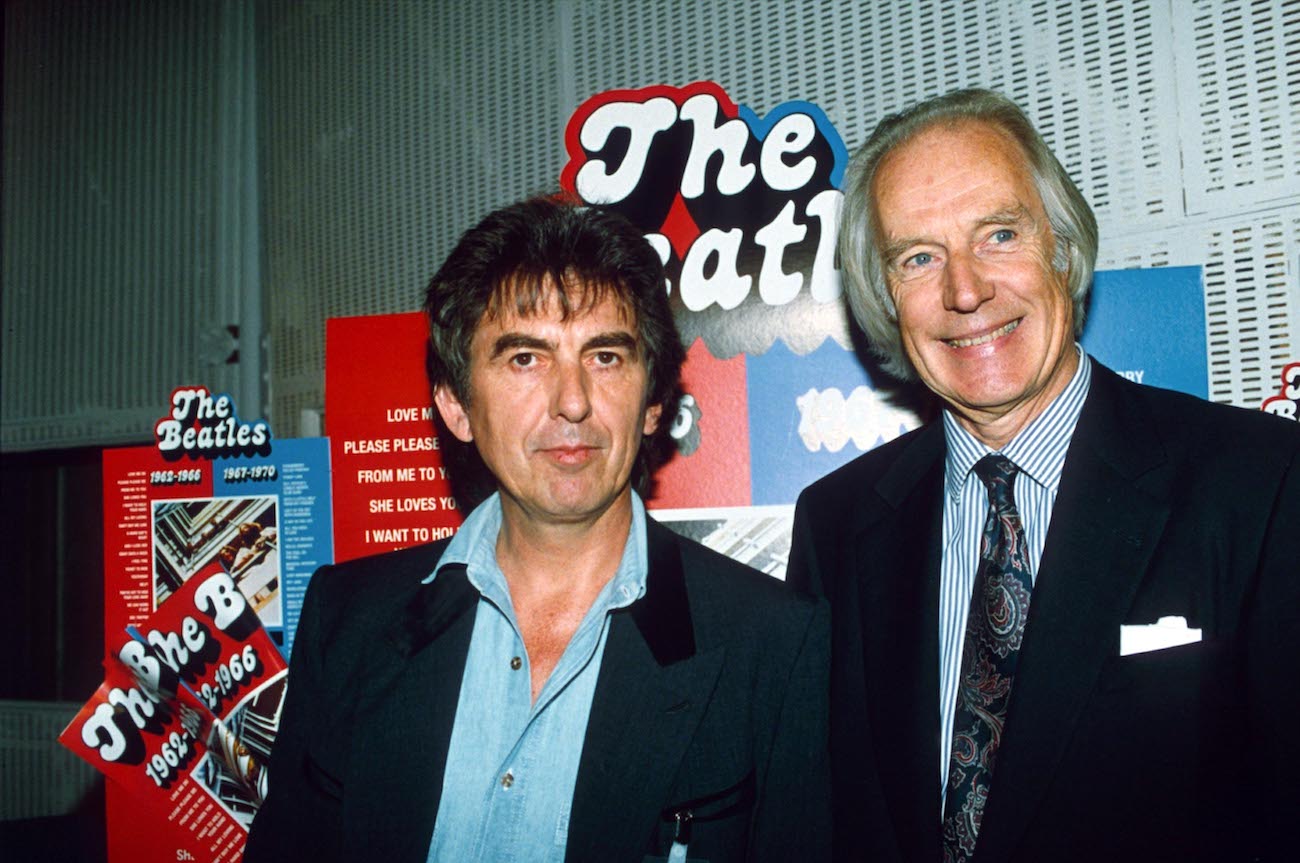 George Harrison had problems with George Martin during his time in The Beatles
In the early days of The Beatles, John Lennon and Paul McCartney were the chief songwriters. However, George eventually started writing. Rather than welcome George's songs, the duo treated George like a glorified session man and made him play what they wanted. They turned his tunes down left and right.
Martin didn't like George coming forward with songs either. He wanted "to concentrate on the guys who were giving me the hits," Martin told CNN. He didn't like George coming in and thinking he could be just as great. Initially, Martin "kind of tolerated" George's songs. "Oh, yes, we must have a George song on this thing," Martin would say condescendingly.
Looking back, Martin regrets his behavior. According to Udiscovermusic, Martin said, "I think the trouble with George was that he was never treated on the same level as having the same quality of songwriting, by anyone – by John, by Paul or by me. I'm as guilty in that respect.
"I was the guy who used to say: 'If he's got a song, we'll let him have it on the album' – very condescendingly. I know he must have felt really bad about that. Gradually he kept persevering, and his songs did get better – until eventually, they got extremely good. 'Something' is a wonderful song.
"The impression is sometimes given that we put him down. I don't think we ever did that, but possibly we didn't encourage him enough. He'd write, but we wouldn't say, 'What've you got then, George?' We'd say, 'Oh, you've got some more, have you?'
"I must say that looking back, it was a bit hard on him. It was always slightly condescending. But it was natural, because the others were so talented."
However, after leaving The Beatles, George forgave Martin and his bandmates.
George came to check on Martin after he had ear surgery
Years after not supporting George for years and being unsympathetic when George briefly quit in 1969, Martin had a better relationship with the ex-Beatle. In 1976, Martin told Rolling Stone that he and George didn't have bad blood. "George and I are good friends, we were chatting on the phone the other day," he said.
Martin often said George was an essential part of the group. "All of George's influence on the Beatles was very benign and tremendous," he told CNN. "His message was: Love each other."
In 1992, George told Guitar World that "they've all apologized to me for all that over the years." He continued, "Look, the thing is, so much has been said about our disagreements. It's like… so much time has lapsed, it doesn't really matter anymore."
Leave it to George to give a "water under the bridge" response to being tolerated and treated horribly in a band as important as The Beatles. Still, George meant it. Later, he showed Martin kindness after the producer had ear surgery.
In 2007, Martin told Mark Ellen (per Yahoo!) that George visited him while he was recovering. George pulled up in his McLaren F1 and gave Martin a statue of Ganesha, the Hindu elephant god. They remained close after that.
"I went to see George at his home in Henley recently and he brought out this bottle of Château Lafite 1990 – £1,000 a bottle," Martin said. "I said, 'George you need a special occasion for this,' and he said, 'This is the special occasion. What else do I do with my money?'"
George and Martin had a better friendship once the drama of The Beatles was over. Their friendship even withstood a scandal.
Martin was tied up in a fabricated news piece about the ex-Beatle's health
In late July 2001, the Mail on Sunday published a story that claimed George was dying from cancer. However, the story was a complete fabrication. They used a fake quote from Martin, who said George had told him he didn't have long to live.
The quote from Martin (per Wired) read: "He is taking it easy and hoping that the thing will go away. He has an indomitable spirit but he knows that he is going to die soon and he is accepting that."
"George is very philosophical. He does realize that everybody has got to die some time," the fabricated quote from Martin continued. "He has been near death many times and he's been rescued many times as well. But he knows he is going to die soon and he's accepting it perfectly happily."
George had gone through a lot already. He was treated for throat cancer in 1998, was attacked and stabbed in a home invasion in 1999, underwent lung cancer in May 2001, and received treatment for brain cancer that July.
George released a statement saying he was "disappointed and disgusted" by the reports of his imminent death. The statement also said he was "active and feeling very well" and that Martin had told them he'd not given an interview about George's health.
"The reports were unsubstantiated, untrue, insensitive and uncalled for, especially as Mr. Harrison is active and feeling very well in spite of the health challenges he has had this year," the statement said (per CBS News). "George Martin… has emphatically denied speaking to any newspaper."
The fabricated report and all the other drama that had gone on in George's life vanished from his mind as he died in 2001. None of it mattered in those final moments, and George left his body the way he wanted.