George Harrison Became Aggressive When He Knew He Wanted to Be Friends With Someone
George Harrison loved all of his friends deeply and took friendship very seriously. His wife Olivia explained that George had almost romantic relationships with his friends because he loved them so much. He was a firm believer in having loving relationships with people to be closer to God.
However, George might have become aggressive when he knew he wanted to become friends with someone.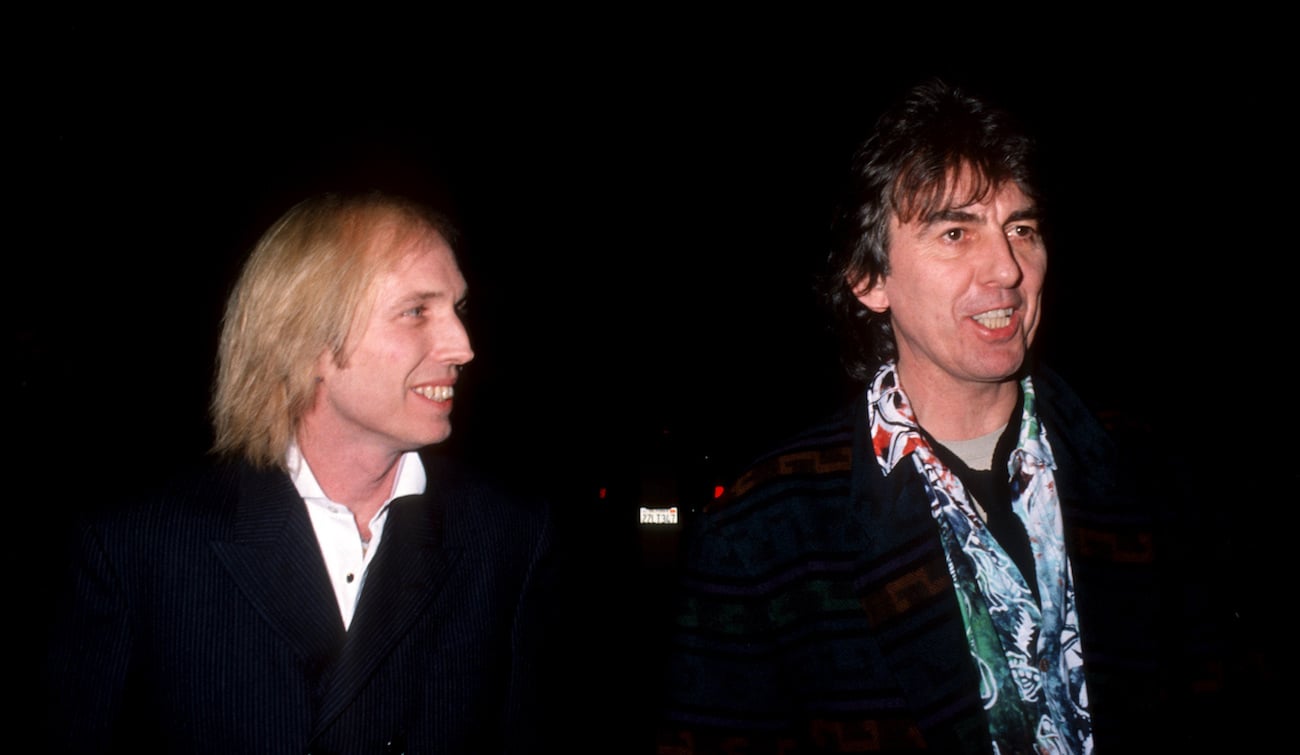 George Harrison became 'aggressive' when he wanted to become friends with someone
According to Tom Petty, George's long-time friend and Traveling Wilburys bandmate, George became aggressive when he knew he wanted to be friends with someone.
"We became very good friends, really, for decades," Petty told NPR. "I don't like to bring it up that much, because The Beatles are so special that people might see it as boasting or something.
"But he actually became my friend, past being a Beatle to me. It was like having an older brother that had a lot of experience in the music business, someone who I could go to with my troubles and questions.
"George was probably everything that you thought he was, and then some more. Very funny man; he could just kill me with his humor. He was a great guy and I miss him terribly.
"Strangely enough, we got along very well right away. He was the kind of person that, when he came across a good thing or the potential for a friend, he really was aggressive about it. And he had a way of knocking out anything that was extracurricular, or in the way of what was really going on. He could get you comfortable with him very quickly.
"I was always asking Beatle questions, and probably annoyed him. But, you know, he liked The Beatles, too. He liked talking about it and remembering it."
RELATED: Tom Petty Said He Didn't Think George Harrison 'Had Much Interest in Rock Music Past About '57'
George worked hard to be close to his friends
While becoming friends with Petty was easy, it was harder for George to become friends with Bob Dylan. George had to coax Dylan into opening up to him during the first times they hung out.
Dylan loosened up when he and George started to write a song called "I'd Have You Anytime."
In his 1980 memoir, I Me Mine, George wrote, "He seemed very nervous and I felt a little uncomfortable—it seemed strange, especially as he was in his own home. Anyway, on about the third day we got the guitars out and then things loosened up and I was saying to him, 'Write me some words'…
In Martin Scorsese's documentary, George Harrison: Living in the Material World, Olivia explained, "They say in this life you have to perfect one human relationship in order to really love God. You practice loving God by loving another human and by giving unconditional love. George's most important relationships really were conducted through their music and their lyrics.
"I mean 'I'd Have You Anytime,' the song that George and Bob wrote together. 'Let me in here/ I know I've been here/ Let me into your heart.'
"He was talking directly to Bob because he'd seen Bob and then he'd seen Bob another time and he didn't seem as open and so that was his way of saying, 'Let me in here, let me into your heart.' And he was very unabashed and romantic about it in a sense. I found that he was very-he had these love relationships with his friends. He loved them."
RELATED: Tom Petty Said George Harrison Could 'Clear Rooms' With His Ukulele Playing
The former Beatle formed powerful relationships through work
George formed strong relationships and found friends through work. That's how George became friends with producer and ELO frontman Jeff Lynne.
George needed a producer to help him on Cloud Nine in the late 1980s. The first time they met, George invited Lynne on vacation. George wanted to get to know Lynne and see if they'd be good songwriting partners. If that doesn't prove the lengths George was willing to go to make friends and colleagues, it's uncertain what does.
Not to mention, George found a way to stay friends with Eric Clapton, even after Clapton stole George's first wife, Pattie Boyd.
When Clapton was organizing George's tribute concert, Concert for George, he couldn't believe George had so many friends. They came from all walks of life. There were the rock stars like Petty, Lynne, Dylan, and Clapton. There was the comedians like Eric Idle, Indian musicians like Ravi Shankar, members of the Hare Krishna movement, and race car drivers like Jackie Stewart.
All of George's friends meant something to him. They loved him just as much as he loved them. As Petty said, there was no escaping George once he wanted to be friends with you. He did what he had to to make them his friends.
RELATED: George Harrison Never Pushed The Beatles on His Son Dhani